Here comes another big double-post. Day 27 was pretty grey and disappointing light-wise. Fortunately, things got a little better the following day.
Let's start with this former Coca-Cola bottling plant in Swainsboro. I think there are more of these Coke buildings left in Georgia than any other state. If you'd like to see more, here's the soft drinks bottling buildings section at my website:
https://www.roadarch.com/beverage/main.html
This midcentury modern building in Savannah may have housed a pest control company originally. In addition to the metal-ring screens next to the entrance, there's a nifty glass structure on the roof:
The Central Park fast food chain was established in Chattanooga in 1982. Here's an example in Goldsboro, NC (now gone) of their early design from my website:
https://www.roadarch.com/eateries/ffood2.html#Central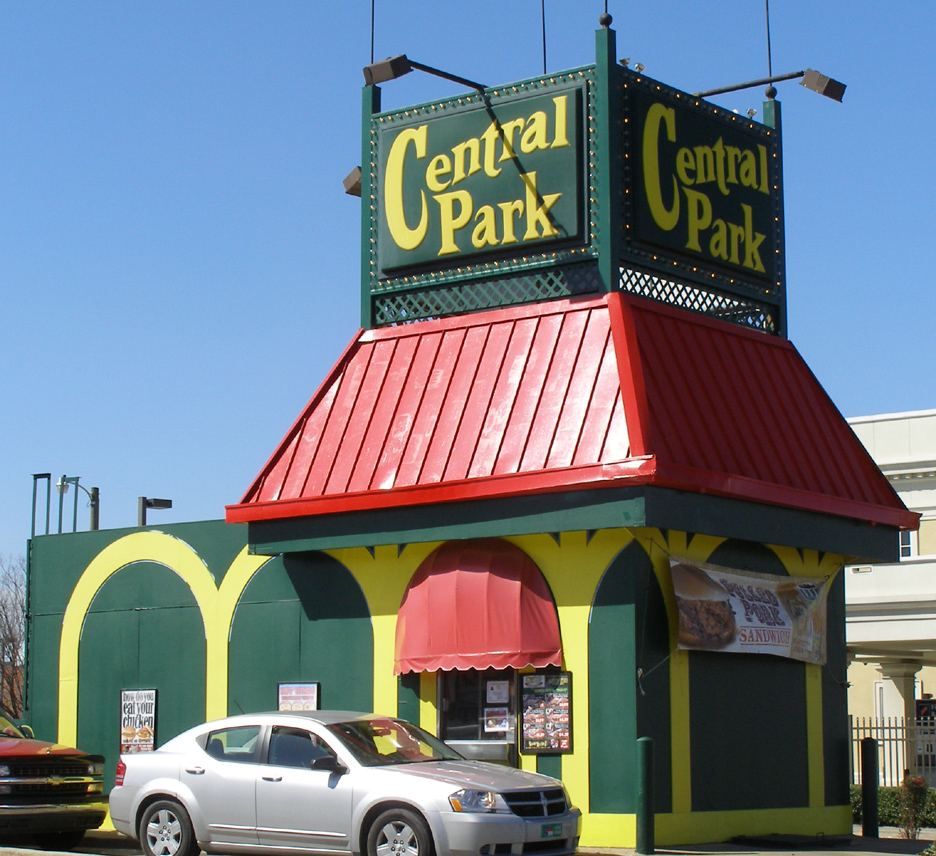 Over the years their buildings got a little bigger and double canopies were added. This building in Savannah has housed the Green Tea Drive-in since at least 2008:
Hundreds of these (what I call) "Left Leg Forward" cows were built by Sculptured Advertising (FAST's predecessor) in Wisconsin in the late 1950s and 1960s.
https://www.roadarch.com/critters/cowsleft.html
There are about 37 still on display around the country including this one in Savannah at Keller's Flea Market. In addition to her hat and earrings, she has a watch on her front left leg and a ring on her tail:
This car dealership sign in Savannah has been around since at least 1972 but was probably built earlier. I've been told that it originally advertised for the Plantation Club but I've never seen photos of the sign from that time. Here's what it looked like when I shot it in 2007: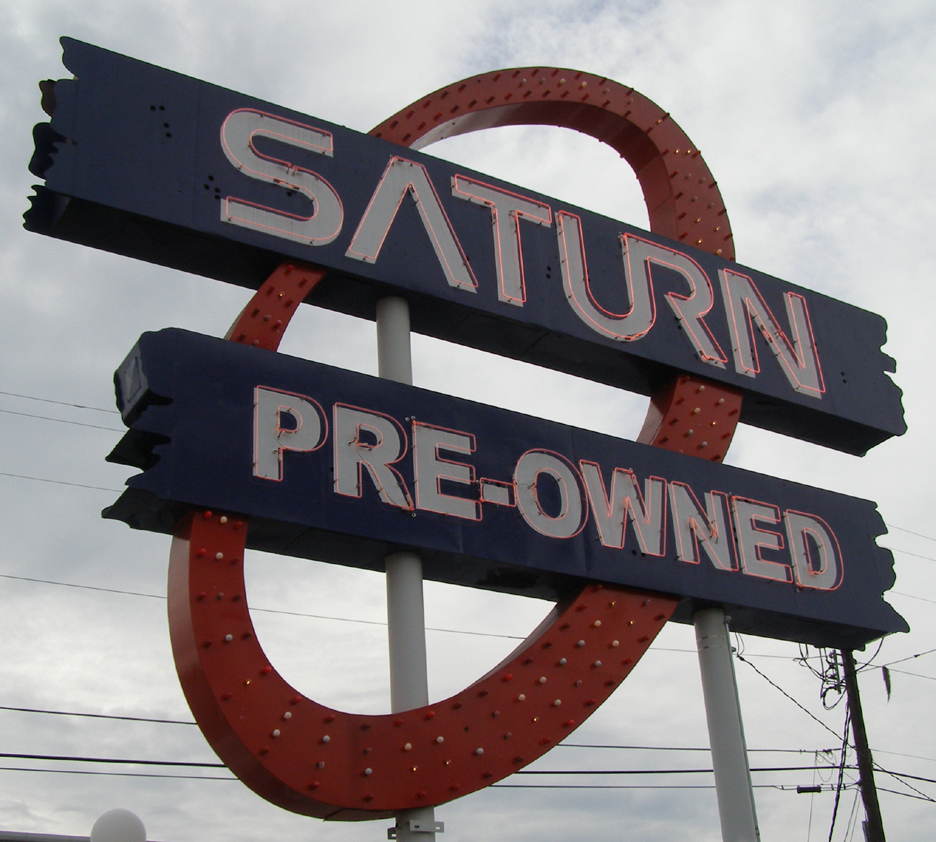 And this is what it's looked like since around 2014:
The Streamliner Diner in Savannah was built by Worcester in 1938. It was originally located in New Hampshire but was moved here in 1990 by SCAD (the Savannah College of Art and Design). It housed the Sandfly Bar-B-Q restaurant from 2015-2020. It's vacant now but I was able to shoot the interior from the entrance door window:
This funky sign with a giant key is located in Savannah:
This place is located in Augusta:
Also in Augusta:
Another one from Augusta. The peanut brittle and chips signs are reverse-painted glass:

The Chateau Restaurant in Augusta is closed but this facade sign remains:
The Lamar Building in Augusta was built in 1918. The crazy rooftop, penthouse addition was designed by I.M. Pei and built in 1976. It is sometimes referred to as "The Toaster":
The Karpf Building in Savannah was built in 1935. The original tenant was "B. Karpf", Benjamin Karpf's hat store:
This sign in Savannah has been through a lot. It was originally built in 1947 for Mathew's Fish Market restaurant. Mark Denton shot the sign in the early 1980s:
https://www.flickr.com/photos/swampzoid/3406234840/
Later, the lettering was adapted for an Italian restaurant. It was adapted again for Sorry Charlie's seafood restaurant around 2003. Here's a photo that I took in 2007. I think these were the original panels, just repainted:
The building was declared unsafe in 2007 and the restaurant closed. After repairs, it reopened around 2014. This sign was replicated and reinstalled around 2015. The text layout is a little different and the water beneath the fish is a little simpler, but overall the design is pretty faithful to the original Mathews sign:
The Paradise Restaurant sign in Sylvania opened with this sign in the 1950s:
There was a companion sign with birds at the adjacent Paradise Motel:
There restaurant sign already looked a bit different by the 1960s:
It was replaced with this sign sometime later in the 1960s. The star on top originally revolved. My photo from 2009: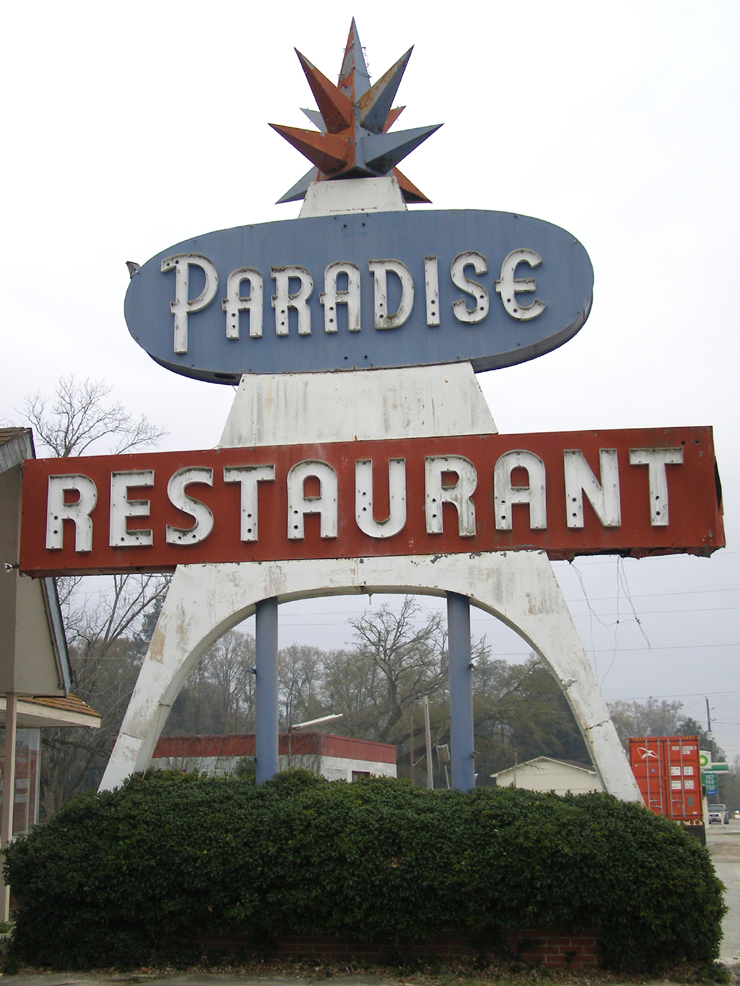 The restaurant closed in 1999. Just before it was demolished in 2016, the owners of the nearby Cooperville Caboose saved the sign and moved it to their property. They planned to restore it or at least erect it. But that never happened. The Caboose closed and the sign was moved to a nearby field. The "Paradise" panel lays in the grass and the star is nowhere to be found:
Last photo for this post. The Williams Seafood restaurant in Savannah burned down in 2004 but this sign remains, being swallowed up the trees more and more each year:
A four-day weekend — woo-hoo! So, don't be surprised if you hear from me a time or two again very soon.

Happy trails,
dj & the dogs