These two days were kinda crappy weather-wise. Hardly any sun. So, prepare for some gray photos. Let's continue with Northwest Florida stuff, starting with this motel in Minneola, FL. The giant orange in front
This vintage postcard shows that the orange had a light on top originally and a little pool below:
This Giant Tooth mailbox is installed in front of the Belleview Dental Center in Belleview, FL:
The Krispy Kreme in Gainesville, FL still has a vintage crown rooftop sign. The oval panels would have revolved originally:
The Lorito's sign in Ocala, FL has been through a lot. Here's a photo that I took in 2009 just before it was knocked over by a drunk driver: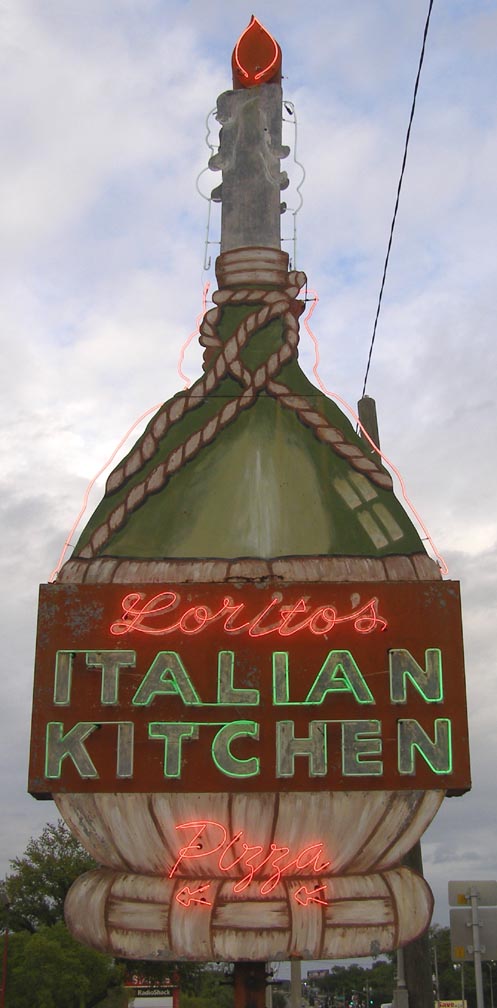 The owners had the sign "restored" with vinyl decals. It was not a good look and then they faded. Around 2017, the vinyl decals were painted over. I'm still not a fan of the serif font but… yes, way better than a plastic box:
The Marion Theatre in Ocala, FL:
The Howard Johnson's in Ocala , FL was built as an Econolodge. HoJo's moved in in the late 1990s. This weathervane steeple was built in 2016 during renovations. It simulates the original rooftop detail with the Simple Simon & Pieman logo:
Two of these ginormous signs were built in Tampa, FL: one for Britton Plaza and the other for Northgate Plaza:
This former Firestone in Clearwater, FL has been a Tires Plus for many years:
This former Kress department store is in Lakeland, FL:
This Moderne Masonic Temple in St. Petersburg, FL won't be around much longer. Plans to demolish it and build a high-rise have been approved. The sign will supposedly be donated to a Masonic Lodge:


This pirate sign welcomes you to Treasure Island, FL as you drive across the bridge:
I'm always relieved to see this big guy at this self-serve car wash in Lakeland, FL:
Let's close this post with the World Liquors sign in St. Petersburg, FL. The sign was supposedly built in 1961. Here's a photo that I took in 2009: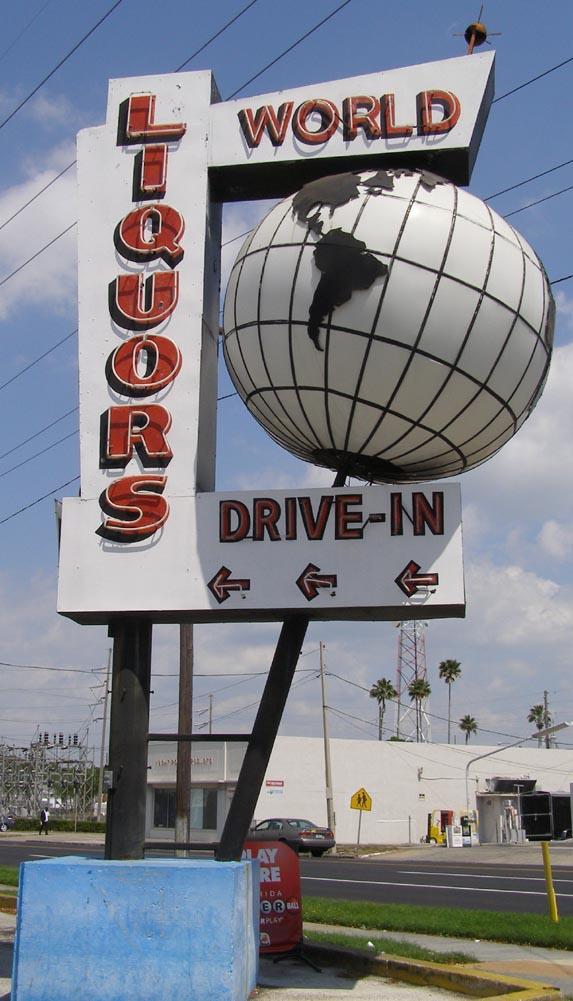 Although according to many articles, the globe supposedly came from a 1950s World Furniture store. I found nothing about that store in St. Petersburg or Tampa at newspapers.com or anywhere else. This Food World sign in Tampa sure looks like a match to me! However, that chain wasn't established until 1971 so… the true history still remains a mystery.
In 2018, the liquor store property was sold and the sign was either sold or donated to Ferg's Sports Bar & Grill. They kept the globe and created new sign panels and the sputnik on top.
The old panels are displayed at Zazoo'd, a home furnishings store in St. Petersburg. The store wasn't open when I was there but I managed to get this shot through the window:
That's a wrap for now. I expect to have more for you soon since I'm hunkered down for this four-day weekend, Photoshop-ing and adding hundreds of photos to my website.

If you can make it, I'll be one of the speakers for a little hour-long virtual event that the California Preservation Foundation is putting on Thurs, Sept 9 at noon PST. It's free and some very interesting folks will be talking. For my eight minutes, I'll be screensharing with some tips and tricks for navigating my ridiculously huge website and getting the most out of it for your enjoyment and trip-planning. More about the program here:

https://californiapreservation.org/events/plane-train-auto/

Happy trails,
dj & the dogs