Ready for another strong dose of reality?
The Frontier Motel in Oberlin, KS was still there in 2018: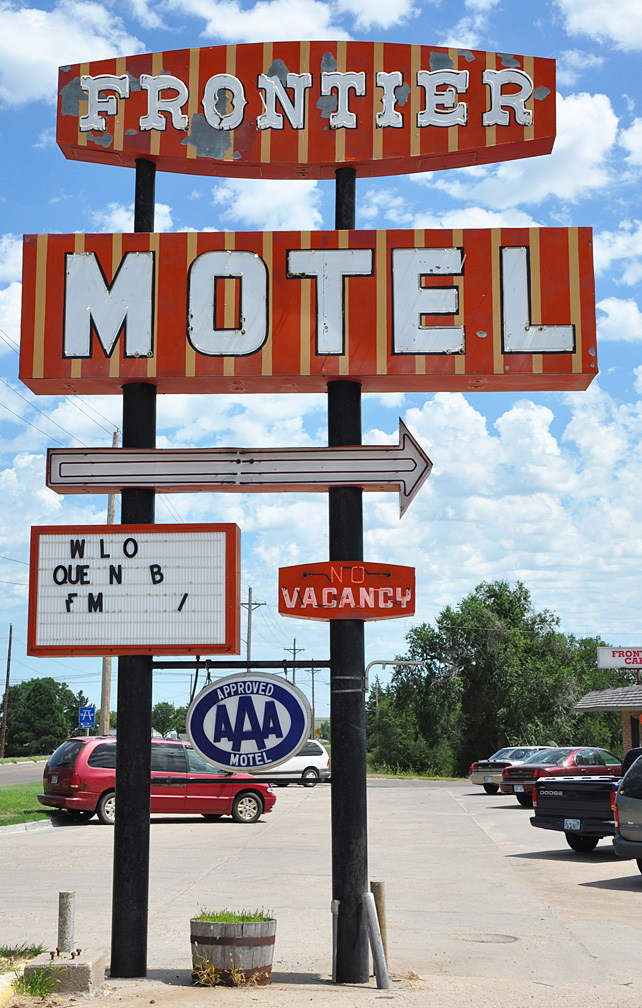 But by last year, here's the crap that replaced the neon panels and arrow:

Damn. Another one that I never got to shoot which has been on my list for years. This Woodburg Drugs sign was in Dawson Springs, KY:
A couple of things out of order that I'll sneak in here. In my little hometown of Ventura, CA, one of the few neon signs just got scalped. Here's what it looked like until a few weeks ago (the plastic backlit plastic vertical "Motel" above this was not original):
And now — they didn't even spare the neon "loops" on the side of the sign facing traffic:
I'm also wrapping up the latest article for the SCA (Society for Commercial Archeology) Journal with house signs ("Home Sweet Home") and I've just picked out the feature signs for the next article on Clock Signs. While organizing the new companion page at my website for that print article, I discovered that the former Elgin clock sign in Pendleton, OR is gone now: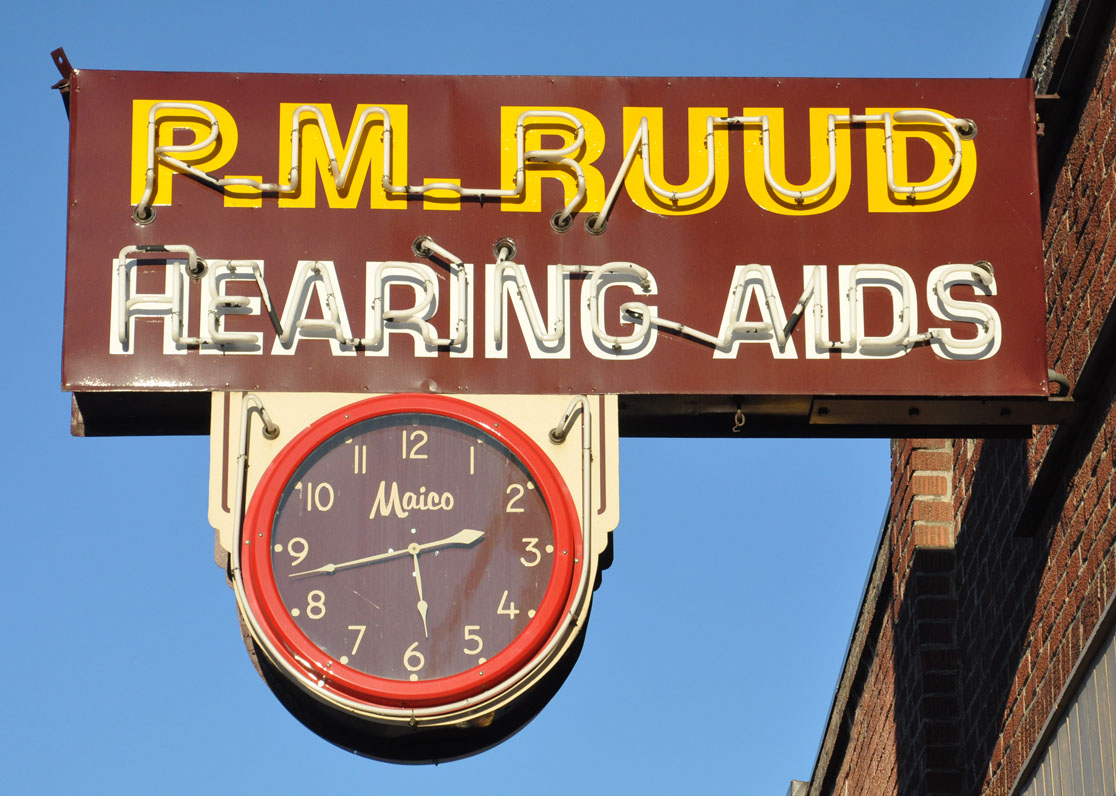 I'm still adding info to the House signs page and I've started the Clocks sign section. If you interested in either one, here are the links:
https://www.roadarch.com/sca/home.html

https://www.roadarch.com/sca/clocks.html
All of the Benny's Home & Auto locations closed in 2017. This letters on this sign in Raynham, MA were removed in 2018 and then by 2019, the sign was gone: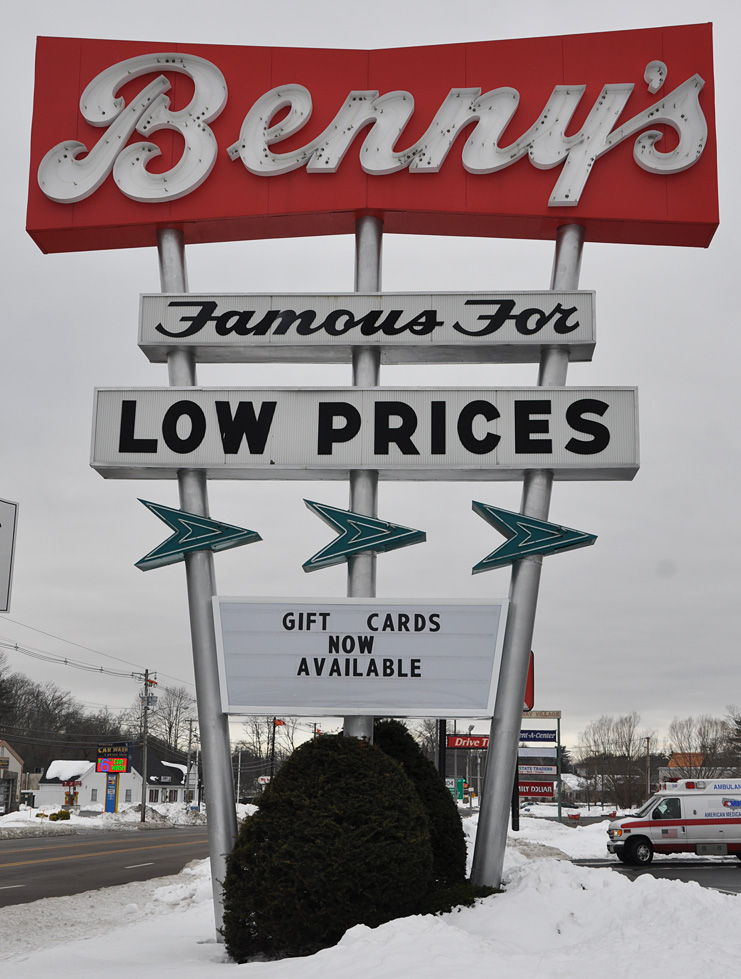 This sign in Hamtramck, MI: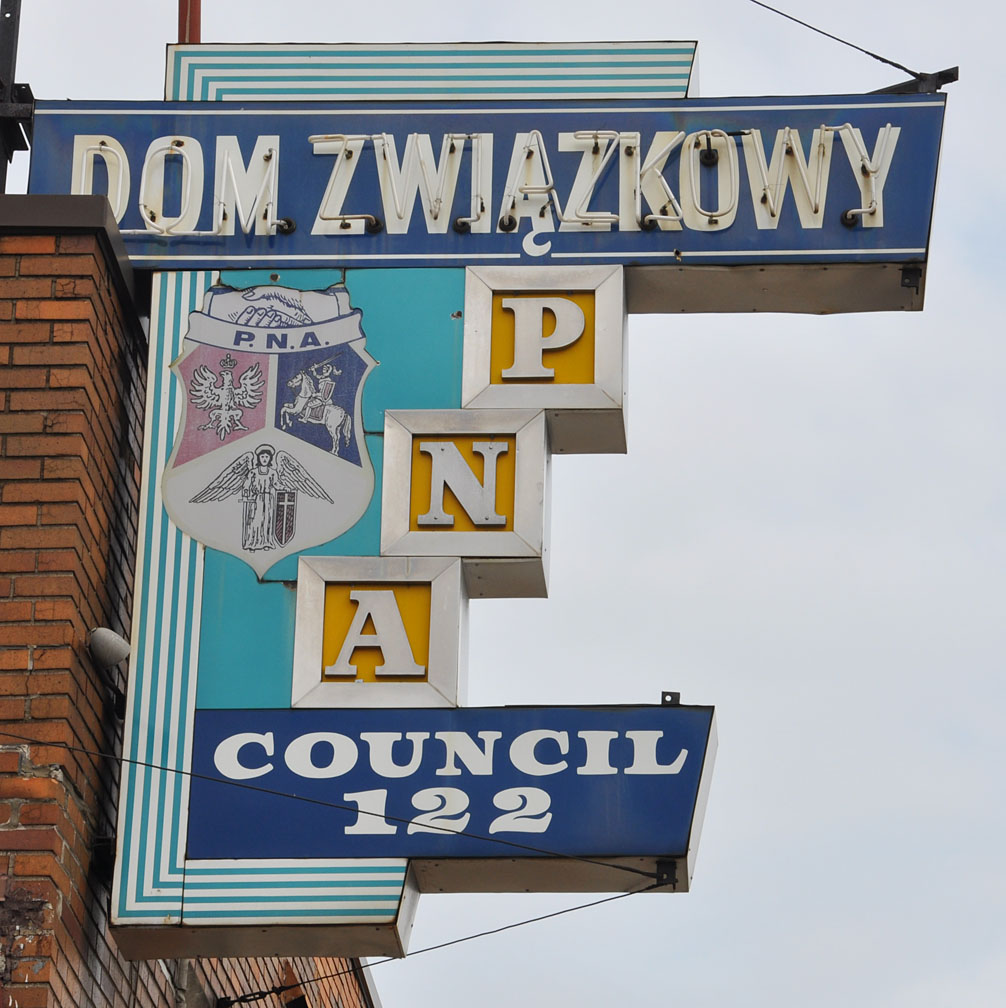 was stripped of its neon and charm and looks like this now:
Dingman's Bar in Kalkaska, MI burned to the ground in 2018: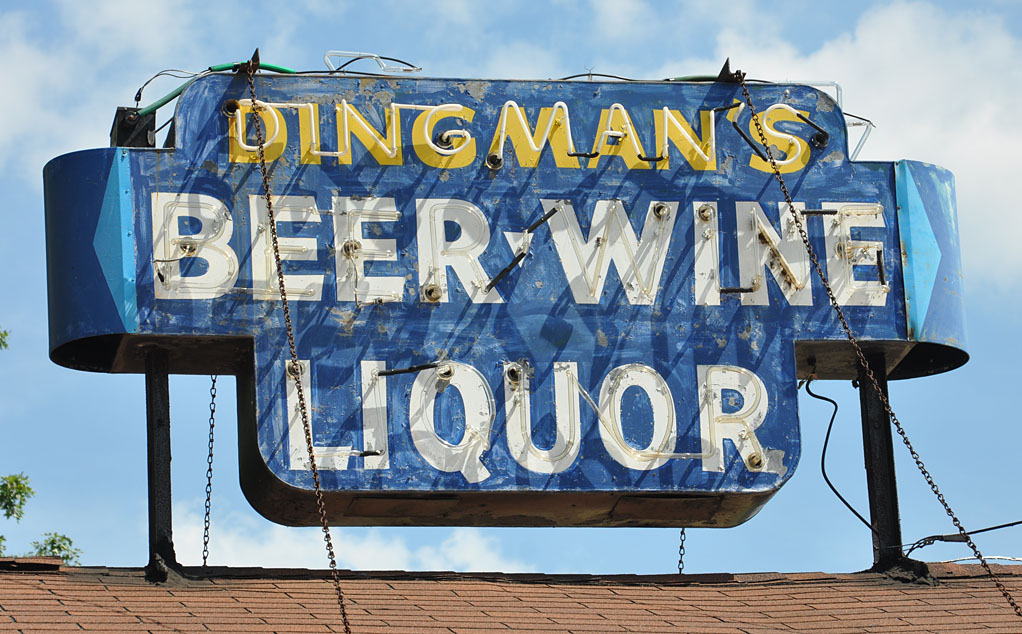 The North Pole Bar in Duluth, MN closed and these cute signs are gone: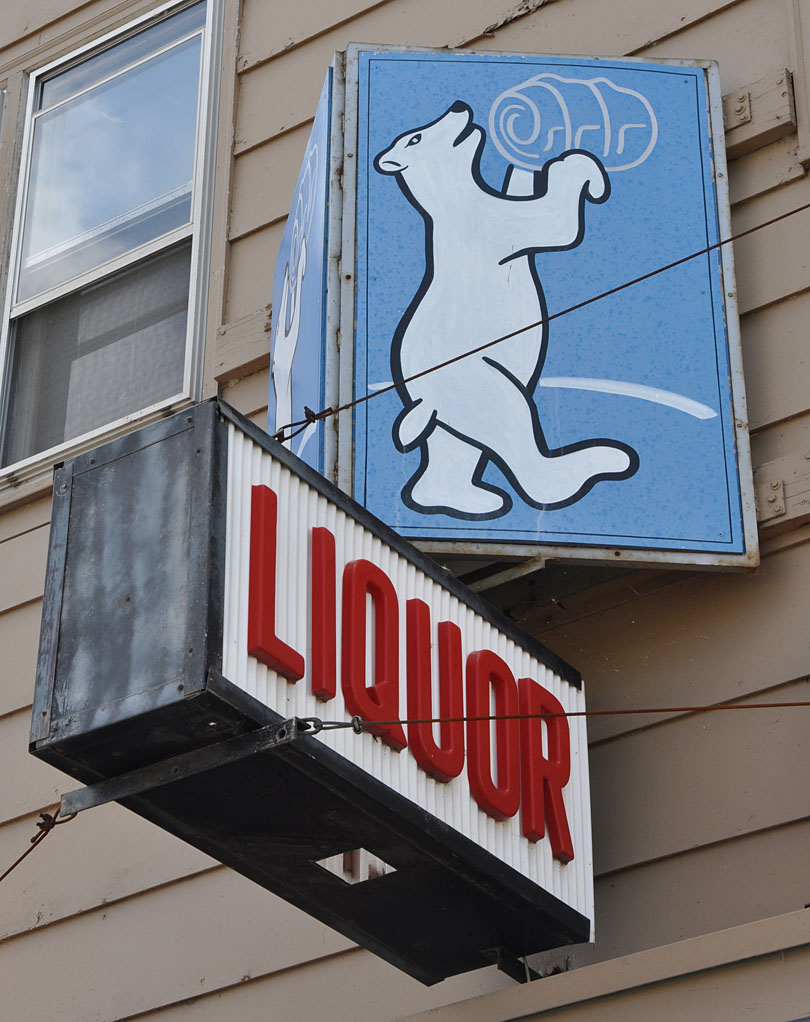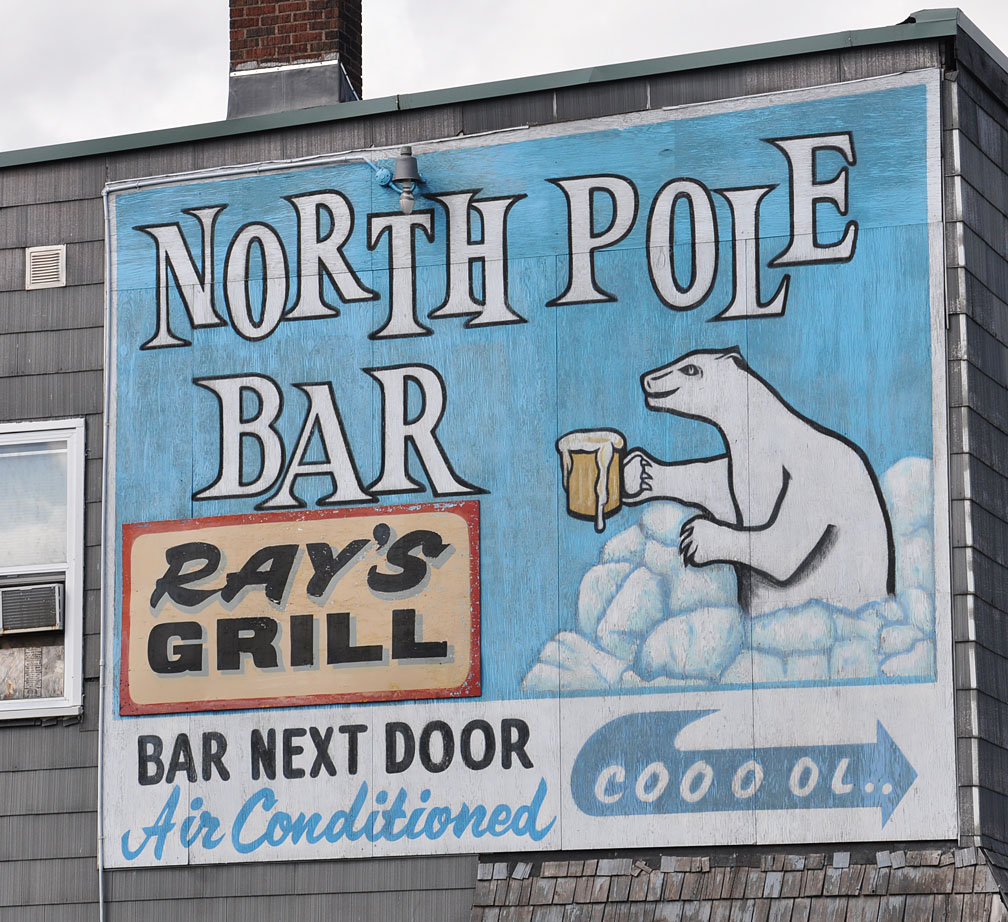 This beautiful vitrolite facade in Faribault, MN: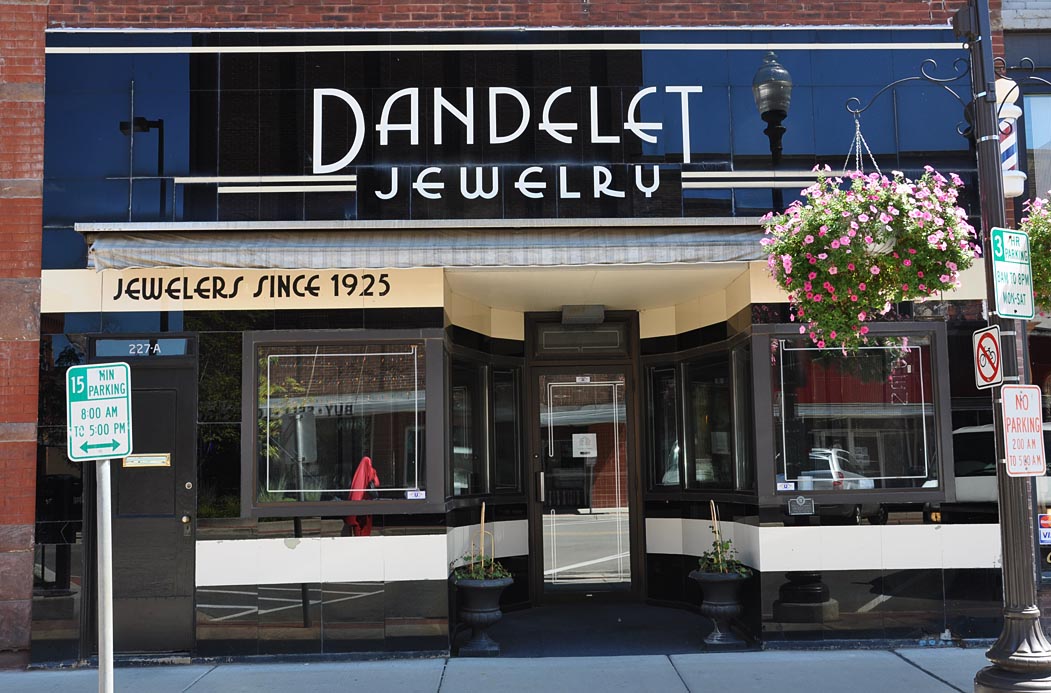 had the gorgeous Art Deco lettering removed for a clothing/gift shop/check cashing place. At least they left the "Jewelers Since 1925" in place:
A whole bunch of bad news from Montana. I never got to shoot this one. Removing it from my list for next summer. The Golden Spike Bar in Havre, MT was remodeled in 2019 and I guess they thought the old sign shaped like a railroad spike had to go? Here's a photo from my pal Jasperdo:
https://www.flickr.com/photos/mytravelphotos/14498065190
Another one gone in Havre, MT by 2019 that I didn't get to shoot. Here's a photo of the VFW sign from my friend Alan:
https://www.flickr.com/photos/732mpd/6241817969/
I was really looking forward to seeing this one. It looks like the bulbs & neon were in good shape. Maybe by some miracle, they are restoring it? However, it's so big (what, 40 feet wide?) that I can't imagine going to that trouble of taking it to a shop & returning it instead of restoring in place. So, the Vacationer Motel in Kalispell, MT got a new coat of beige paint and this guy is apparently gone. Here's a photo from my pal, Seth:
https://www.flickr.com/photos/sethgaines/6716676391/

Here's a nice vintage postcard just to make it worse:
Another one gone — in Missoula, MT. The Lucky Strike Casino building was replaced with a new brand new Dairy Queen.
https://www.flickr.com/photos/huntsmaniii/2856835069/
Another one gone — in Shelby, MT — at least Alan got a shot:
https://www.flickr.com/photos/732mpd/6255319453/
That's enough tragedy for one post. I'll be back, probably over the weekend, with a new post starting with the "N" states.

Happy trails,
dj & the dogs