Here come the signs — break out the Kleenex. Not much good news to share for this batch.
This sign in Conway, AR disappeared around 2020: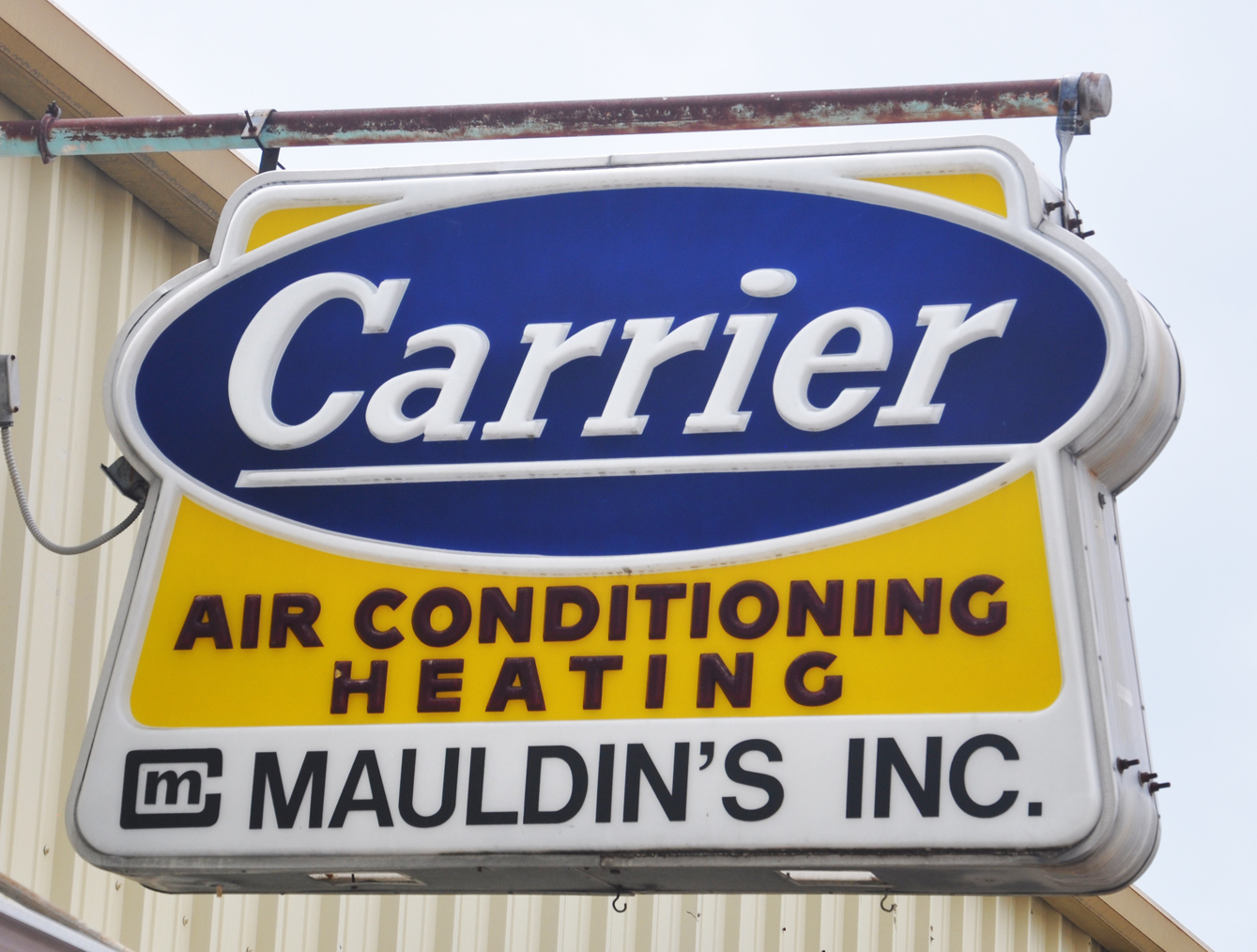 The Silver Peso sign in Larkspur, CA: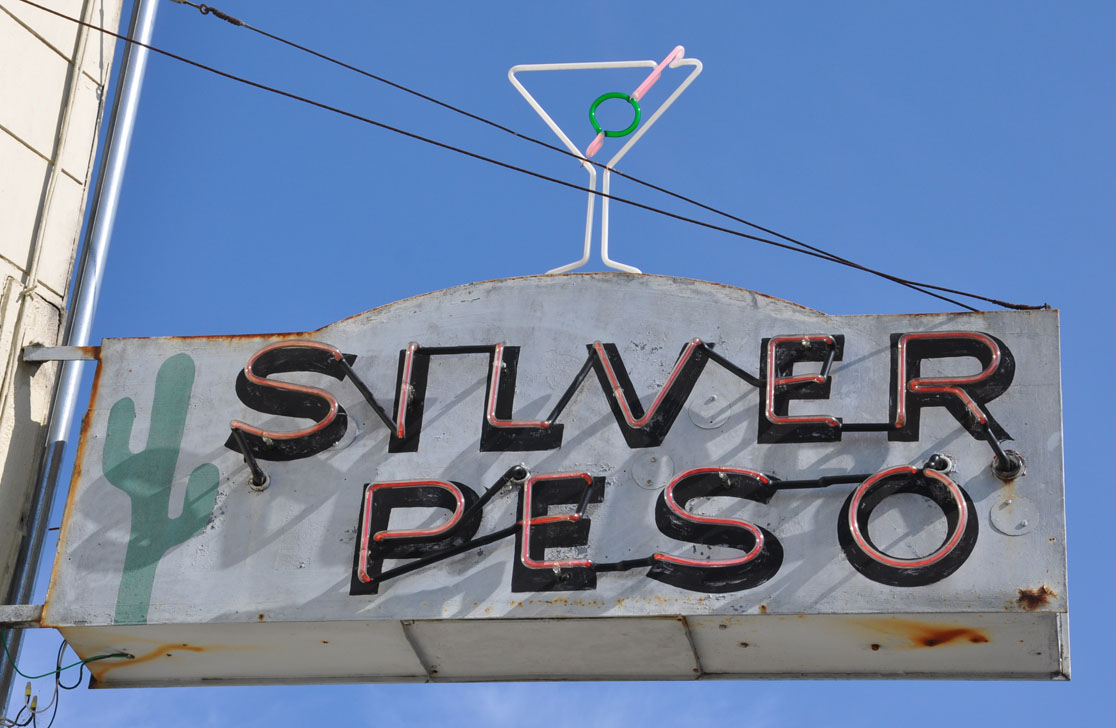 was repainted by 2020:
The neon letters on the Ben's Liquor sign in Reseda, CA: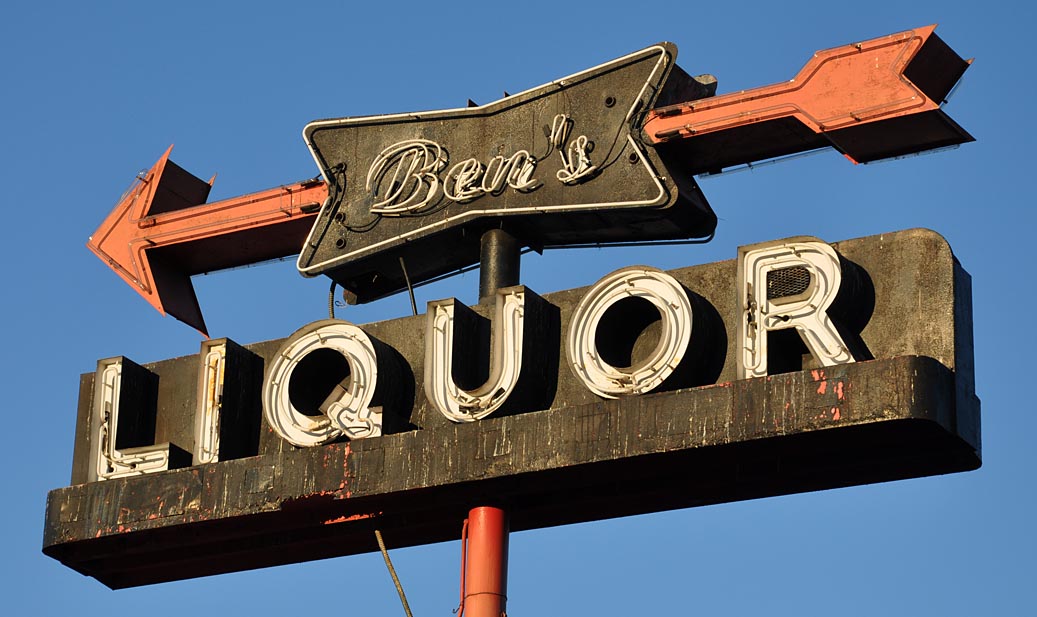 were replaced with backlit plastic versions around 2020. The sign on the building also had neon previously:
The Dainty Pastry sign in Roseville, CA:
changed names in 2011 and was partially covered up with crappy vinyl: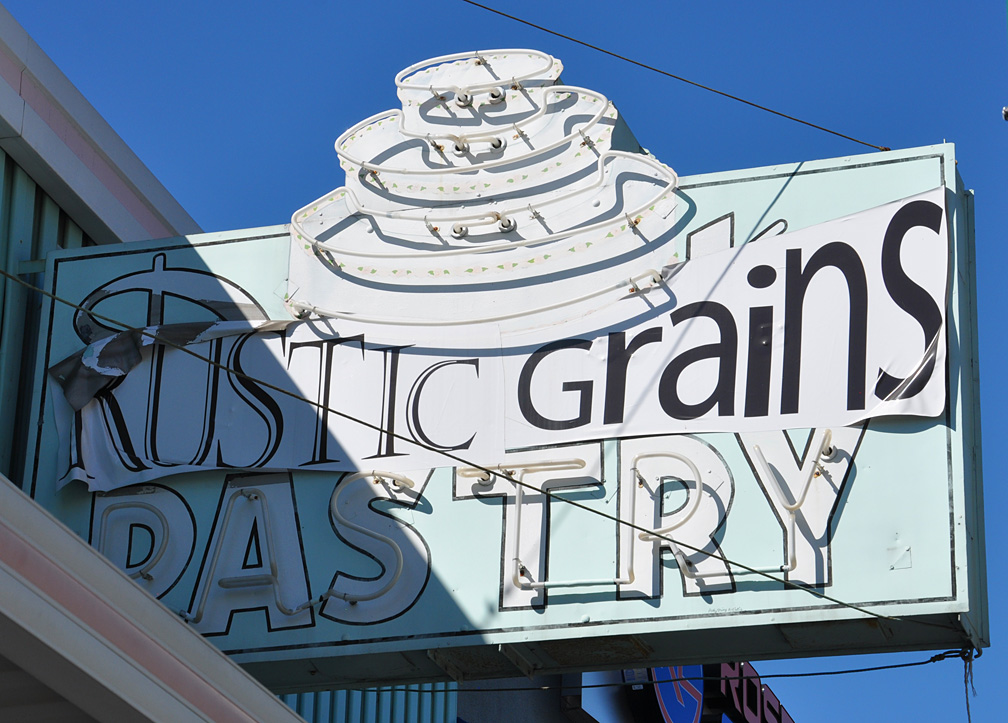 But it gets worse. It was adapted or replaced in 2020 for this:
Ready for another loss? The Tahiti Motel in Stanton, CA:
There were at least two other signs in Anaheim , CA that had the same design – both gone now. Around 2018, the neon and star were removed from the Tahiti sign. New plastic panels were installed. Then, around 2020, backlit plastic letters were added. Here's what the sign looks like now:
These two signs in Watsonville, CA were removed around 2020. There's a flooring store there now:
This one hurts. I loved this sign in Wilmington, CA. It had ripple tin panels and was originally backlit, possibly with opal glass letters originally. Probably from the 1920s. It looks like it disappeared last year: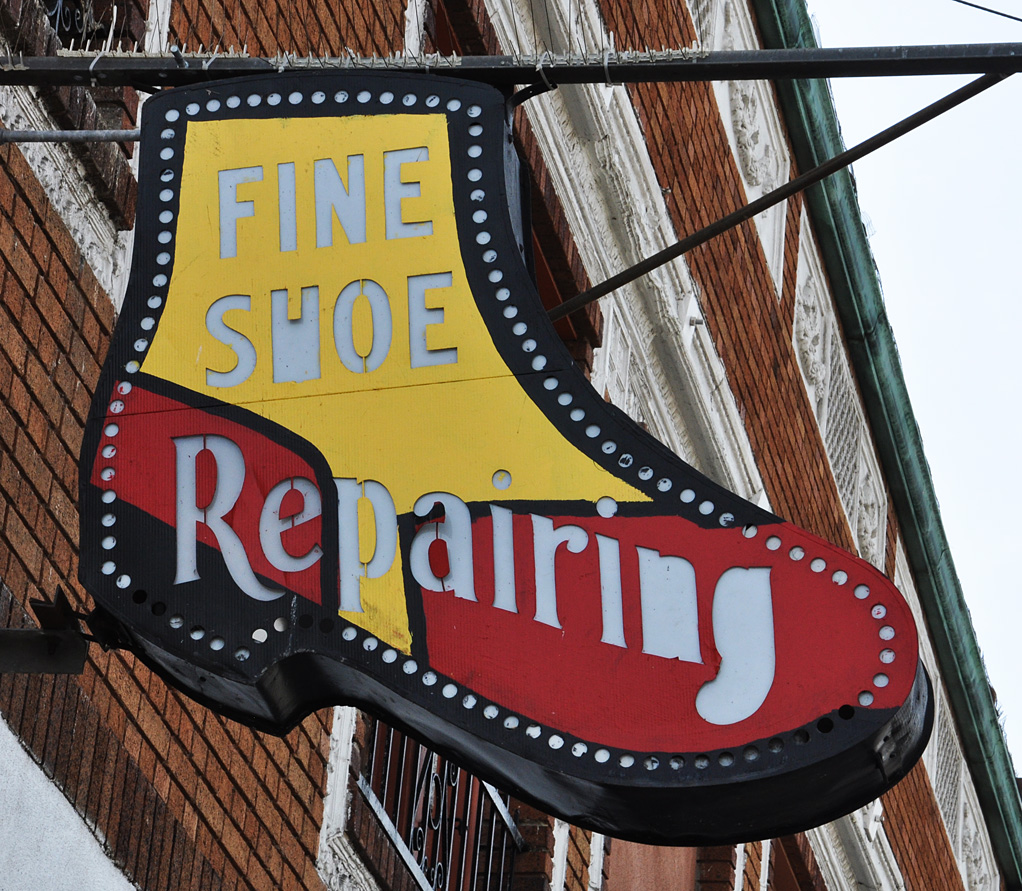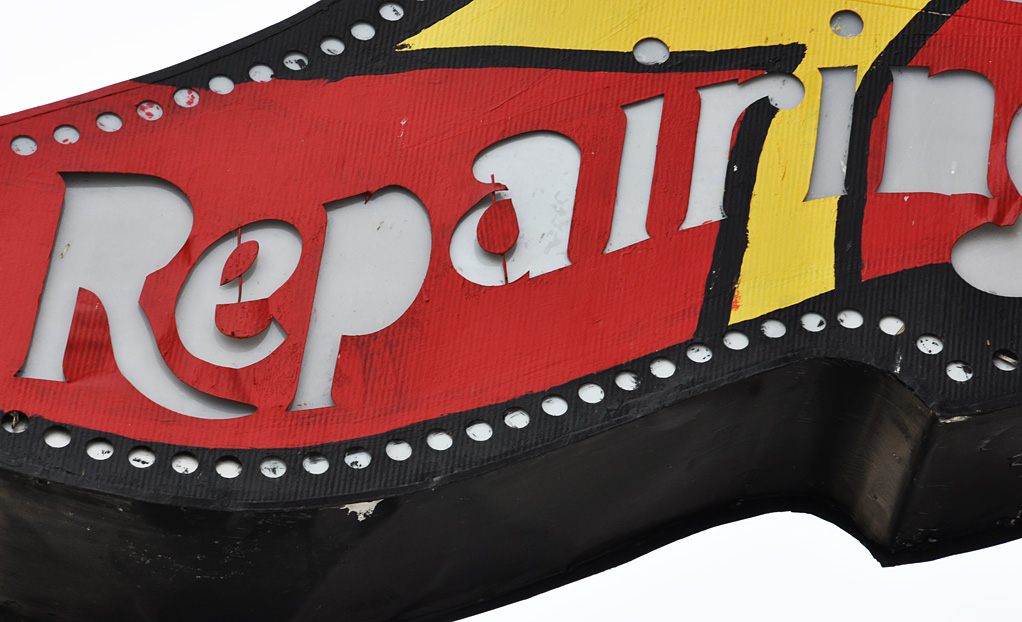 The Big Star Motel in Fresno, CA: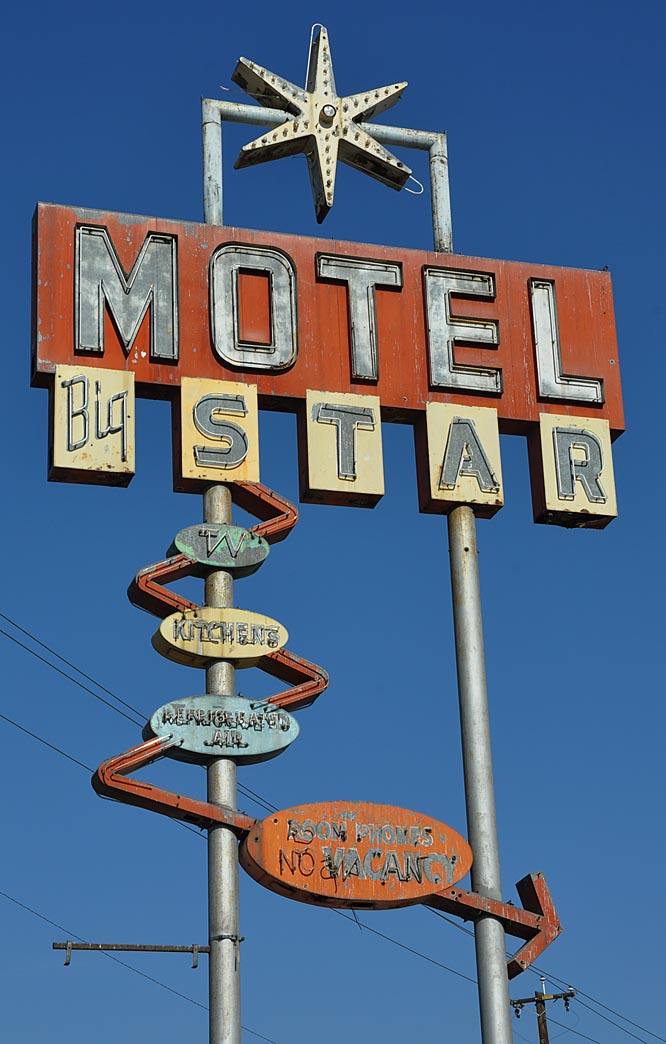 had its neon removed and was repainted around 2020:
The U-Save Liquor sign on Tulare Ave. in Fresno, CA was one of the few in the chain that still had neon: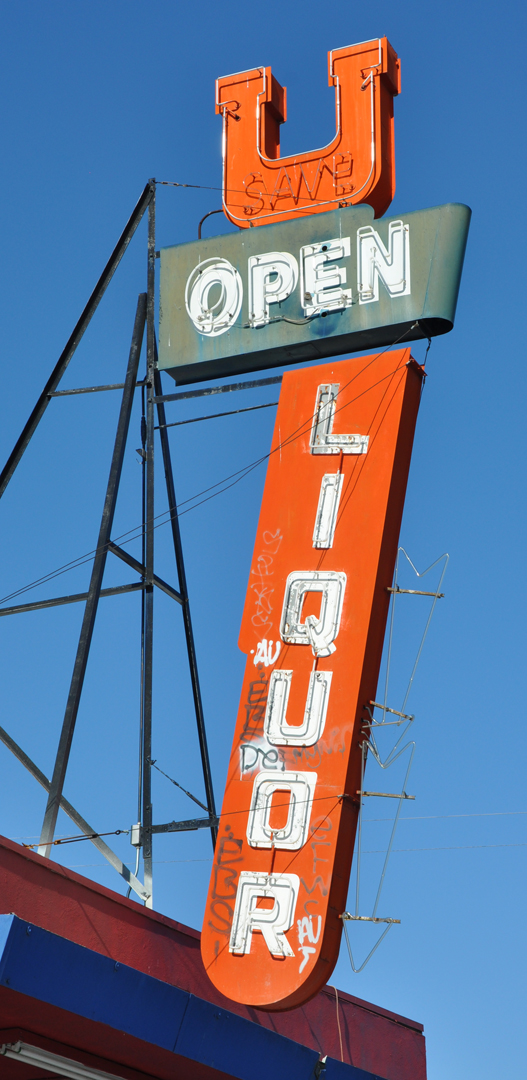 Until around last year — now plasticized:

The Paradise Center sign in Fresno, CA: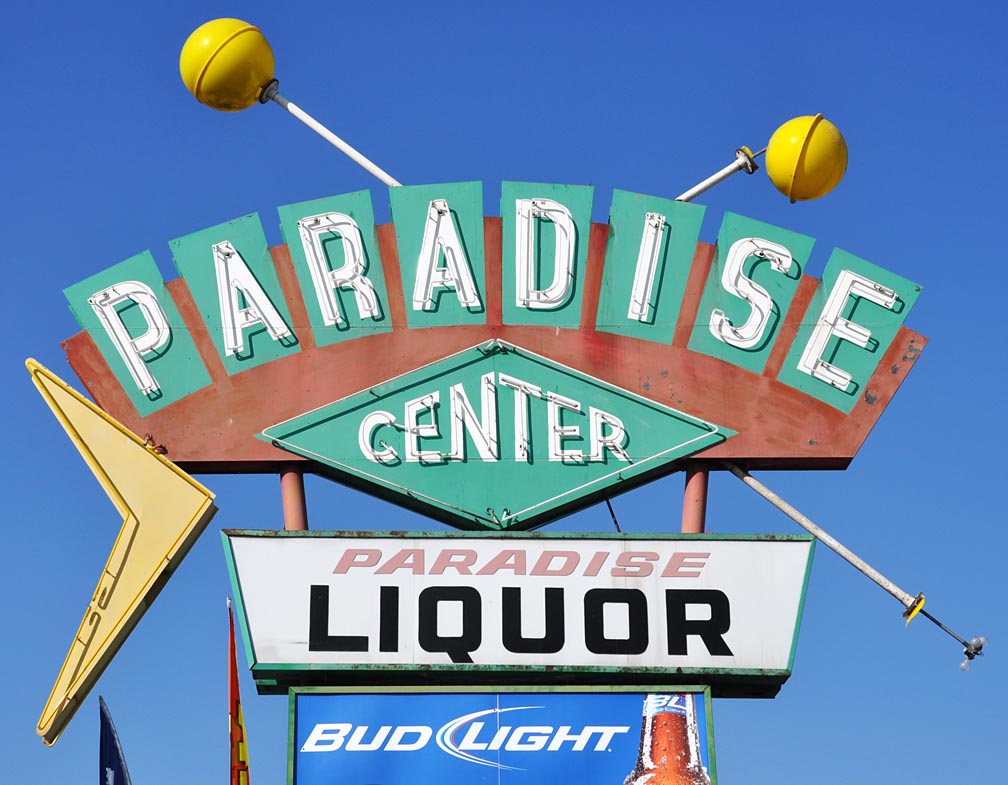 … is not the same without its ballies. It looks like this happened last year:
The Manor Shopping Center sign in San Leandro, CA was toppled by winds and carted away a few months ago. It seems unlikely that we will see it again: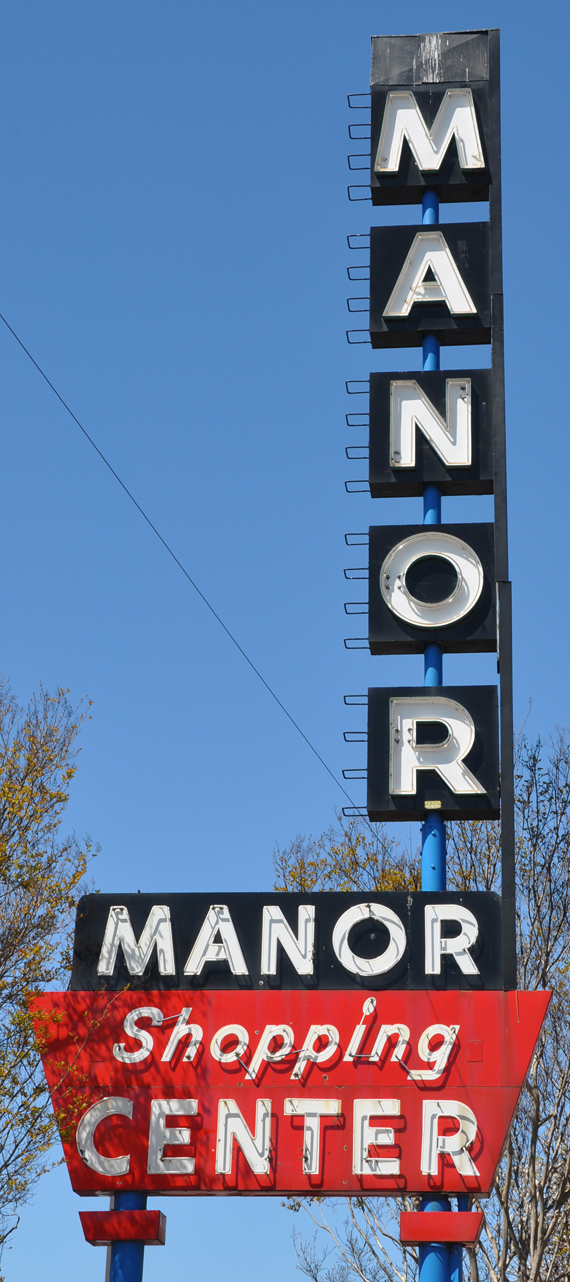 Ernie's Seafood in San Leandro, CA closed last year and the sign is gone: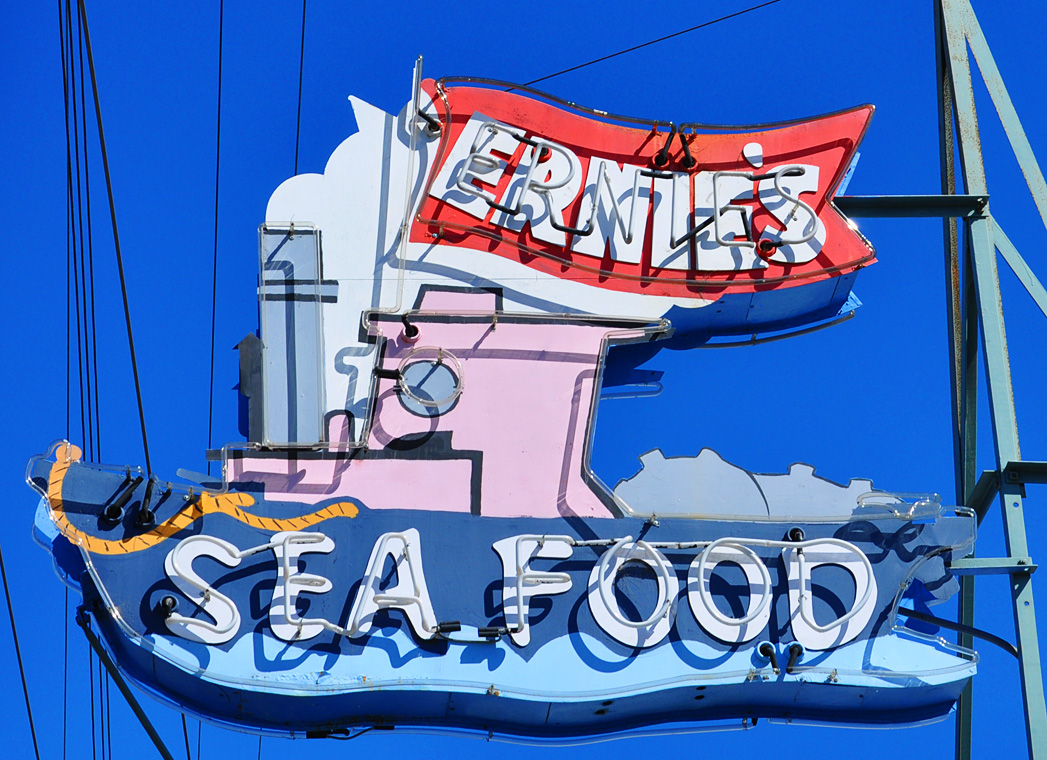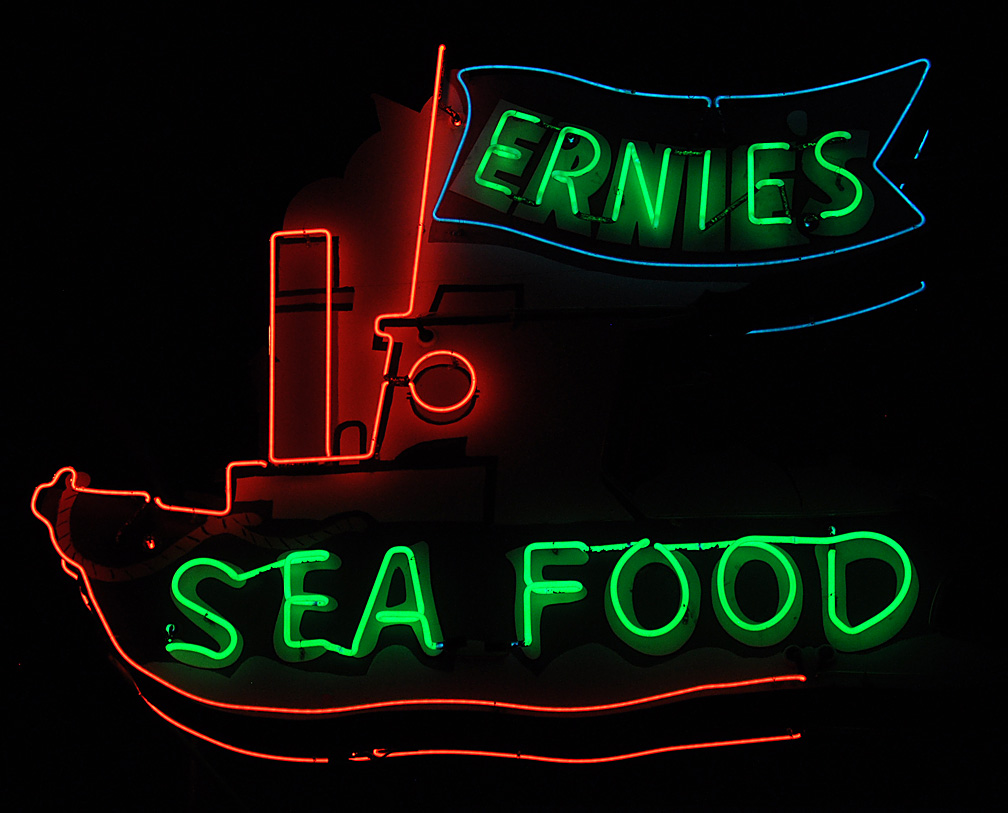 This bar sign in Los Angeles, CA at The Griffin was probably modern. It appears that the place closed last year and the sign is gone now: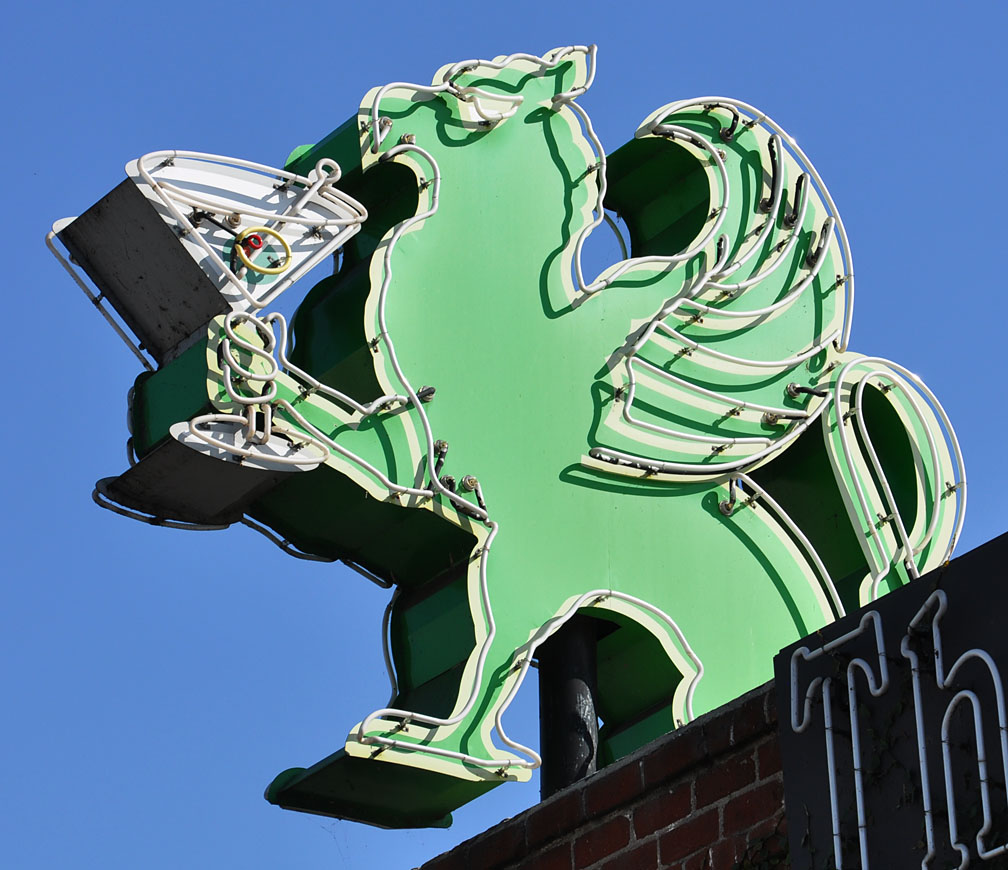 This sign in East Los Angeles, CA: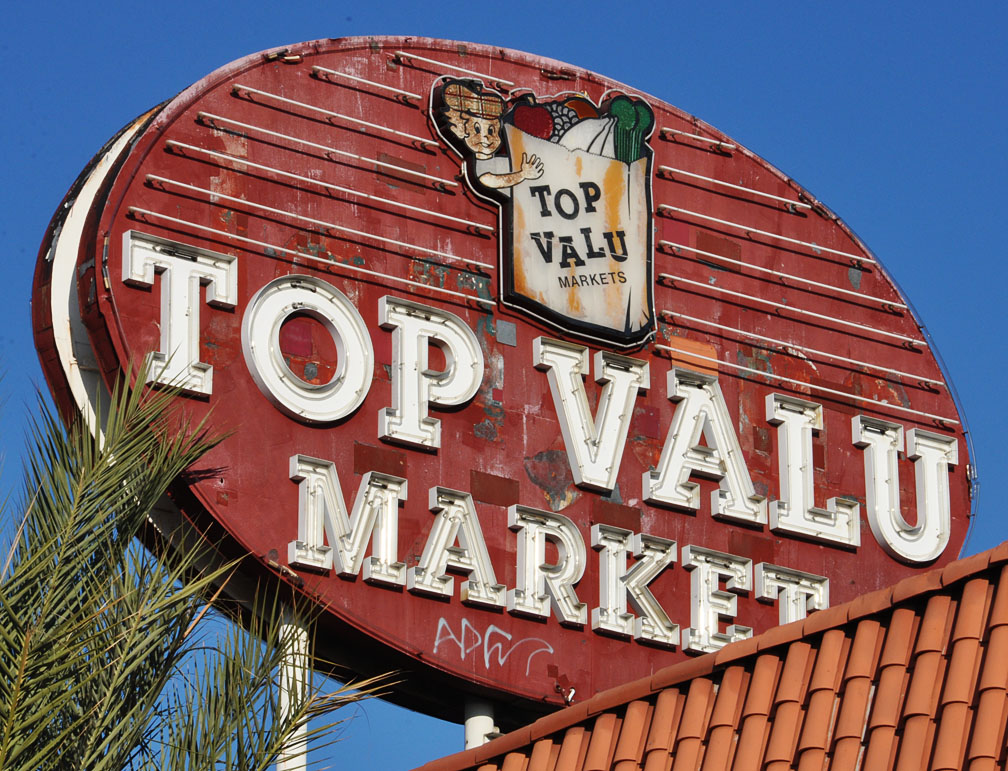 was horribly adapted for another market around last year:
This beauty in Oakland, CA:
was stripped of neon and backlit plastic letters added in 2019:
In Sacramento, CA, this building was demolished in 2020 and the signs are gone: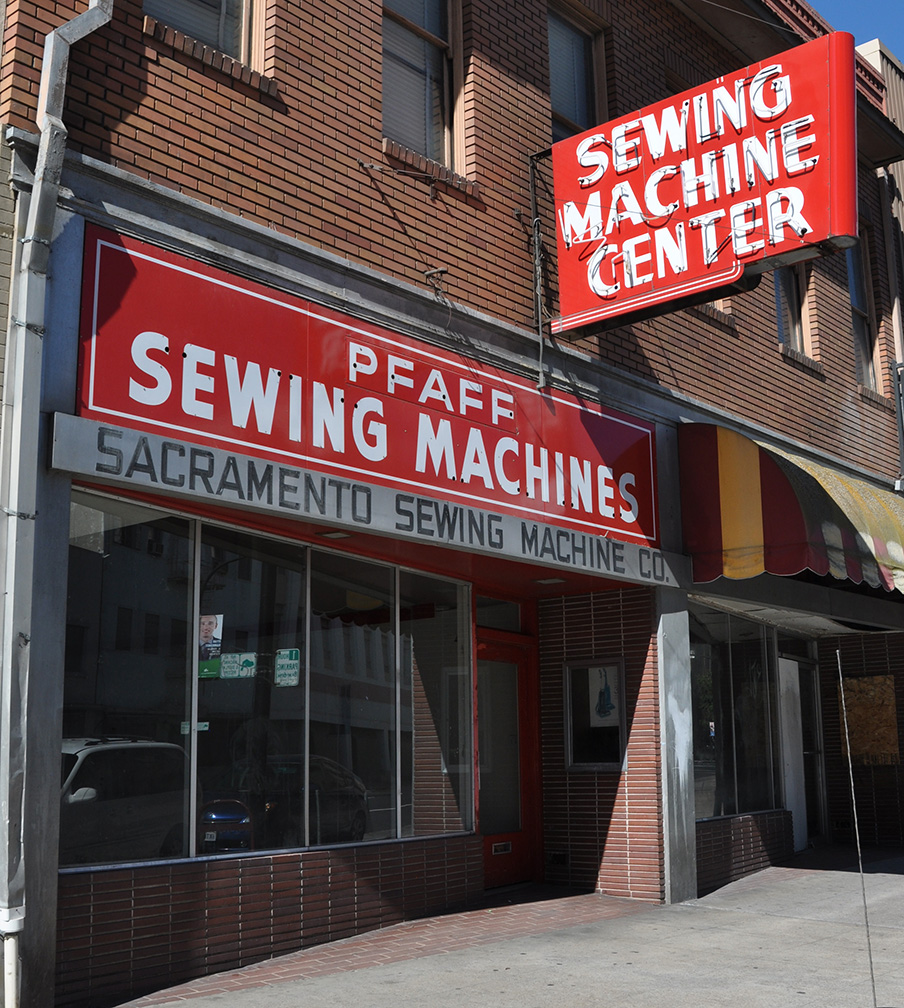 In 2020, the building that housed the Avenue Inn in Stockton, CA was demolished. This sign is gone: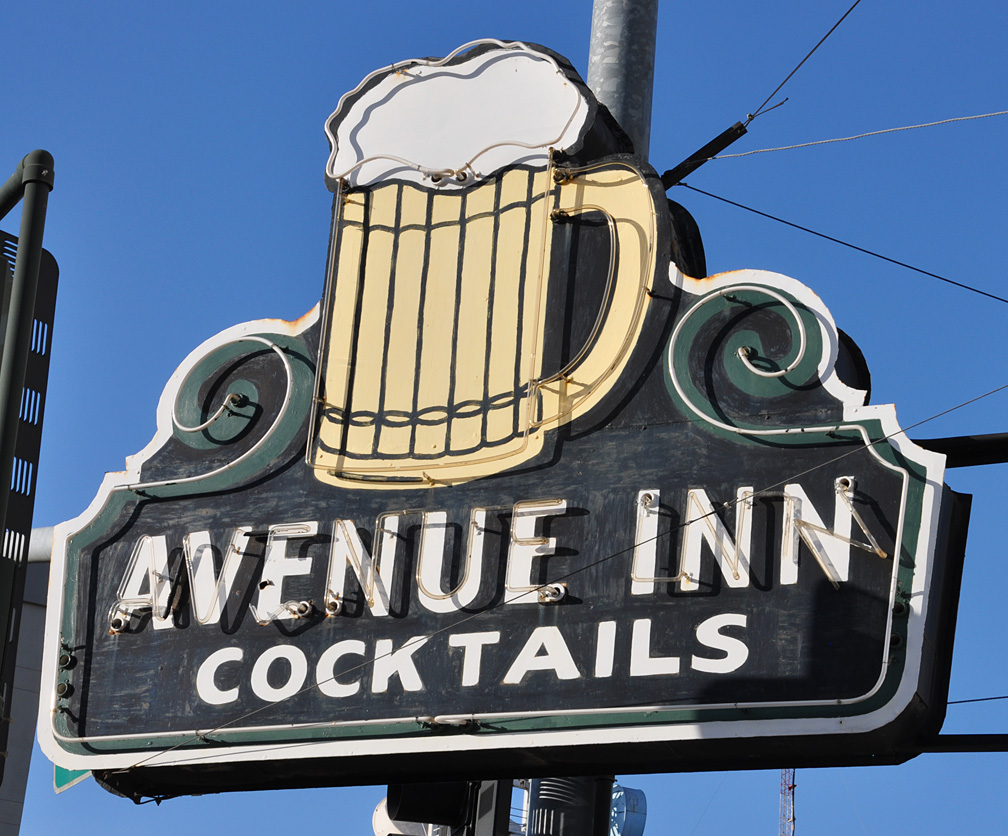 Another loss in Stockton, CA. The Knotty Pine Motel sign: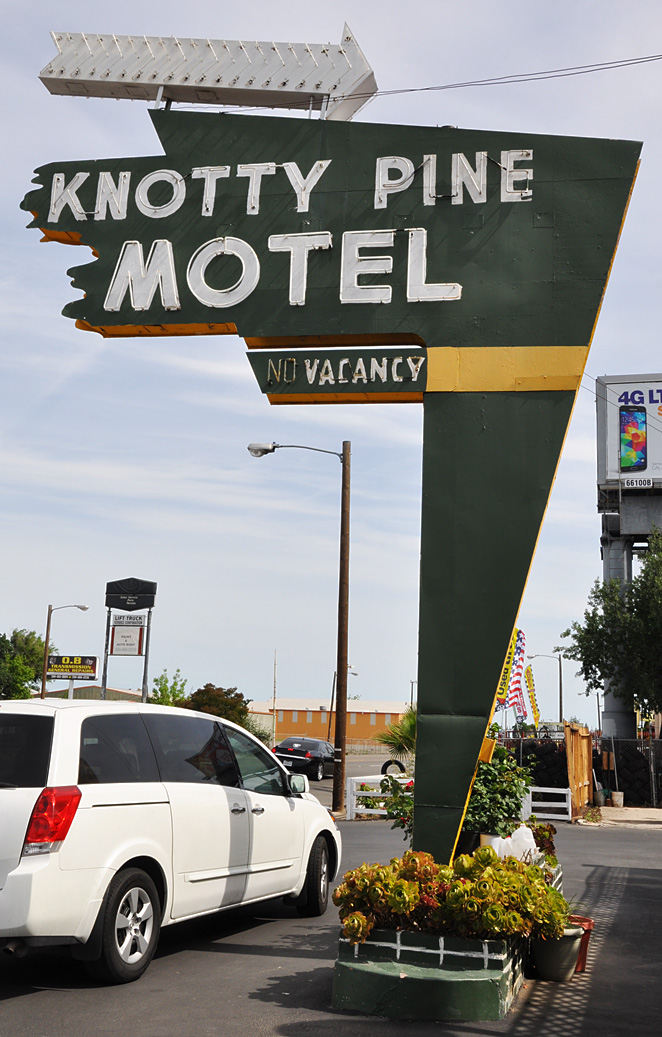 … replaced with this backlit plastic box last year:
Let's end with a couple of losses from Canada. The Macintosh Cleaners in Kitchener, ON had beautiful vitrolite tiles and a cool canopy. Unfortunately, the only photos that I got were on a rainy day: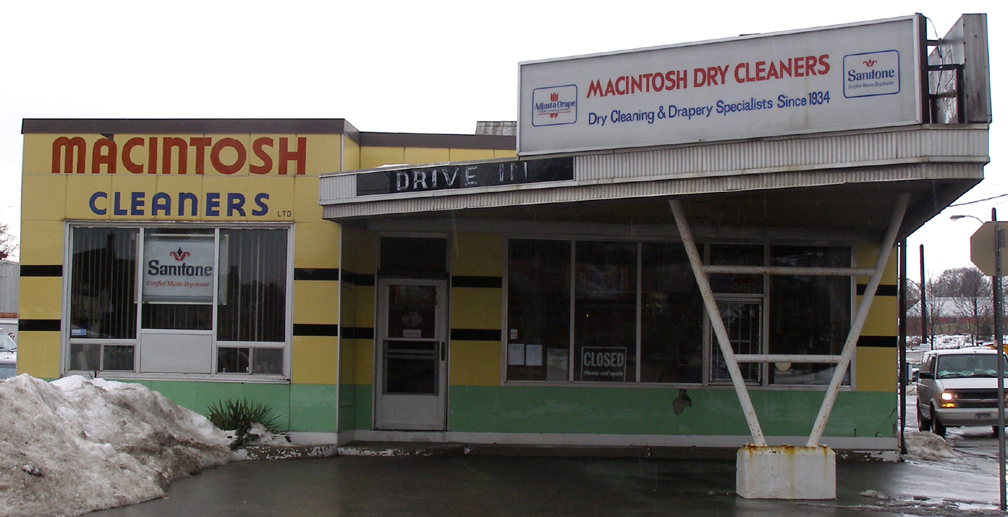 The place closed in 2015. It was renovated in 2020 but all that remains is the canopy:
A couple of weeks ago, the Ernie's Coffee Shop sign in Sault Ste. Marie, ON was hit by a truck, badly damaged, and removed. It's not known if this one will be back: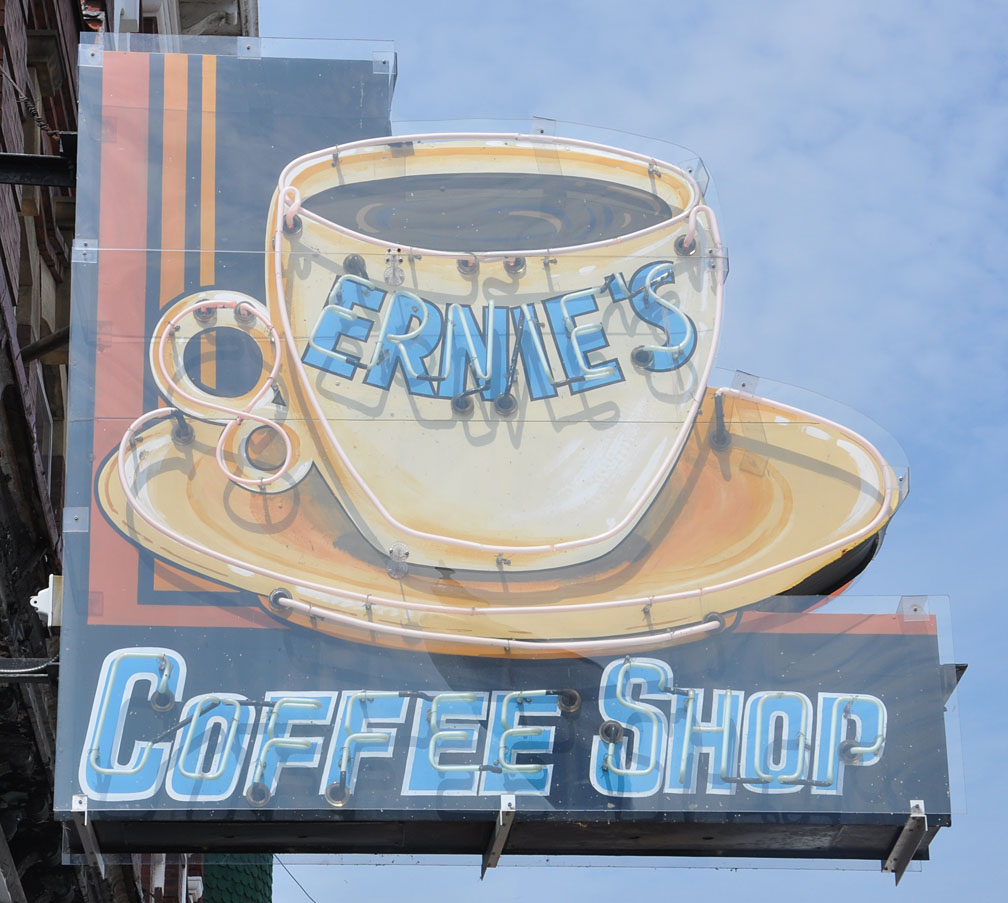 I'm only in the "C"s in the signs section so I have a long way to go. I'll see how far I can get before the big June roadtrip which is less than three weeks away.
Happy trails,
dj & the dogs