I just finished combing the entire gas station section at my website (283 pages worth). This post covers all the noteworthy changes since last year's Google Maps.

This Sinclair station in Aurora, CO was replaced with a boring, modern Sinclair station box around 2019. These batwing Phillips 66 stations were branded as Sinclair in Colorado:

Earlier this month, it was announced that this Sinclair in Denver, CO was being adapted for Benzina, an Italian restaurant:

The re-do is not at Google Maps yet but it looks like, other than fresh paint, the exterior has been preserved:
https://www.westword.com/restaurants/italian-restaurant-benzina-to-open-with-consulting-chef-brian-lockwood-11939553
This former Sinclair with the silly gabled canopy and roof in Colorado Springs, CO:

is currently being transformed into something (couldn't find out what on-line — restaurant?). The batwing is still there with the gable (so far anyway) but it looks like the service bays have been lopped off and replaced with a hideous box:
This Phillips 66 in Fargo, ND was leveled in 2019: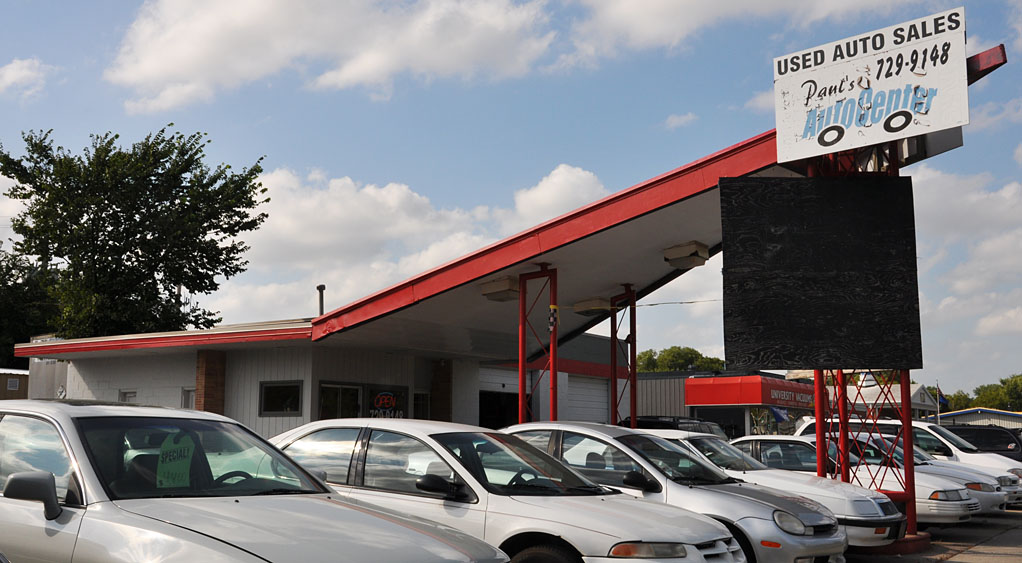 This Phillips 66 station in Daytona Beach, FL was looking pretty miserable in 2009. By 2014, the canopy on the left must've been hit by a truck and was half gone. I figured this building's days were numbered:
But it's been gradually rehabbed, repainted, and, in the most recent Google Map, the building was looking spiffy with plants and a flag… and even caught someone painting! The undersides of the canopies are exposed which is probably not a good idea. There's no sign but it appears to be in use for car repairs:
This former Husky station in Denver, CO with the mysterious rooftop addition was demolished around 2019:
While we're on the gas station topic…. here's one of the very first photos that I took for my website in 2001. Yes, I've been working on my website for 20 years now!! Initially, I was just building it for myself as a place to upload my photos and add a little info, organize things. I naively didn't know there were things like search engines and that people were looking at my stuff until I got an email one day… Well, anyway, this was my "roadcrew" at the time: Gripper, Spud, BeeBee, and Fix. They were all well-loved, well-traveled, and are much missed. This station in Derby, CT was demolished around 2017: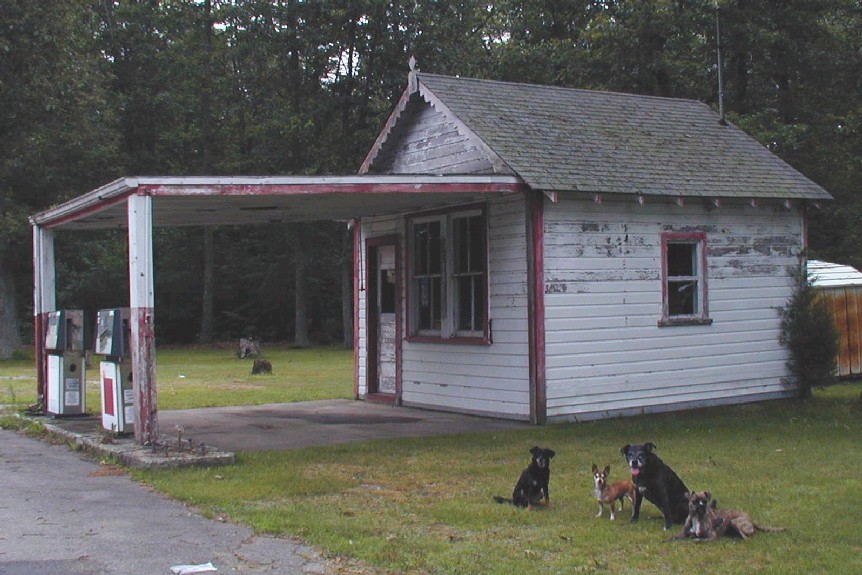 Around 2019, this former Hi-Speed station in Flint, MI had its tower lopped off. There are only about a dozen or so of these buildings left. Here it was in 2011: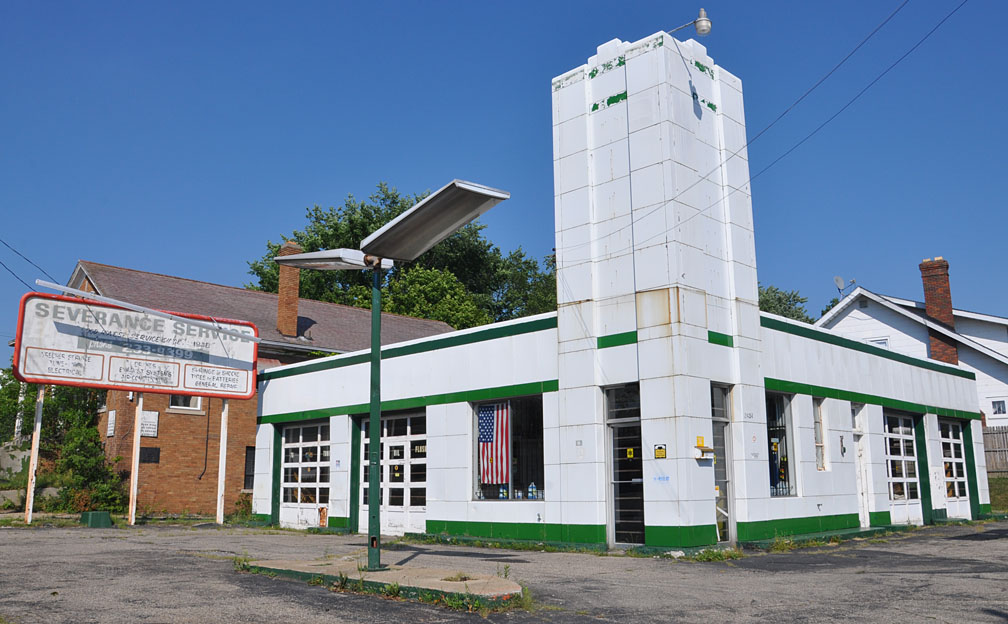 Here's a vintage image of a similar, probably slightly earlier, example of these stations:

This former station in Cresskill, NJ was gone by 2020: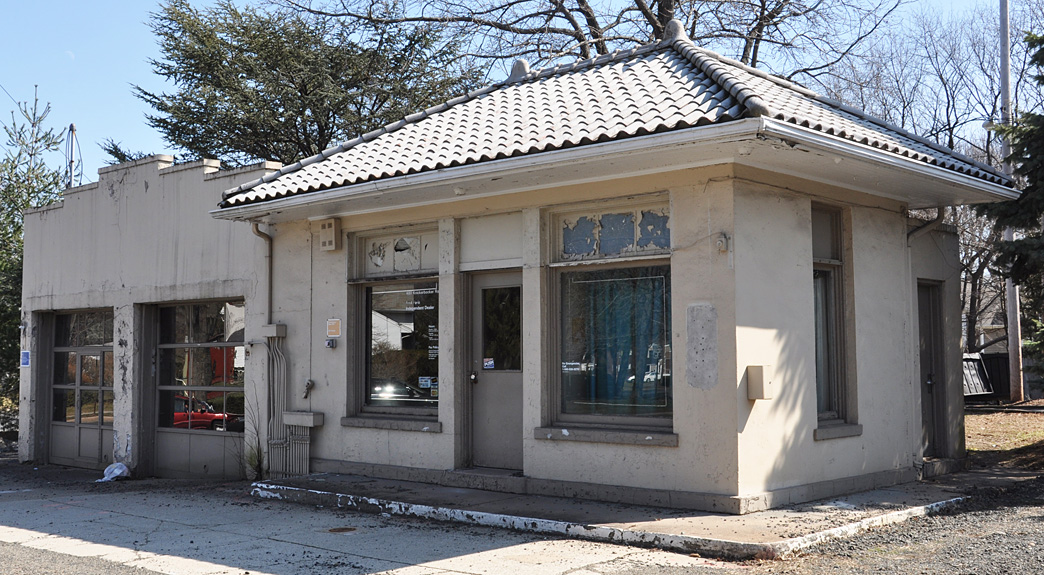 This former Cities Service station in Tulsa, OK was restored in 2010:

By 2019, the building was housing an architects' office and the recreated Cities Service signs were painted over. Not cool! You'd think architects would be more sensitive but I guess some care about history and others do not:
This former Pan-Am station in Ridgeley, TN was gone by 2019:

This former Pure Oil station in Jackson, TN was demolished around 2019: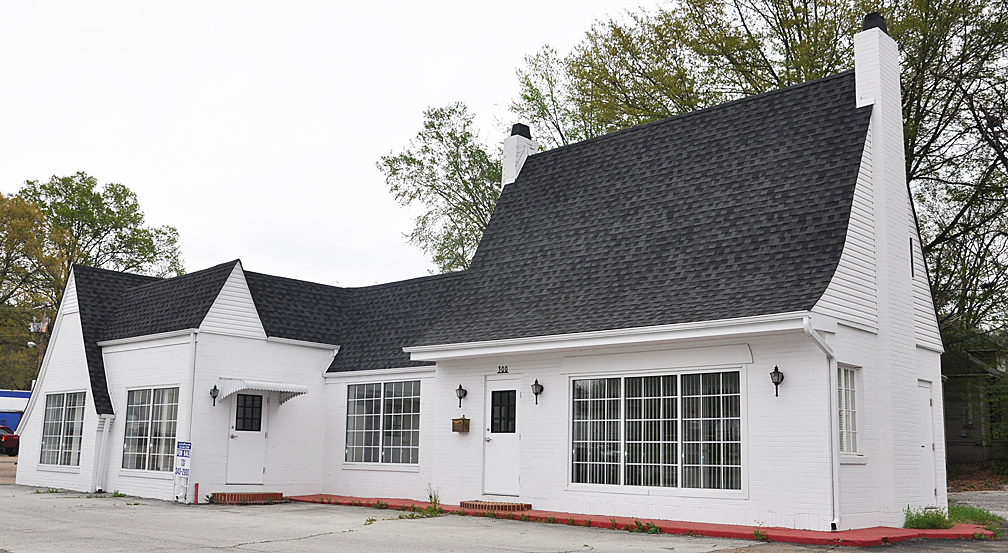 This nice canopy station in Rockdale, TX is gone now: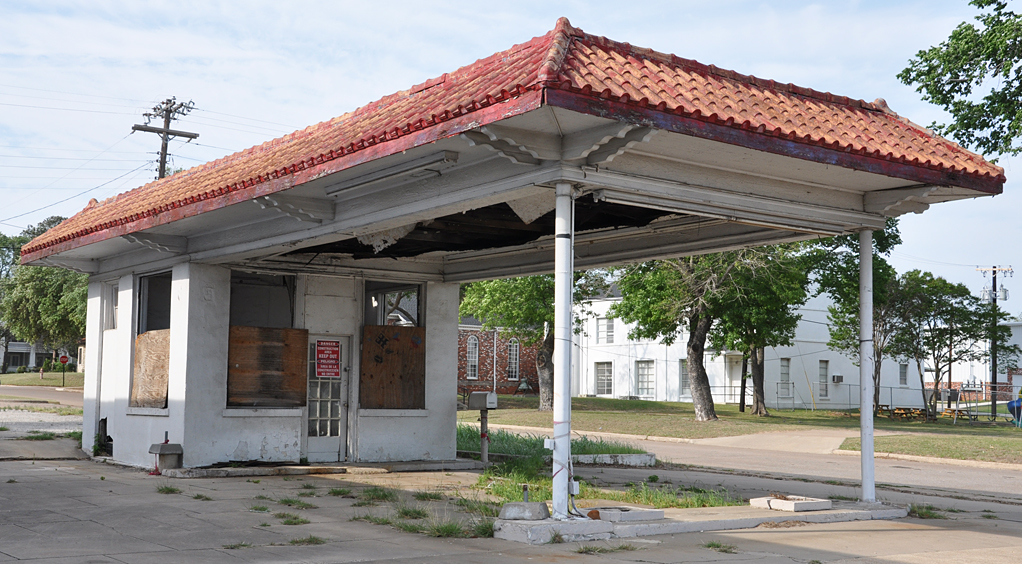 This Enco or Humble icebox station in Sulphur Springs, TX has been demolished. This design was used for Enco, Esso and Humble, depending on the regional location: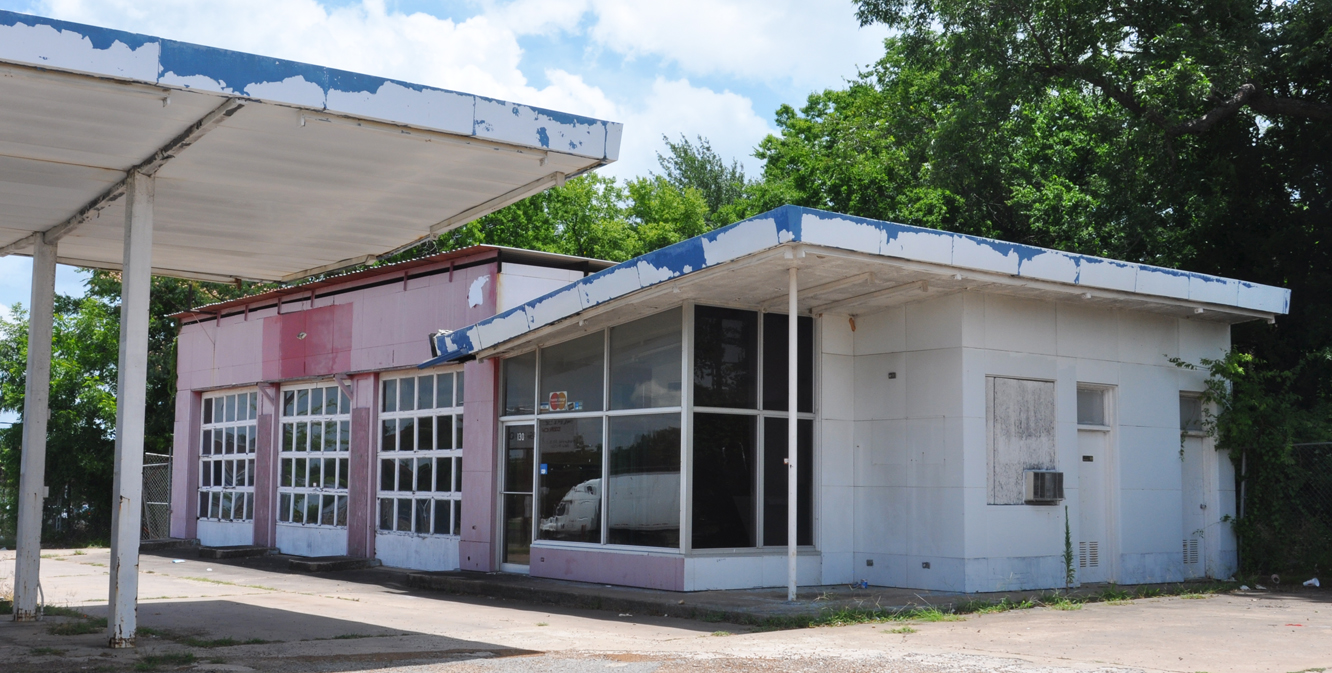 This former Conoco station in Winchester, VA had been vacant for many years: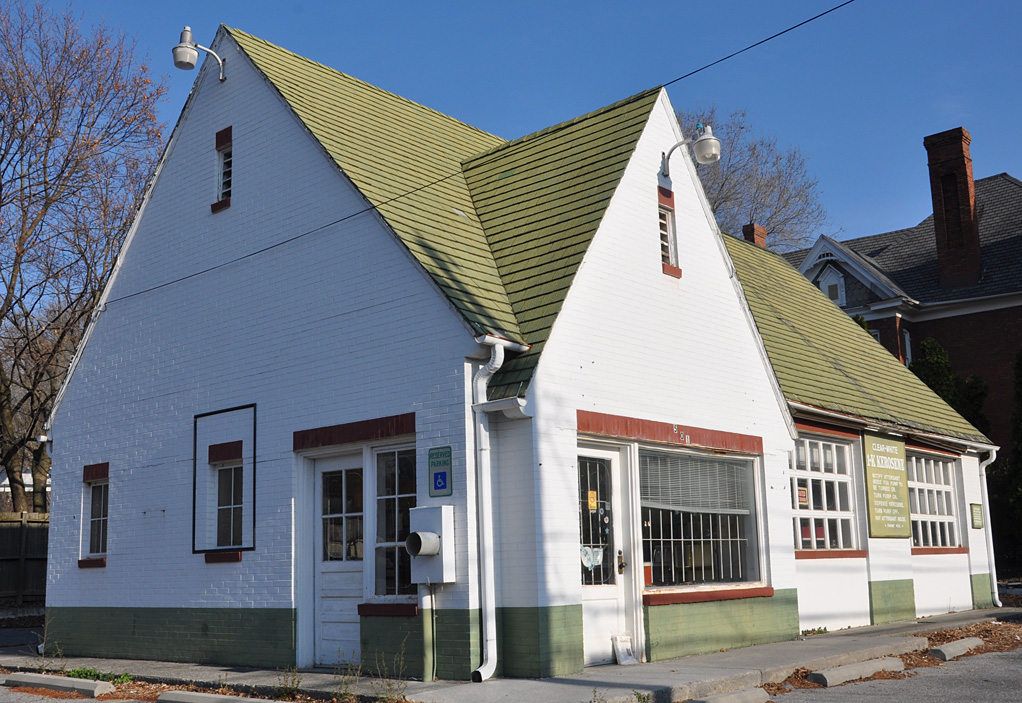 In 2019, the building began housing a pizza place:
This former station in Beaver Dam, WI housed a used car dealer for many years:

In 2019, it was housing the Ooga Brewing Company:
This former icebox station in Glendale, WI housed the Kletzsch Perk coffee shop from 2003-2007. The paint was peeling in my photo here from 2011:
In 2019, the building was completely gutted and the porcelain enamel panels removed. I can't find a photo which shows the whole building but this illustration is pretty accurate — horrible and boring, ain't it?:
That's a wrap! The next blog posts will cover (finally, I know) the Signs section. However, I doubt I'll get through much of that before my summer vacay. The five-week trip starts June 4. I'll be posting some photos daily during the trip to Instagram. Then, I'll be busy adding new photos to my website for many months. So, these "update" posts will be interrupted starting in July with daily summary posts from that trip. Maybe I'll take a break and get back to these update posts since adding my photos from these trips to my websites takes about six months.
Happy trails,
dj & the dogs