I've got a whole bunch of happy stories for this post. Hard to believe, I know!
Let's start with one more Indian statue. This guy was built in 1976 and installed in Roosevelt, UT. Here's what he looked like then:
https://www.flickr.com/photos/westkauai/3040562863/
He was looking pretty sad when I took photos in 2012: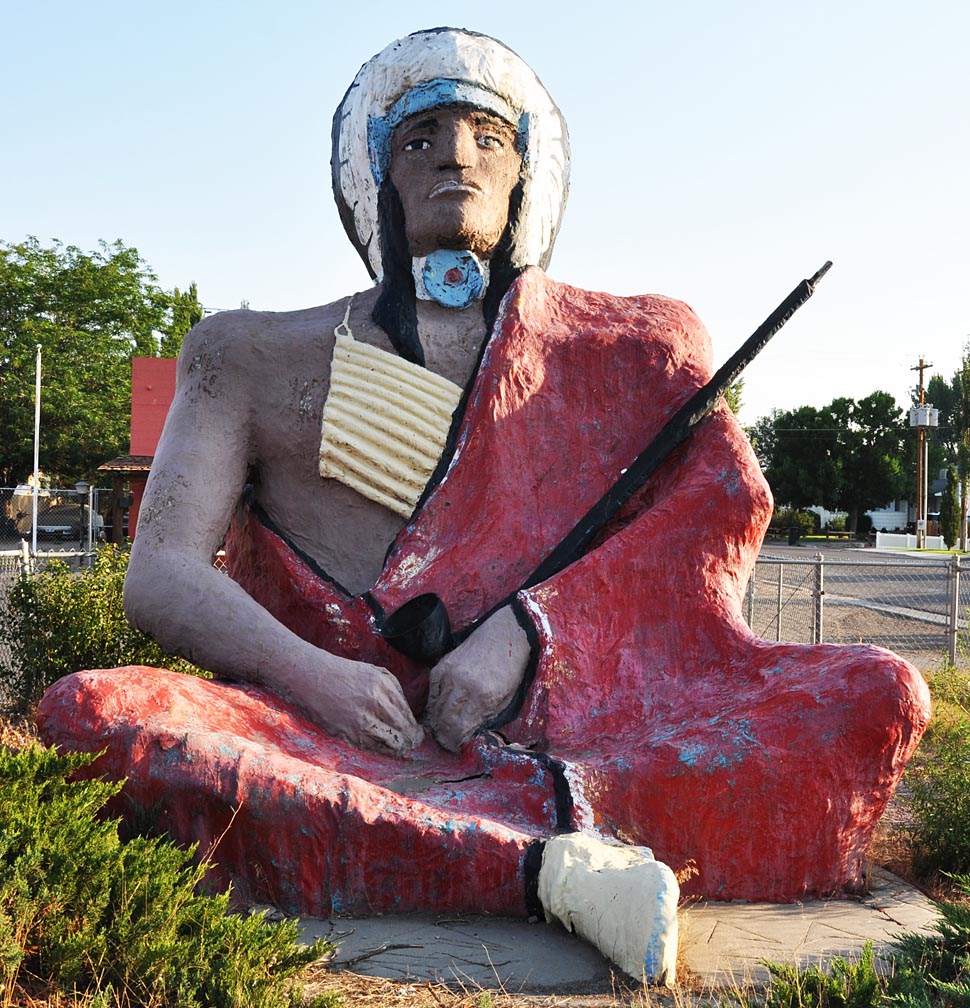 Word spread that the statue was going to be demolished. Fortunately, he was saved and restored. In December 2018, he was installed at the Ute Tribal Plaza in Fort Duchesne, UT. He looks terrrific! Apparently, Google's software can't tell real people from fake ones and just blurs all faces. So, here's a better photo from the Ute Tribal Facebook page:
Last Chance Joe in Sparks, NV has been full restored and is looking great! Here's a photo that I took in 2014: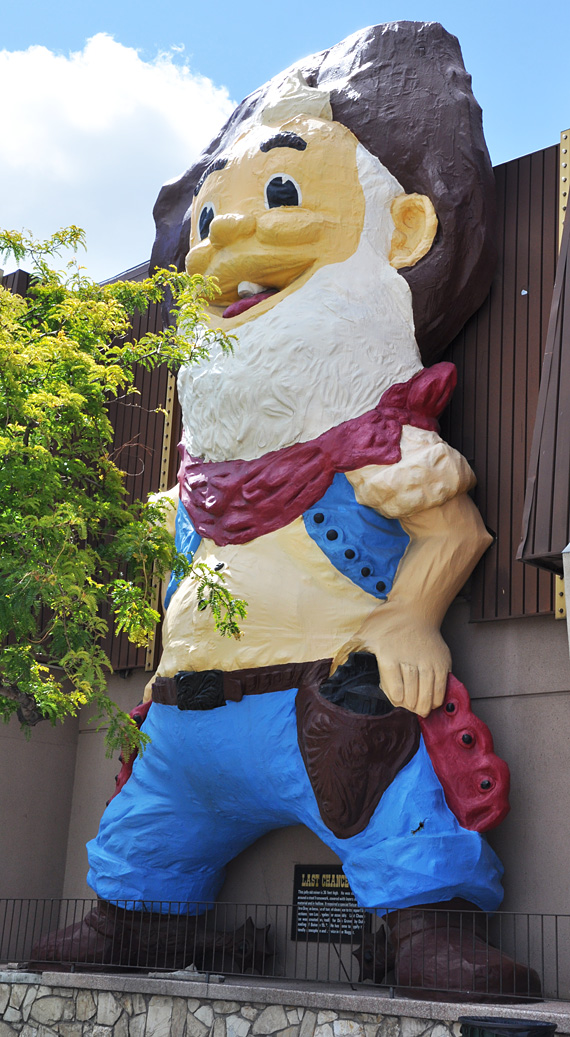 The casino changed hands and it seemed likely that Joe would be destroyed. Fortunately, the Sparks Heritage Museum intervened and he was moved there. Here's Google's most recent view of him:
The new paint now reflects what he looked like when built in 1952:
The Uncle Sam statue that had been at Magic Forest in Lake George, NY since 1981 was auctioned off from 2018-2019 with most of the park's other statues:
The statue was originally installed in 1971 at the Danbury Fair in Danbury, CT. The statue is now back in Danbury and Google shows the beautifully restored statue now. However, I'll include this photo from Danbury's website instead which doesn't have his face blurred out:
Farmer Bob was installed in Portage, WI in the 1970s at what was then a cheese and sausage shop. It's now a Mobil station. He got a new paint job in 2017. Here's what he looked like when I took photos of him in 2011: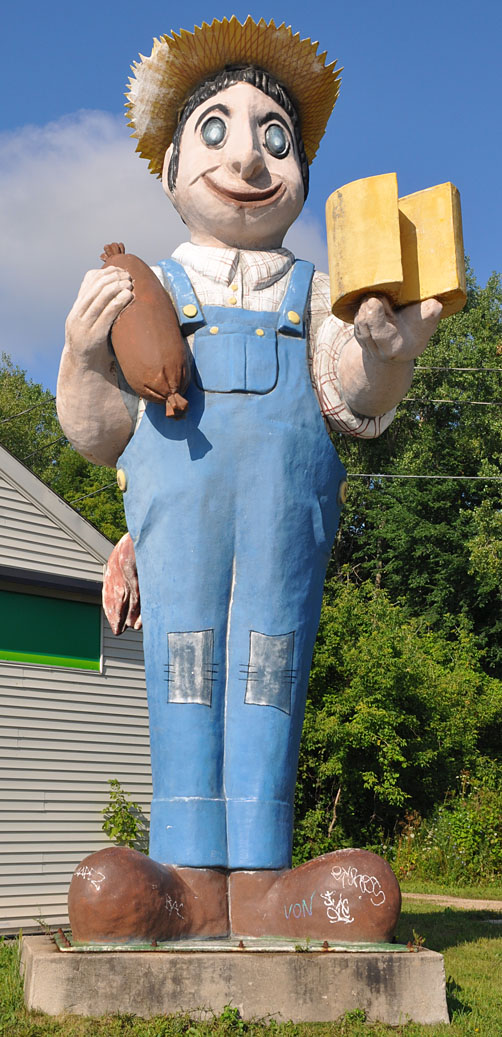 and now.. from the Portage Mobil station Facebook page:
One bit of bad news from Austin, TX: the giant statue of Maria Corbalan which was installed on top of her restaurant, Maria's Taco Xpress, in 2006 has been removed. The restaurant was sold in late 2020 and the statue was put up for sale. I don't know where it went.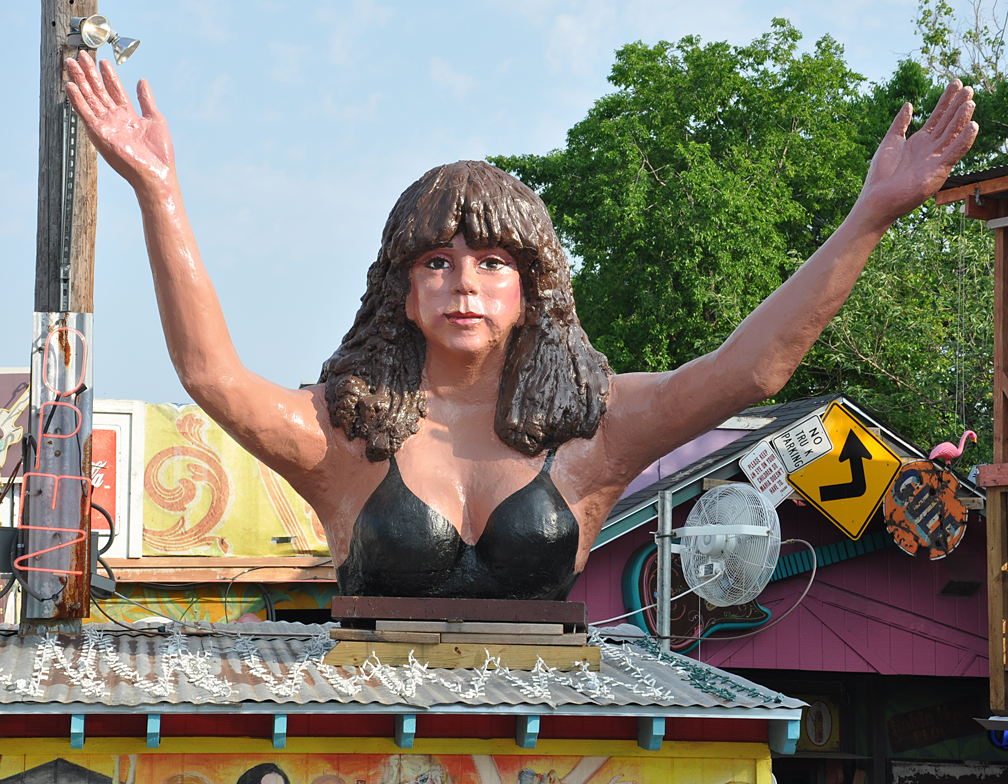 One other thing before we close this post — I finally found the location of the giant Cowgirl in Quebec:
http://3.bp.blogspot.com/-EVGpn_MQO34/VDHTLpFtf4I/AAAAAAAAG44/cglwC6Gjnf8/s1600/La%2BCountry%2BLise.jpg

She's now at a campground in Saint-Ludger-de-Milot, QC — and this rodeo FB page even shows here wearing a mask!
https://www.facebook.com/milotenrodeofestival/photos/pcb.2690017887993388/2690017644660079/

That's a wrap for the statues. I'll be moving on to building sections for a while. Here's what's left to go: Art Deco, Theatres, Eateries, Gas Stations. And then the two biggest sections: Signs and Mid-Century Modern Buildings.

Happy trails,
dj & the dogs