This is the last of the statues sections. It's all buildings and signs after this one.
This International Fiberglass Giant Man (misnomer "Muffler Man") in Piedras Niegras, MEX: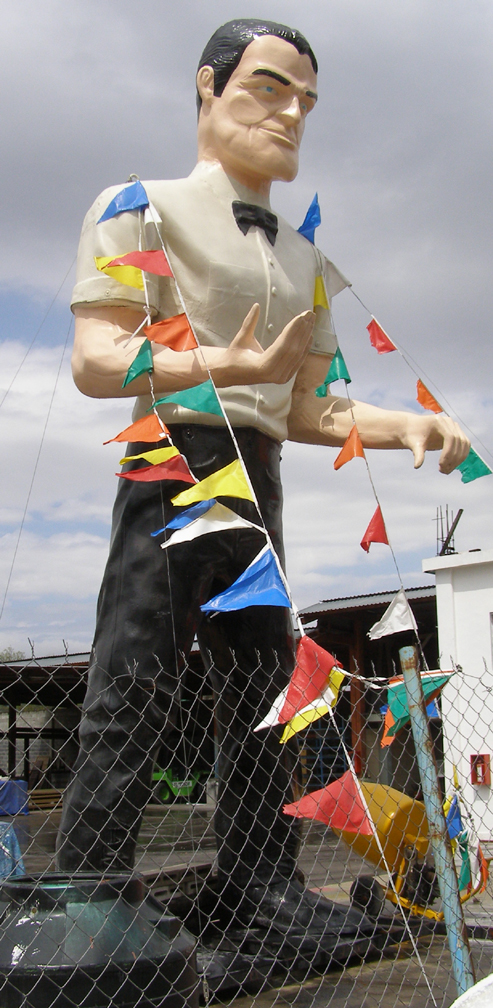 was laying flat on his back behind the shop by 2019:
I haven't made it down to Carson, CA yet to shoot this former Golfer's new look. Here's what he looked like in 2008 when he still had a golf club and stood at the now-demolished golf course:
And then what he looked like from 2013 until last year: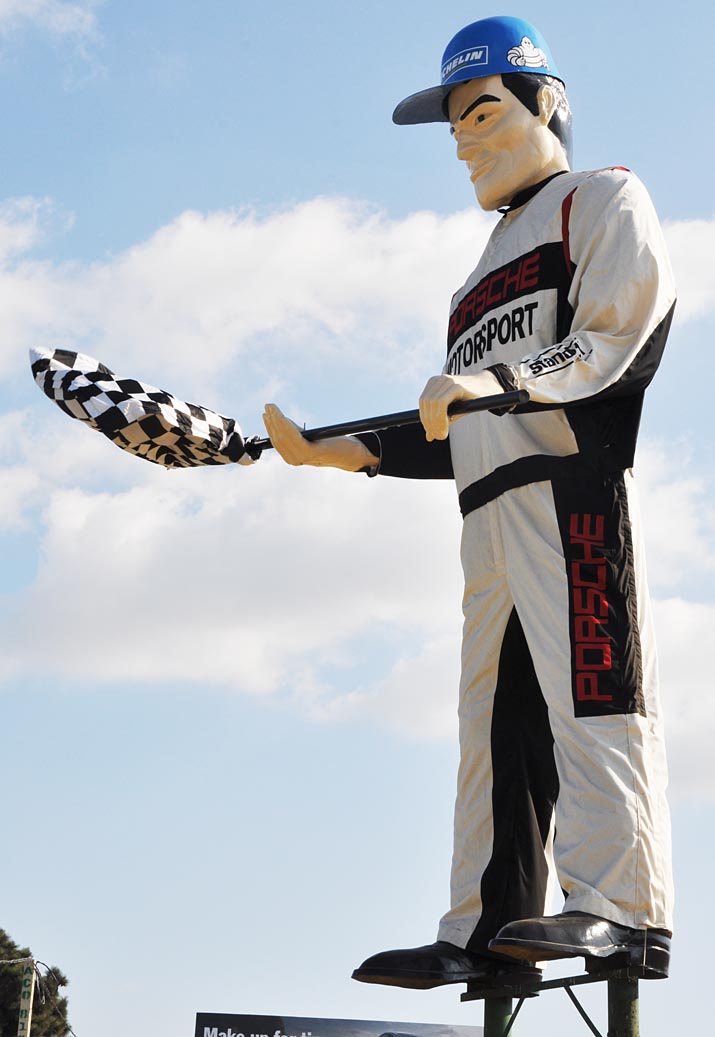 And now… Google Maps has blurred his face but you get the idea. His giant fabric outfit is gone and he's been painted black and white:
The Astronaut in Wilmington, IL was restored in 2019 when the Launching Pad restaurant got new owners. Here's a photo I took in 2009: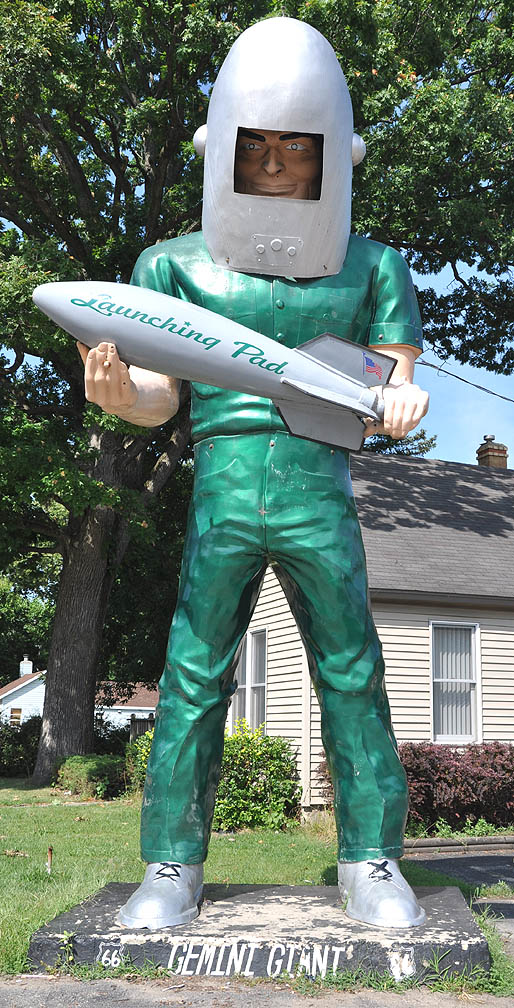 And Google shows what he looks like now — super shiny!
This Waving Man was located in Sherman, TX. About a week ago, the statue was sold and will now be heading to private property in Temecula, CA. It's not yet known if the statue will be visible to the public:
Moving on from the International Fiberglass statues to the one-offs. This Giant Golfer stood in front of the Riverbend Driving Range in Chesterfield, MI:

He was moved in 2020 to China Township, MI to the Red Barn Vintage Market and restoration is nearly done. This photo was taken by the Google car shortly before he was moved:
The Big Indian (aka "Big John") in Kingsport, TN has been there since 1954. Here's a vintage photo when the place was originally Honest John's Trading Post: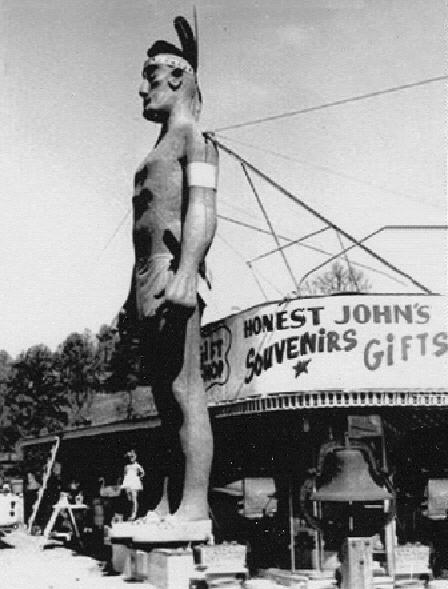 And a photo that I took of him in 2010 (operating as Pratt's Bar-B-Que since 1971):

In 2018, he suffered a broken neck and his head tipped forward and into his chest. From the Times-News:
It had to be replaced and Mark Cline stepped in to recreate it later that year. The restaurant decided to give him a full headdress instead of the feathers and Mohawk. Supposedly, the original head was also being restored and will be displayed inside the restaurant. From KellyKazak.com:
The Indian in Poplar Bluff, MO was miraculously restored around 2017. Here's the statue in 2010: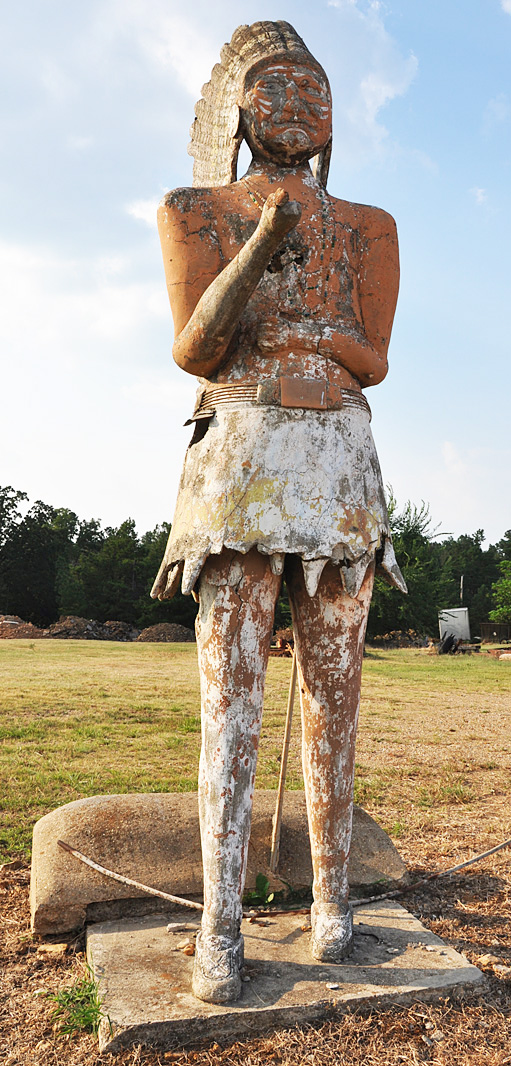 and at the most recently Google Maps:
Less blurry – from Poplar Bluff Daily below. He really has tiny hands!
This post is getting long and I still have many pages to go in this section. Be back soon with more.

Happy trails,
dj & the dogs