From the Gorillas and Monkeys page:
https://www.roadarch.com/critters/apes.html
This gorilla statue in Denver, CO was removed in 2019 when Snarfburger moved into the check cashing building. He had been there since at least 2008. I guess removing him bought them one more parking spot: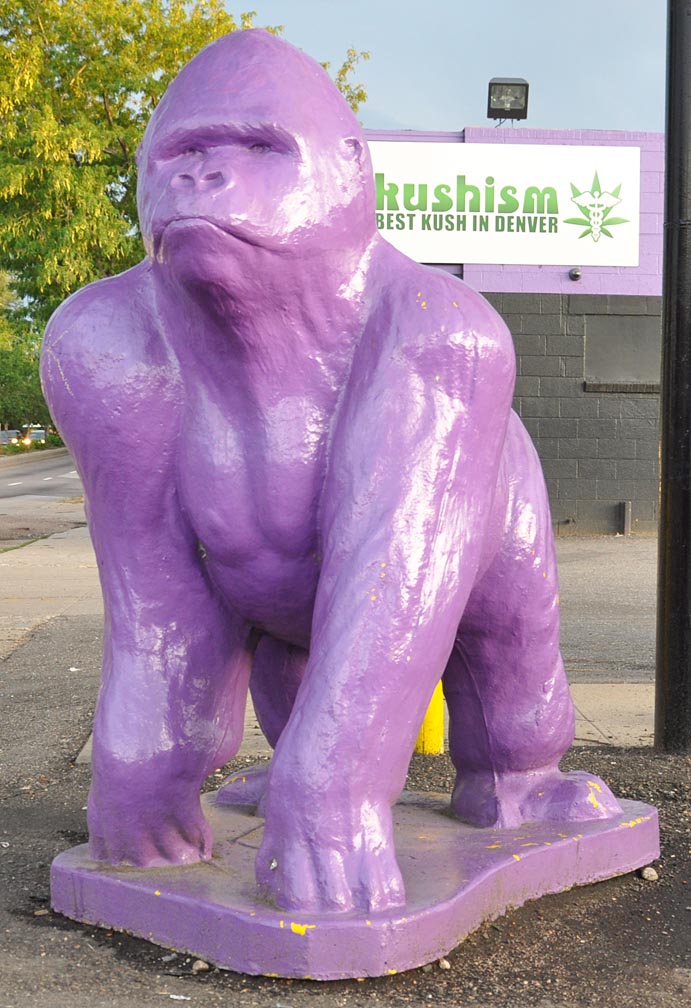 The good news is that they didn't mess with the folded plate mid-century modern building:
I was heartbroken to find out that the bear in West Yarmouth, MA is gone. "Martin" was created in 1975 by T.J. Neil who made lots of mini golf figures and statues for other businesses. He was still there in 2017 but gone at Google Maps in 2019:
I was greatly relieved to find out that he's been moved to the Yarmouth Country Cabins in South Yarmouth, MA:
https://www.capecodtimes.com/news/20170918/martin-bear-moves-to-new-home-in-south-yarmouth

The Chicken Cadillac at a used car lot in Oklahoma City, OK was still there in 2019 but gone by 2020:
Some "classic" Rooster statues are gone now. This one in Everson, WA was still there in 2018 but gone by 2019: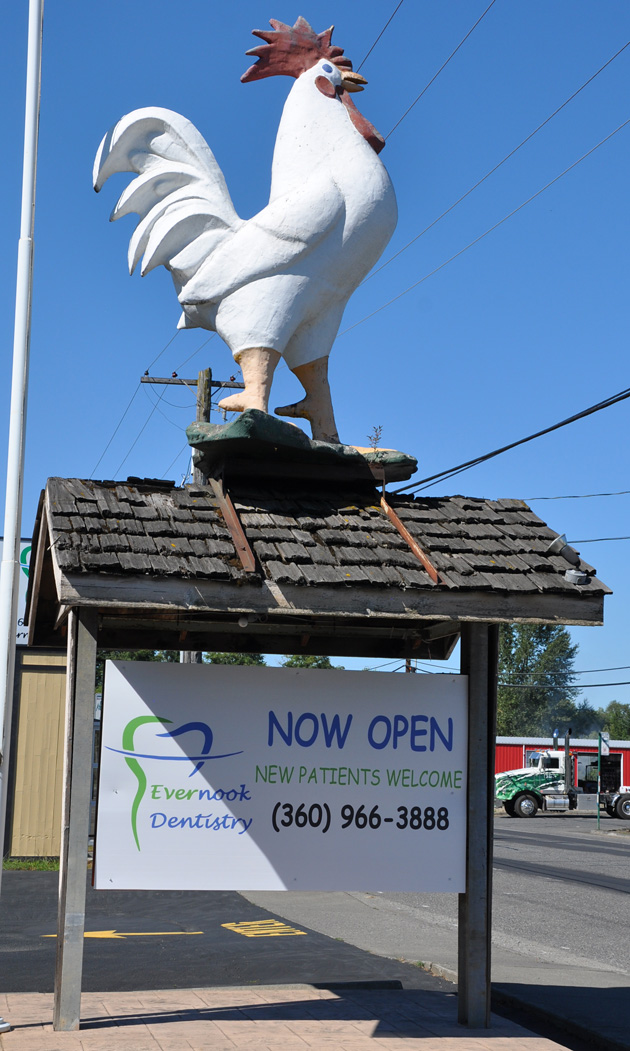 This one in Metamora, MI is also gone — there in 2018, gone by 2019:
This swan head was at the Villa Chalets in Lakeview, OH. It was still there in 2018 but gone in 2019. The adorable mini A-frame former motel rooms are still there:
I was worried to see this tiger wood-carving in McPherson, KS no longer visible where he stood when I took this photo in 2010: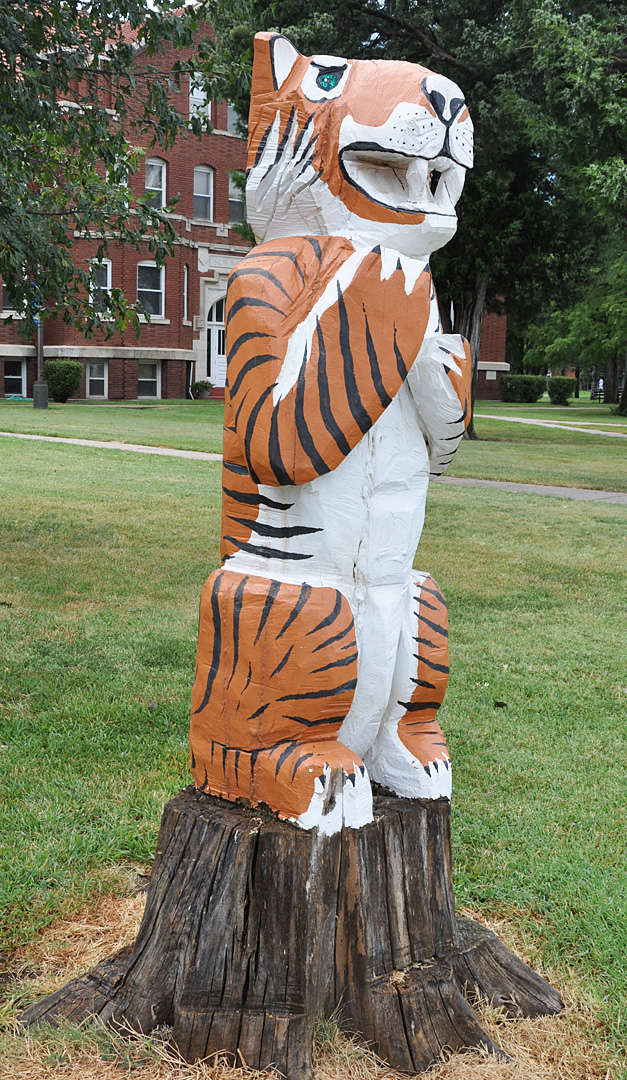 but I did some searching online and found out that he's been repainted and moved safely inside. "Toby the Tiger" is the mascot for Central Christian College. Here is is next to the library now:
https://www.instagram.com/p/BQ1ioc9hCDW/

Christiansen's Dairy in North Providence, RI was established in the 1920s and closed in 2019. These cow statues and the sign are gone now:

The giant crab in Middle River, MD was still there in 2018 but gone by 2019. Here's my photo from 2010, taken in the pouring rain: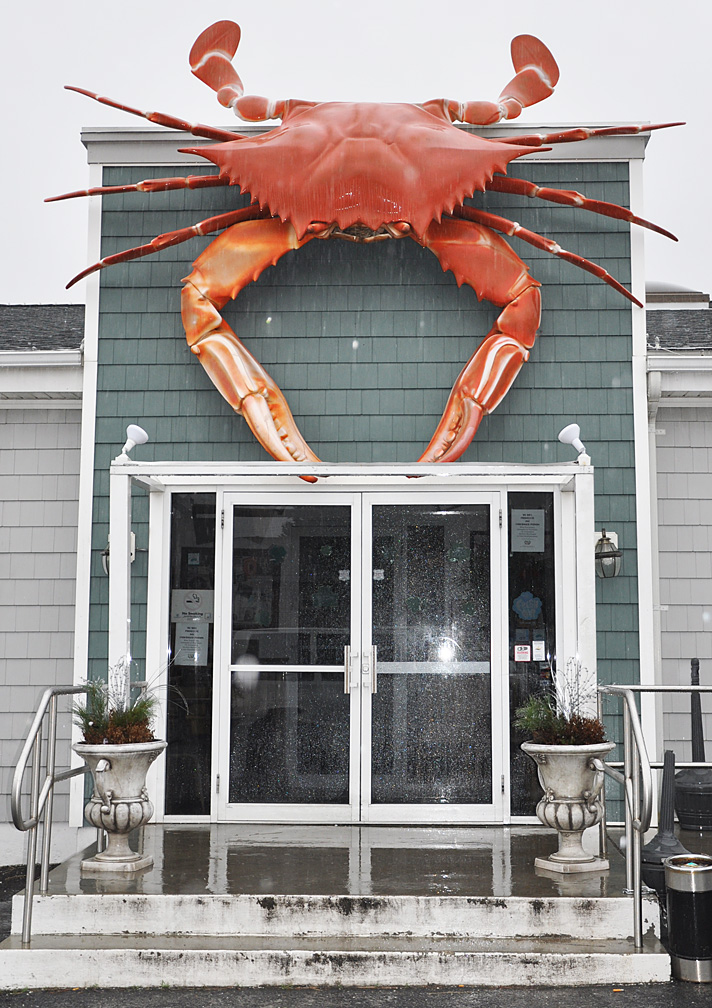 This giant inflatable crab was installed on the roof of Nick's Restaurant in West Swanzey, NH. Nick's closed in 2019 and I doubt we'll see the crab on the roof there again.

Fortunately, there's one just like it in Worcester, MA which is still displayed in the summer: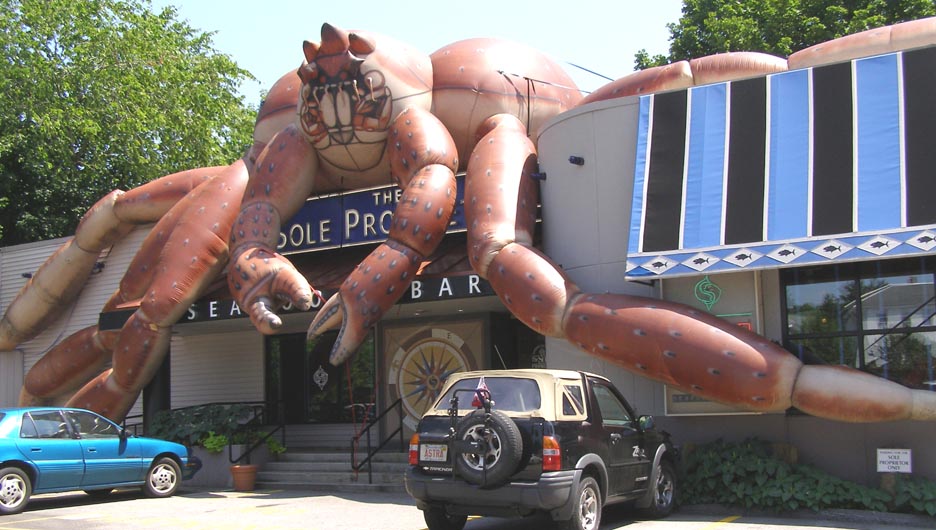 This giant fish was installed on top of a restaurant sign in Pinewood Springs, CO. It was there in 2018 but gone in 2019: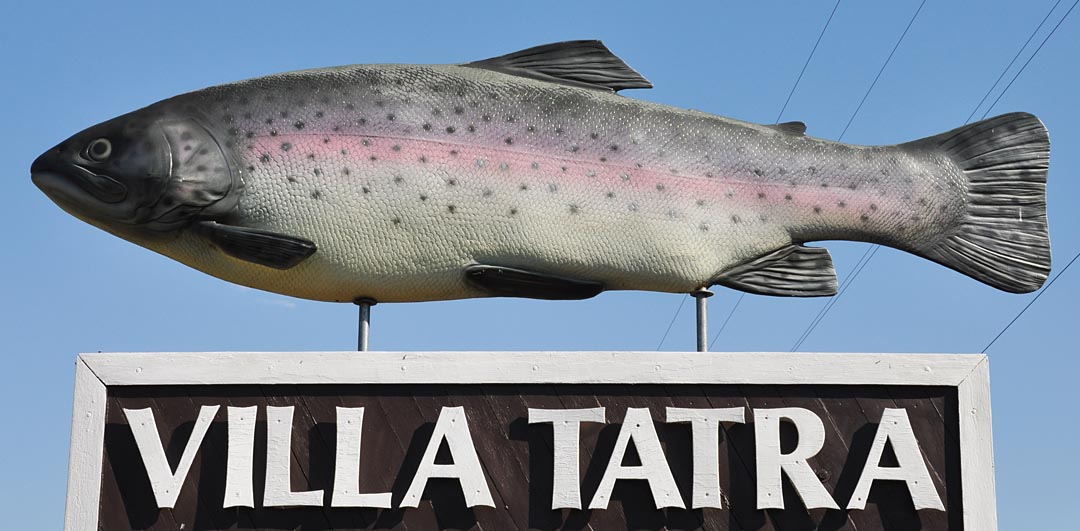 This horse and cow in Skokie, IL are gone as of 2019: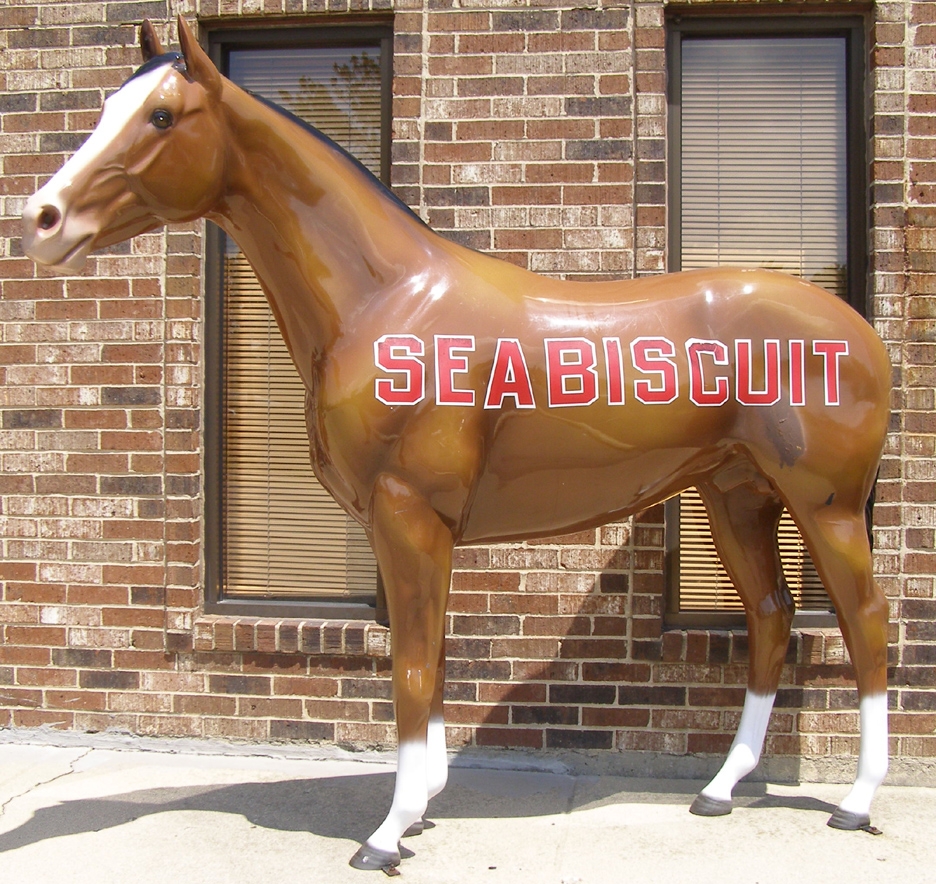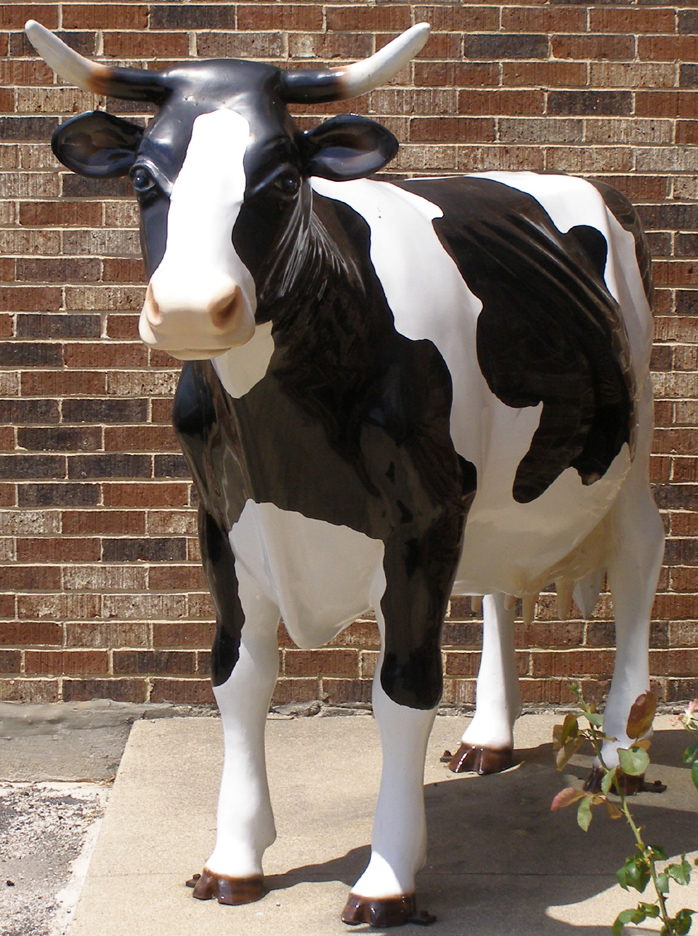 This horse in Gansevoort, NY is gone as of 2020. The motel and house next door were boarded up in the most recent Google Map: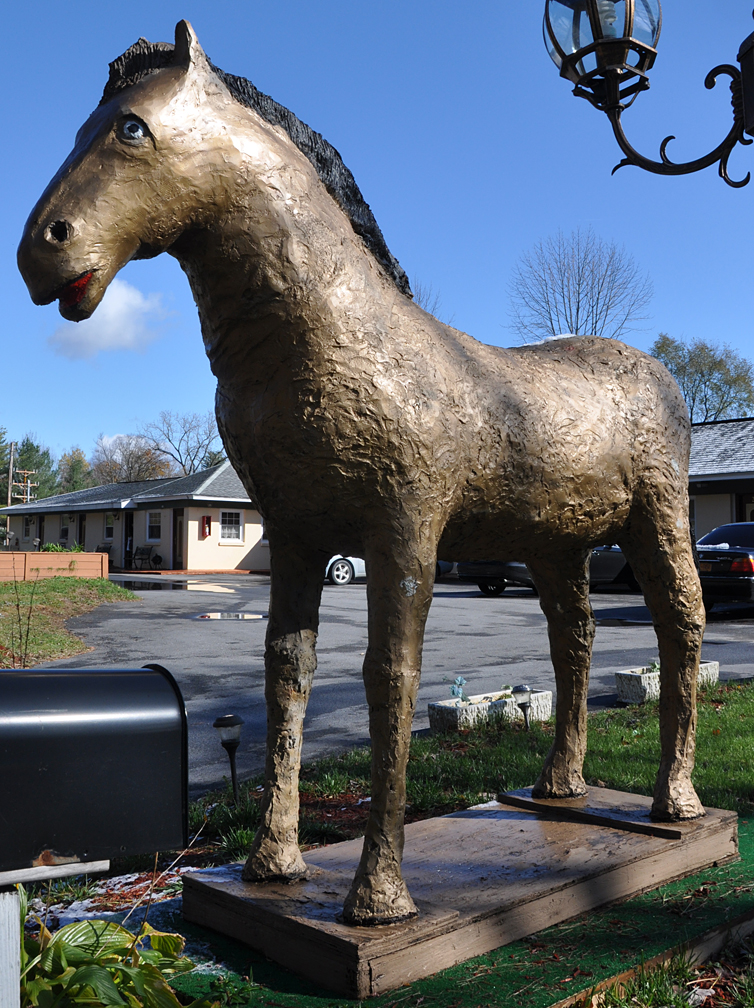 The Howling Wolf sculpture in Oakland, CA:
… has disintegrated in the sun and wind. Only the rebar frame is left as of 2020. I gave Cold Ice (where he is located) a call just now and they don't know whether he will be repaired or removed:
This giraffe and gorilla in Austin, TX were at a home furnishings store. When it closed around 2019, the statues were removed: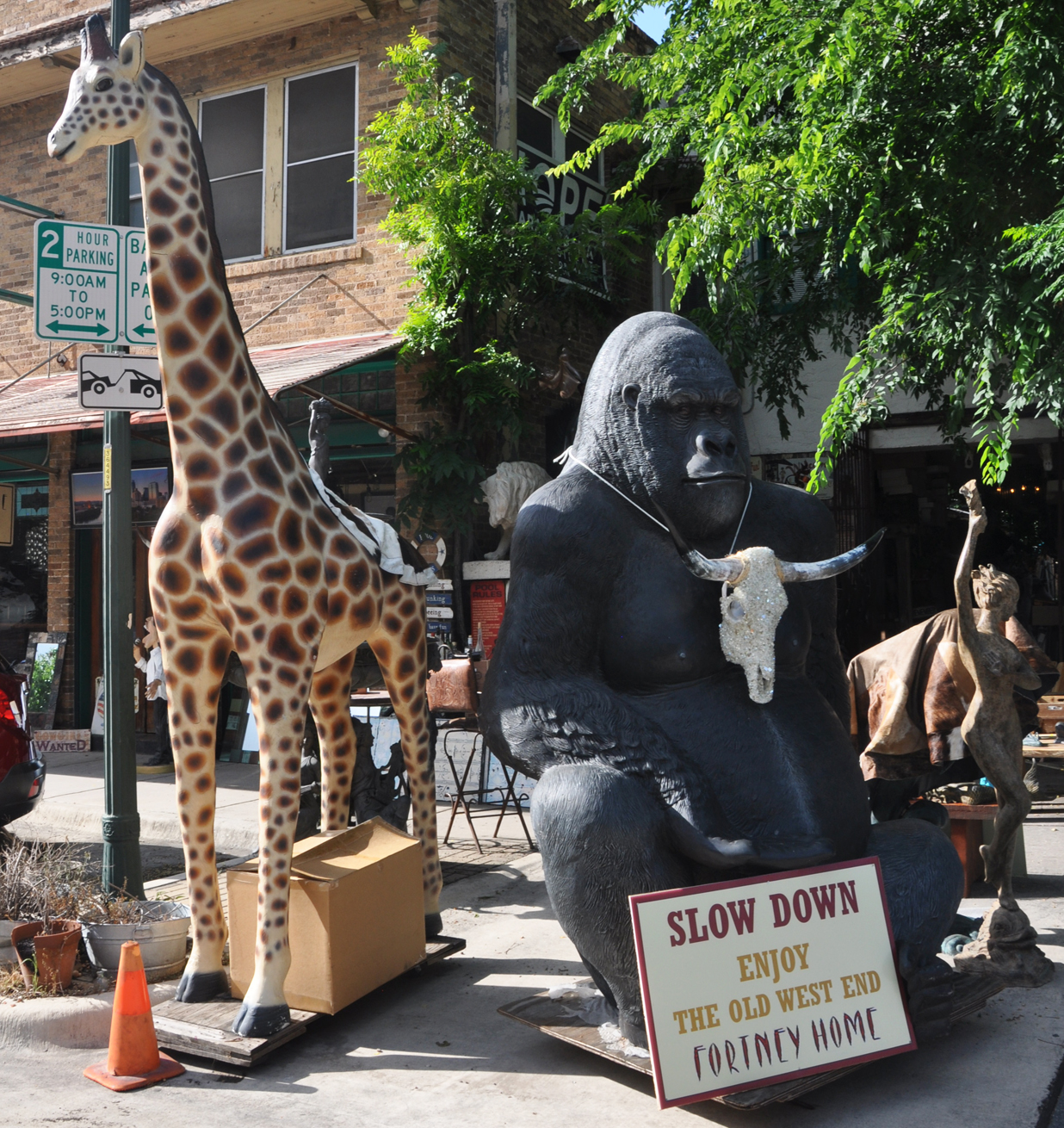 The Giant Mouse in Waterloo, WI was installed in front of Jim's Cheese Pantry. The store closed in 2018 and the statue was gone by 2019. Fortunately, there are still other mice like this one:
https://www.roadarch.com/critters/mice.html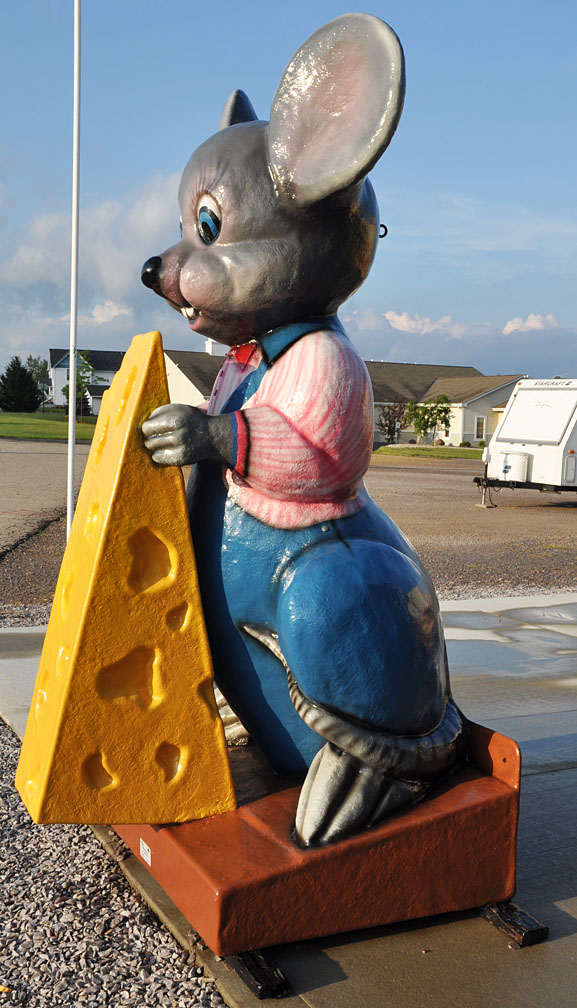 The Octopus Car Wash in Sterling, IL closed in 2020, another victim to the economic hardship of COVID-19. I think this statue will be removed soon if it hasn't been already. The real estate listing says "can't use the Octopus Car Wash name or signs":
That leaves only one location in Milwaukee, WI still operating with one of these signs. There are two of these statues displayed in Hayward, CA at Bell Plastics. For more about these statues and other octopi, here's my page:
https://www.roadarch.com/critters/octo.html
That's it for the Giant Animals. The next blog post will be covering Giant People statues.
Happy trails,
dj & the dogs