Let's start with the Car Dealership Buildings section and (finally!) several good news stories. This building from 1935 in Long Beach, CA was originally a dealership or garage. In the late 1960s/early 1970s, it was used for car storage and sales. My research has come up dry for any more details:
The building was restored from 2018-2019 and, at the end of 2019, opened as Trademark Brewing. Google Street View doesn't show the current view but here's a photo from this article:
https://whatsfordinneresq.com/2020/01/09/a-family-visit-to-trademark-brewing/
The building next door got a restoration/makeover at the same time. A couple of my photos from 2013:

It was built as Carlyle Nibley Packard in 1926. Here's a vintage photo:
The building now houses the Long Beach Rising gym. I can't find any exterior photos (roadtrip very soon) but I'm thrilled that they preserved the interior, elegant staircase. These were very common during this period for dealerships:
This building was built for Palm Beach Cadillac dealership in 1925 in West Palm Beach, FL. Here's what it looked like when I shot it in 2009:

By 2014, it was housing the EmKo art gallery. It's been painted a few times and now also houses Todd's, a restaurant/bar. Here's Google from 2019. I'll get photos in June:
This building in Muncie, IN originally housed Paul Abel Motors. It looked to be from the late 1940s/early 1950s. The building was still hanging on in 2018 but was gone by 2019. My photos from 2010:


The former Zell Motor Car Co. building from 1920 in Baltimore, MD has been adapted for retail and office space. Here's a vintage photo from the 1940s:
It was looking pretty shabby in 2010 – my photo: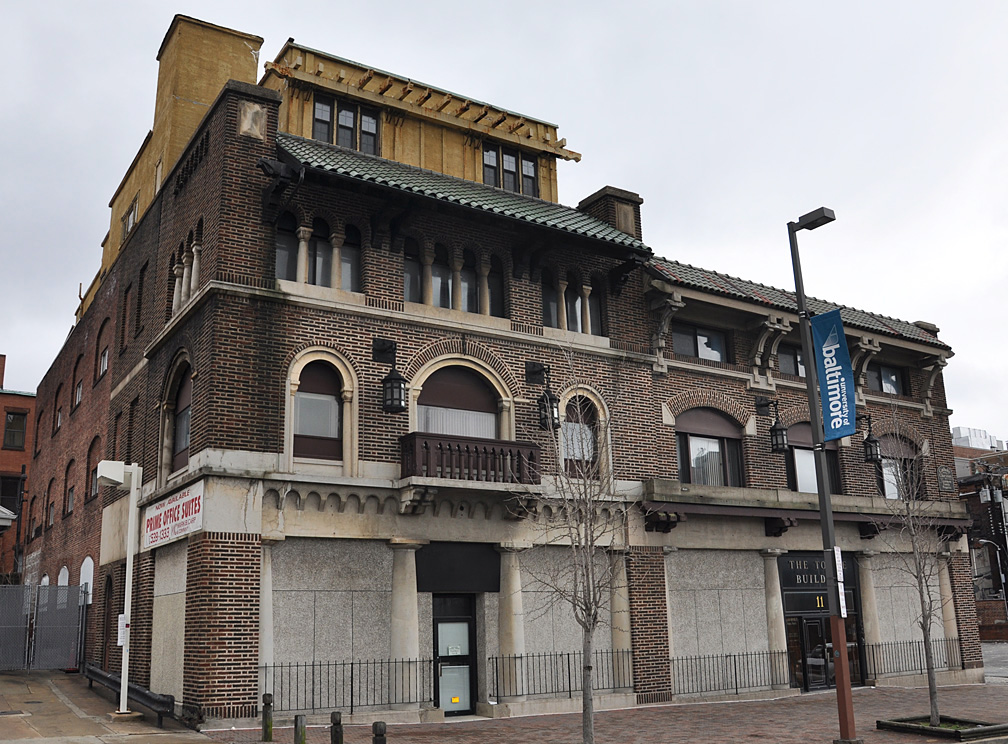 And from Google as of 2019 — they are supposedly going to recreate the scaffold sign on the roof like the one in the vintage photo above:
Moving on to the Mini Golf section where the news is not as rosy.
The remains of the Arnold Palmer Putting Couse chain course in Birmingham, AL is officially gone. Houses there now. I don't believe the only Arnold Palmer courses still standing and operating are in Auburn, NY and two or three in England. A couple of my photos in memorium:
The Putt-Putt Golf in Elk Grove Village, IL had been closed since 2008. I got some photos in 2012 when the obstacles and statues were already gone. The course was finally de-greened and the fence removed by 2019. Nothing left but some concrete bits: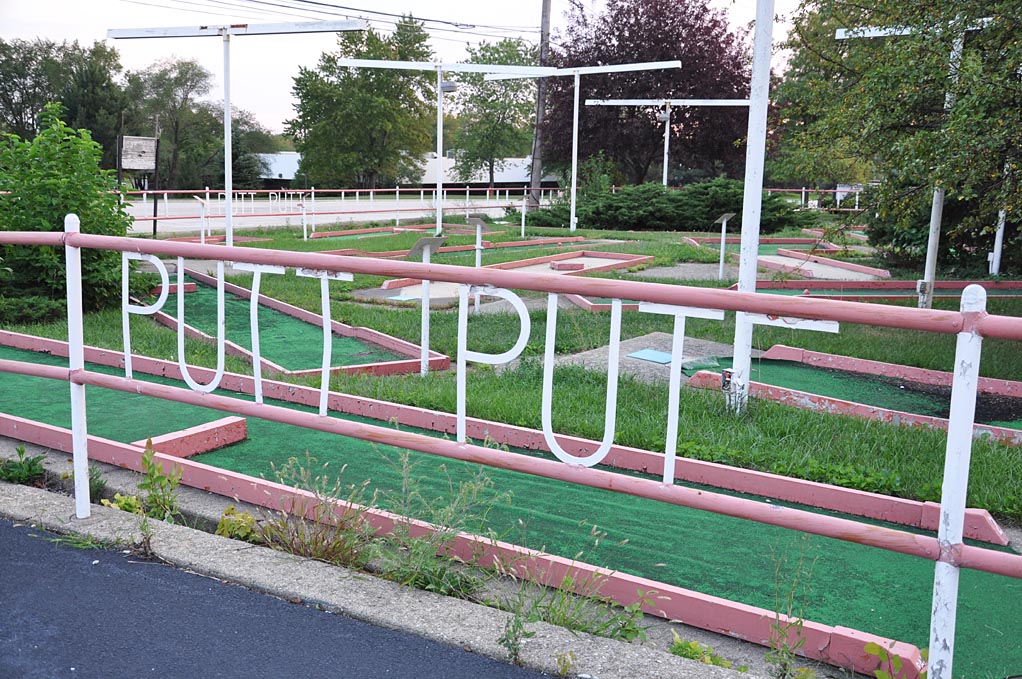 The Putt-Putt in Richmond, IN was still nice-looking and operating in 2018. Here are a couple of my photos from 2009: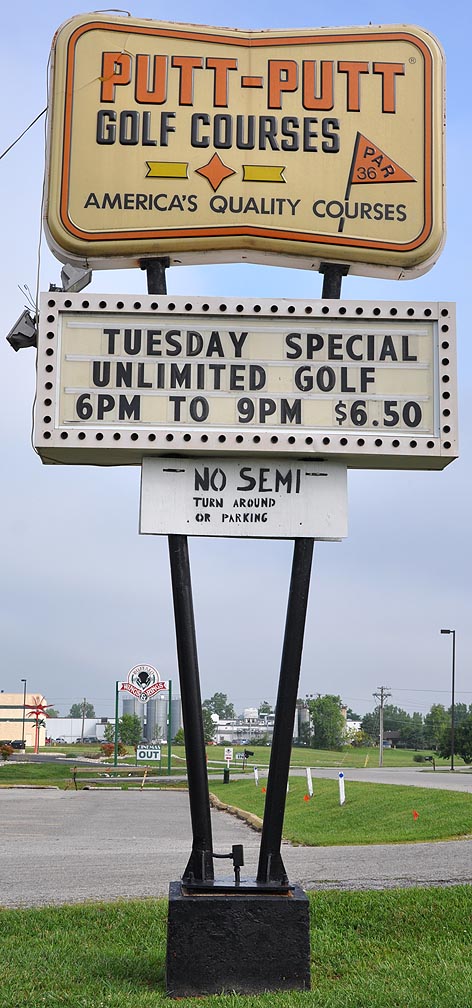 But it had closed and was for sale in 2019. Putt-Putt has removed it from their website. The sign and the classic overhead lights are still there but it looks pretty shabby now. Sure, new greens (most courses replace them annually anyway) would change everything but I'm not feeling good about this one. At least, there are three other Putt-Putts still operating in Indiana and plenty of others in other states:
The Breezy Acre Mini Golf in Charlestown, RI was still operating in 2014. It looked maintained in 2018. Such a sweet little place. Here's one of my photos from 2003: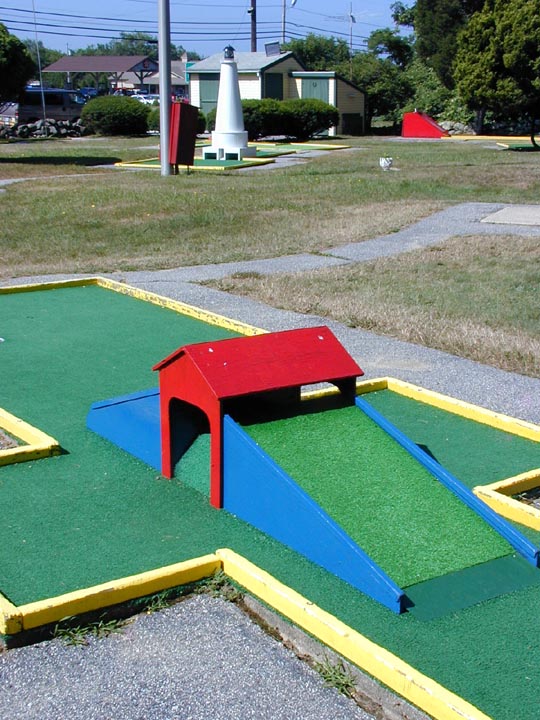 But Google says it's now "permanently closed" and reveals mama nature taking over with knee-high grass on the course. I think the greens and obstacles are still there. Let's hope for a miracle:
The Trafalga Fun Center in Lehi, UT is still operating. However, this view of the Mount Rushmore statue: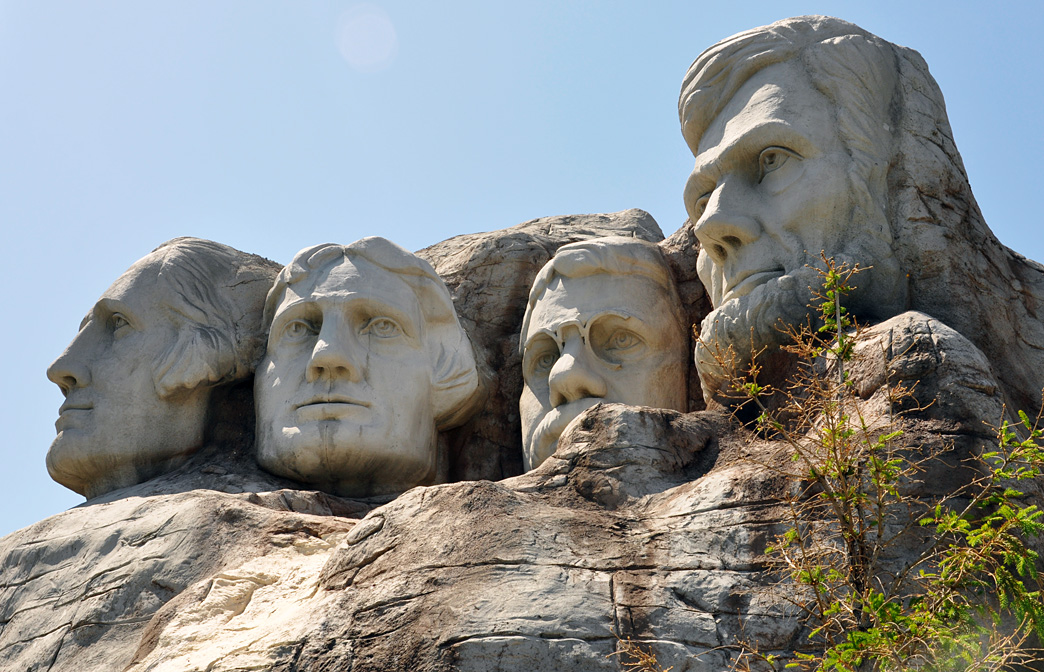 and the roller coaster that goes inside will soon be blocked from the interstate view, if it's not already, by a concrete wall:

That's enough for now. I'm moving on to the Diners and Giant Animals sections next.

Happy trails,
dj