From the Giant Things section: this giant rolled-up newspaper in Columbus, OH was installed on the roof of Columbus Business First:
From the latest Google Street View, in 2019, it was repainted for Versa, the building's new tenant:
The giant cassette tape in Howell, NJ was removed around 2019 when The Record Store closed: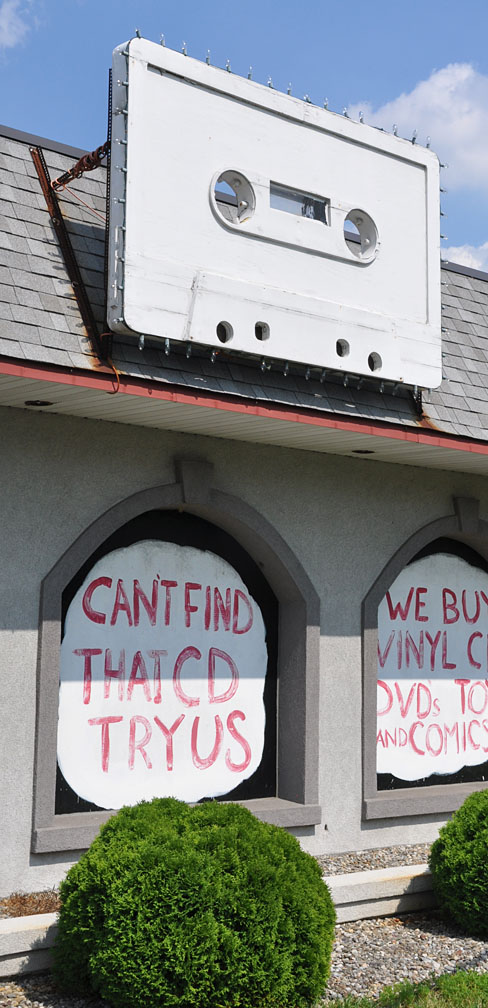 This giant football canopy support in Green Bay, WI was next door to the Green Bay Packers Hall of Fame. My photo below is from 2007. This building was demolished in 2019. The illustration at the development site shows a huge, modern building going up in its place:
This Giant Golf Bag at the Clayton County Club in Clayton, NY was still there in 2018 but gone by 2019: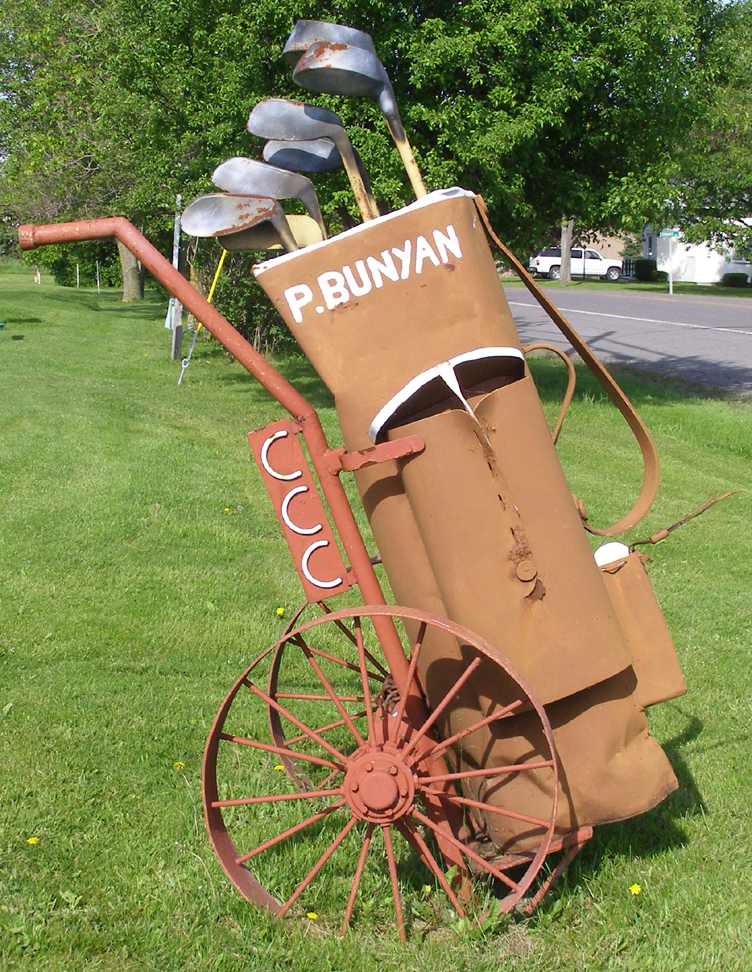 On to the Dinosaur Statues section. This cutie in Fruita, CO is gone now. I'm hoping he was moved somewhere. I emailed the Chamber of Commerce where he stood to find out what happened to him – no reply: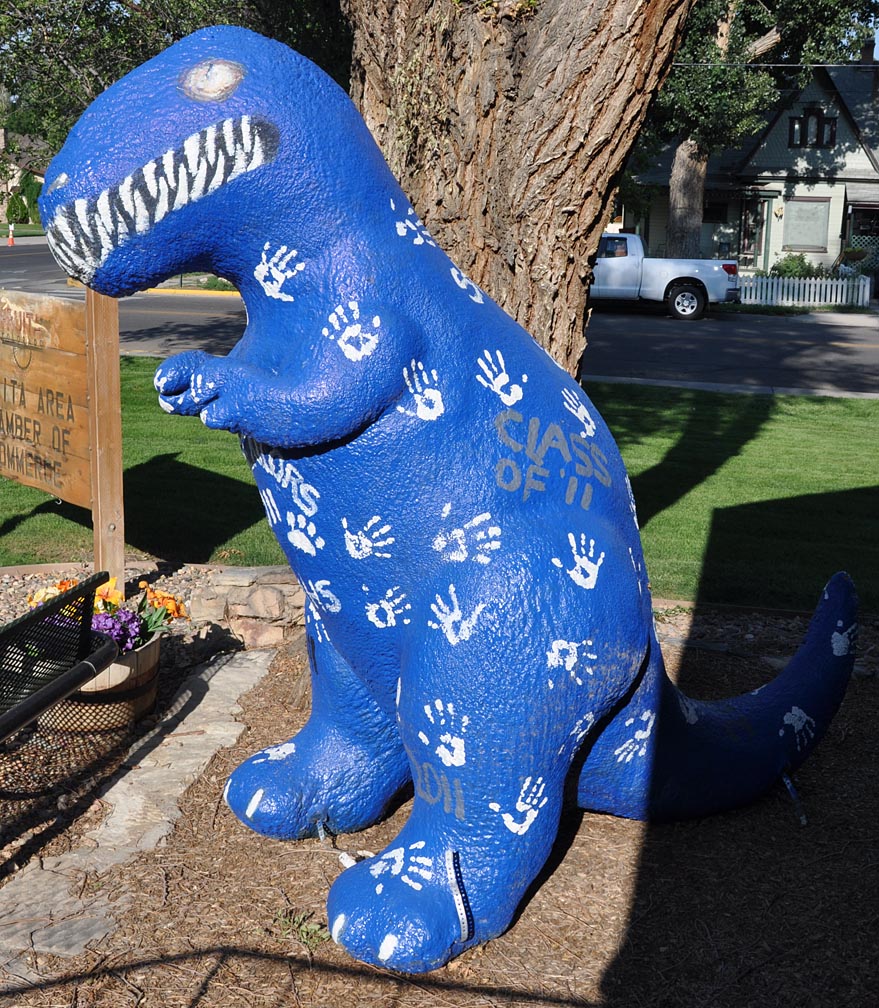 I'm relieved that nothing has happened with the Prehistoric Forest property in Onsted, MI. The park closed in 2002 and that the statues are in good hands, for now. I did a little trespassing in 2005 and got photos of the fiberglass statues. How could I not? The owner called the cops on me but I escaped before they got there. Ah, youth:
https://www.roadarch.com/dinos/mi3.html
Here's a nice little video from 2019 with the current owner. Could someone please start a GoFundMe page and raise a half-million dollars so that we can get this place back open?
Google Street View has the updated map for the Bayville, NJ dinosaur. Here's a photo that I took in 2009: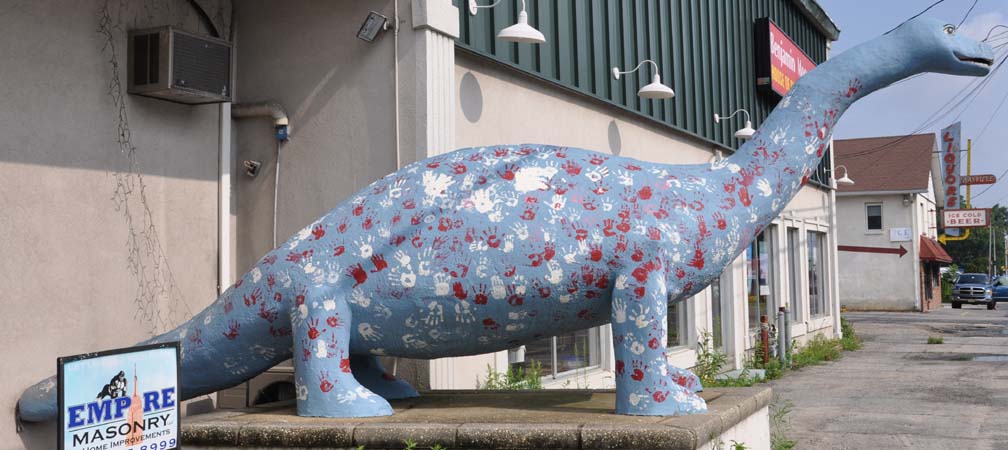 In 2019, the statue was completely restored after being decapitated by traffic for the umpteenth time. More about the history of this guy who dates back to 1925, in one form or another, at my website here:
https://www.roadarch.com/dinos/nj.html
And in his current glory – with a longer tail and his head turned slightly to the left for protection:
Moving on to the Department Stores section: this is going to be brutal. This former J.J. Newberry store in Mars Hill, ME closed in the 1980s but the sign hung on until around 2018. My photo below from 2009: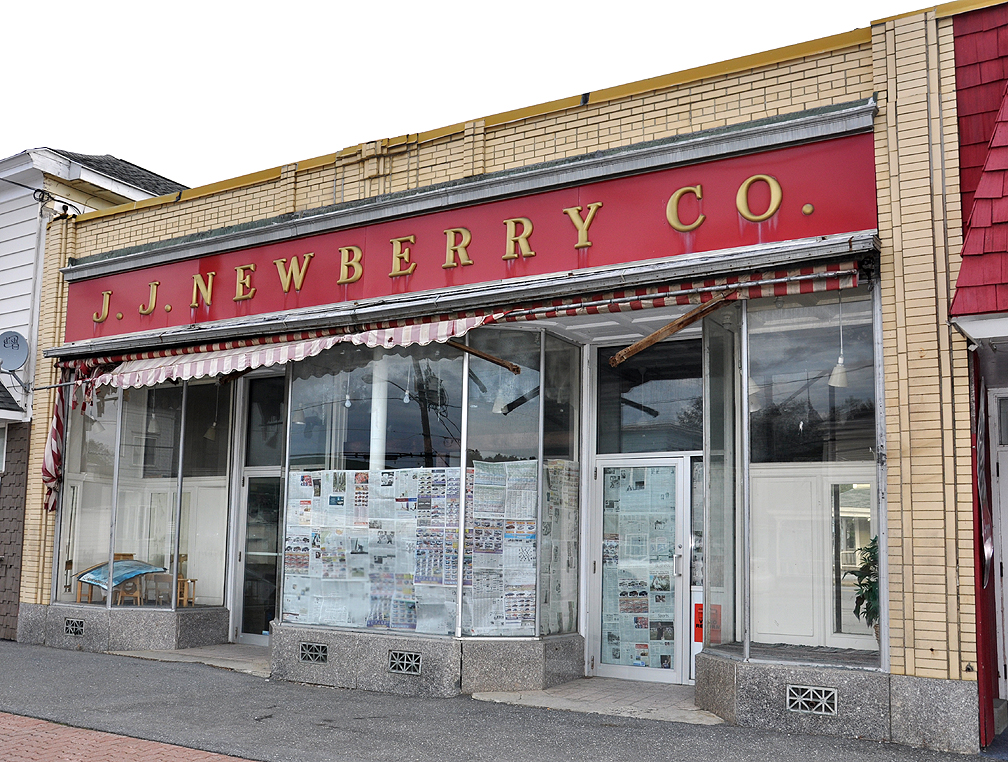 And here's what Google Street View shows now. I'd like to think the sign and the nice brick are safe under all that horrible siding but…
This building in Cincinnati, OH housed a J.J. Newberry from around 1936-1949. It is currently being stripped down to its much earlier look. I'm sad about it since I really liked this look better. Here's what the building looked in 2012:
and the surviving Newberry letters on the side (nothing is mentioned in articles as to what's happening with those):
Evidently, the building is actually two buildings underneath. After a fire around 1950, this modern brick slipcover was put around them and the top two floors were removed. Google doesn't have the latest look yet but in January, removal of the facade began, revealing the 1890s details. Here's a video describing the history of the building and what they are doing:
https://local12.com/news/local/downtown-redevelopment-project-reveals-victorian-era-facade-cincinnati
and what the details will look like once done:
This former Woolworth in Idaho Falls, ID has been stripped of its remaining details. This Odd Fellows Lodge was built in 1908 and Woolworth was there from 1920-1975. Here are my photos from 2014 showing the classic red porcelain enamel adapted sign and tile entrance:
From 2019 Google: those features are gone now and the set-back entrances have been flattened up with the facade. I guess that former neon IOOF sign on the corner also got chucked or sold. Unless, by some miracle, they plan to restored it and stick it back up. Major bummer:
From the Post-Register, here's an illustration of the planned finished product — note the big-ass arch on the front that recreates the original. But they didn't bother replicating the nicer arch further left. Nor did they take the time/trouble/$$ to recreate the round window above the center arch:
The moral of the story based on this Idaho building and the one above in Cincinnati is that 1800s still beats out just about anything that came later in most people's minds and that cities have no problem at all yanking off "real" things from the 1940s-1970s in order to recreate "fantasy" turn-of-the century stuff. That's my two-cent observation/lecture/grievance.

The Art Deco features of this Woolworth in Monmouth, IL has been covered up with horrible siding. Here's my photo from 2012: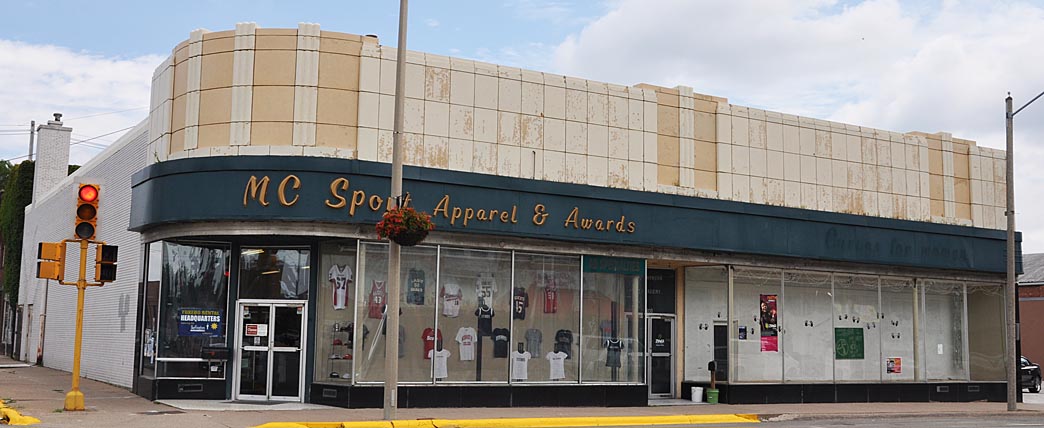 and as of 2019 – dark grey is so popular right now. I'm hoping this can be undone someday:
The former Woolworth in Hackensack, NJ looked like this when I took these photos in 2011. Simple and lovely Art Deco details (okay, painted sketchy weird colors) and vintage sign (behind the plastic crap):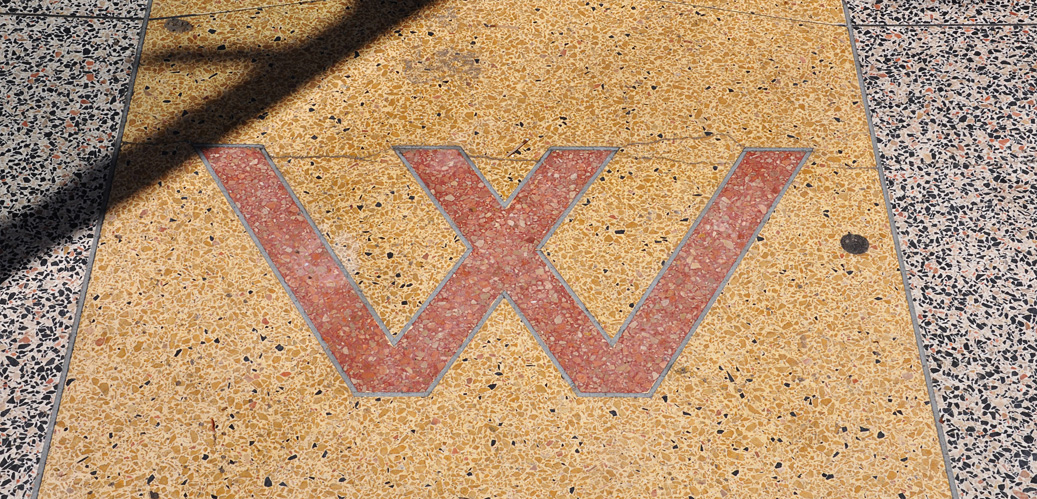 In 2018, I was optimistic that the terrazzo apron was still there and that the facade would be returned once the work was done:
Ah, but now that the 2019 map is there at Google, apparently not:
Apparently, they are sorta kinda adding some weird details in homage to the former building as the new "Woolworth Residences". I couldn't find photos so they might not be done yet but here's an illustration. Note the flat brown sign above the ground floor — just not the same as the porcelain enamel red with stainless steel detailed trim:
Hopefully, there will be some better news in the next post! The good news is that in the more than 500 pages that I've gotten through at my site so far, most things are still there and in good shape. Glass WAY more than half full!
Happy trails,
dj & the dogs