I'm working away on the sections looking for any broken links to external websites and checking the most recent maps in my descriptions. There was nothing noteworthy in the Drive-in Theatres section. The remaining signs and screen towers all seem to be in place. Here are some updates to the Tire Stores section.
This former Firestone in San Jose, CA with nice mid-century modern details like the floor-to-ceiling glass windows and multi-colored square tiles was demolished in 2019:
Some good news! The Firestone building in downtown Los Angeles, CA was vacant for a few years but now after some sensitive adapting, it's reopened as a brewery and taco place. Here's a photo I took in 2016 when it was fenced off:
It's current look from the L.A. Eater article…
https://la.eater.com/2021/2/23/22297834/los-angeles-historic-firestone-building-la-brea-all-season-brewing-chicas-tacos-open-inside-new
… the porcelain enamel panels, the neon sign, the freestanding letter signs, and the Art Deco canopy — all still there:
Another redevelopment going on at this Firestone in El Paso, TX. Here's one of my photos from 2017: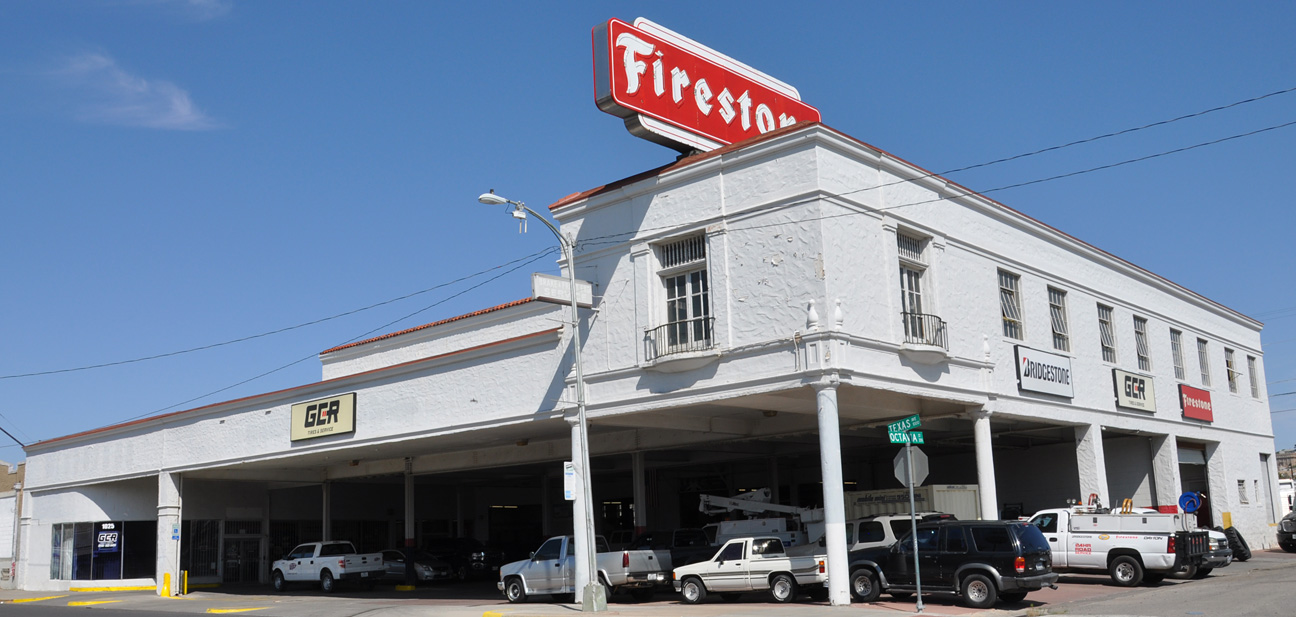 The building is from 1929 and Firestone moved into it in 2001. Firestone left around 2015 and another tire shop (GCR) moved in. From Google Street View in 2020 — with the fencing around the building:
The building is currently being adapted for office space. The rooftop neon sign will stay and be "refurbished." As we all know, the definition of that word can mean many things.
**********************
Finally, some signs! From the SCA section. I've been writing the features and news columns about signs for the Society for Commercial Archeology for nearly 15 years. For nearly all of the Journal articles, I put together a companion page at my website with other signs of the same type or theme. I'm currently working on a feature called "Home Sweet Home" and just found out that this sign in Lake George, NY disappeared around 2019. My photo from 2011 is below. If you'd like to see the other house-themed signs that I've assembled so far, here's a link to that article's page-in-progress:
https://www.roadarch.com/sca/home.html
The Neo-Lectra that stood at a used car lot in Austin, TX, since probably the 1960s, was removed in 2019. For more about these signs, see my page here:
https://www.roadarch.com/sca/roto2.html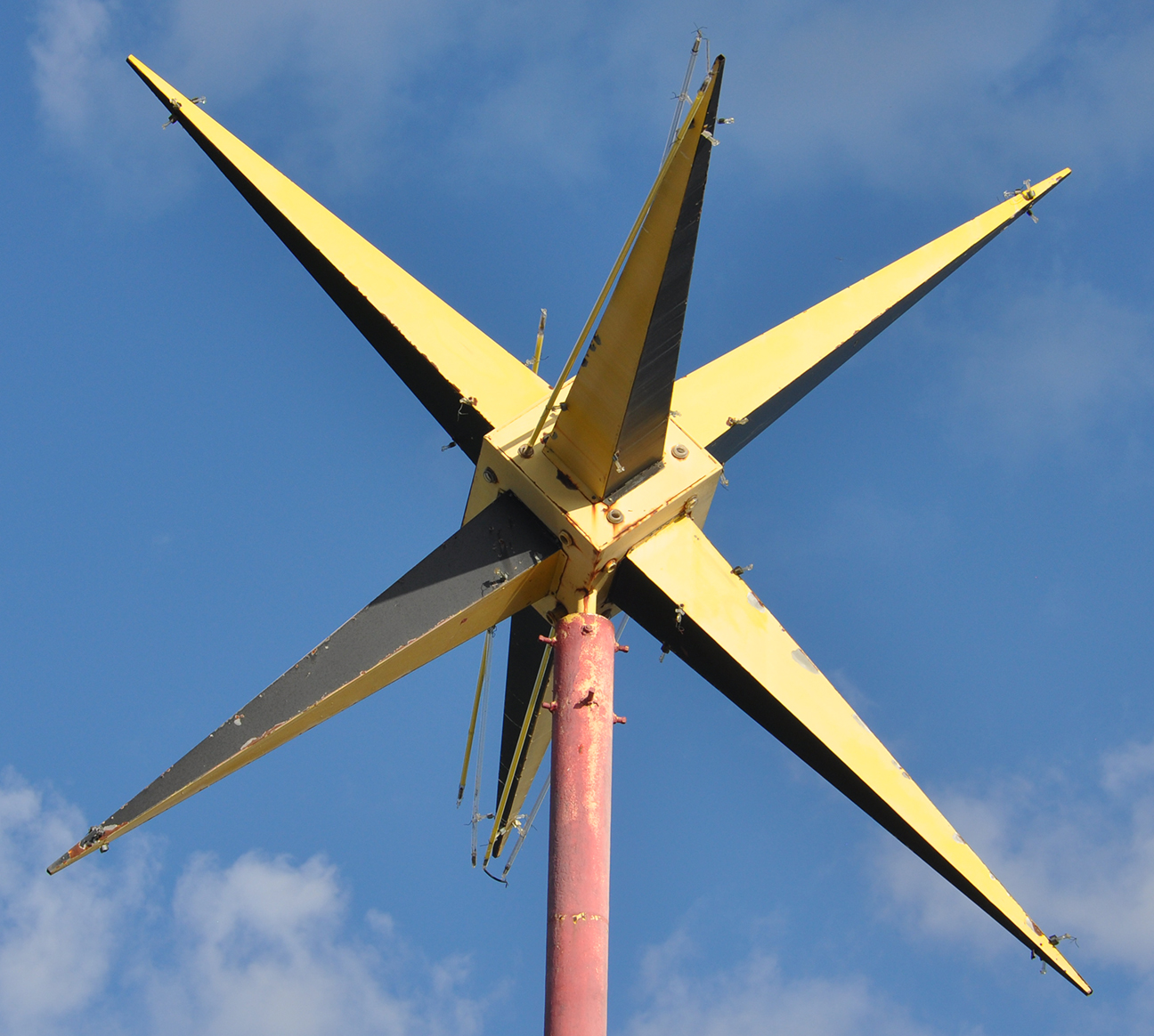 This sputnik-style sign in Waterloo, IA is also gone. It was installed on a very tall pole at a used car dealership when I took this photo in 2009. It was still there in 2012. By 2019, the entire sign: pole, crappy sign panel, and sputnik were gone. More of this type of sputnik at my website here:
https://www.roadarch.com/sca/roto3.html
From the Scaffold Signs subsection of the SCA section, the Utz Potato Chip neon sign is gone. Here it was when I shot it in Baltimore, MD in 2003: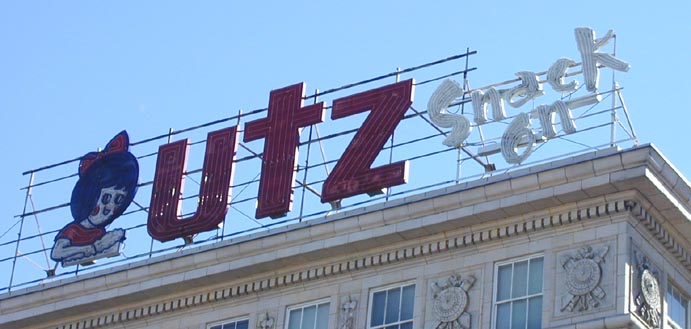 The sign pieces were moved to Philadelphia, PA in 2010 and installed on a billboard. My photo below is from 2012. The billboard was replaced with unrelated advertising around 2019. I don't know what happened with the Utz sign pieces. This removal may have been part of the rollout of the new, redesigned Utz Girl mascot?
https://www.phillyvoice.com/utz-girl-mascot-new-look-logo-pennsylvania-snacks-potato-chips/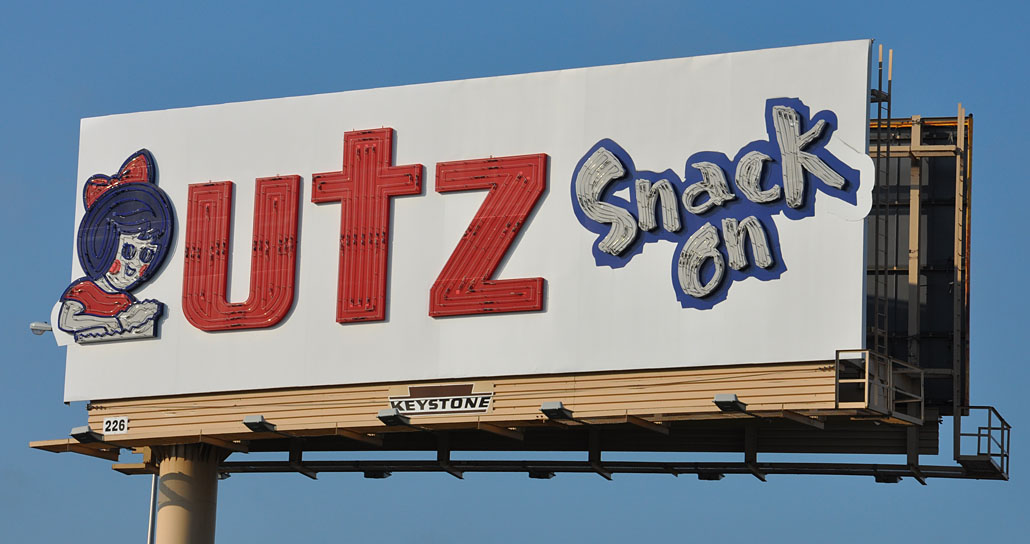 There will be lots more signs when I get to that section, many posts from now. That's the second biggest section and I'm proceeding from the smaller sections to the biggest. I've made it through about 350 pages with more than 2,000 pages to go. Another post soon…

Happy trails,
dj & the dogs