My annual website updating project is underway. This will keep me busy until probably June or so. It entails combing every single thing, every single page, at my website to find broken external links, check maps for current status of things (demolished, repainted, etc.), and update the descriptions about those changes. It also means lots of mostly depressing blog posts about what's been lost and good news when I can find any. Buckle up.
Let's start with a couple from the Tiki Buildings section. By the way, for this project, I always start with the smallest sections and work up to the big ones. So, if you are looking for signs and/or mid-century modern buildings, those won't be posted for a few months.
The Fiji Island restaurant in Roanoke, VA opened in 1972 and had a nice little entrance. I never got a chance to check out the interior but here's my photo from 2007: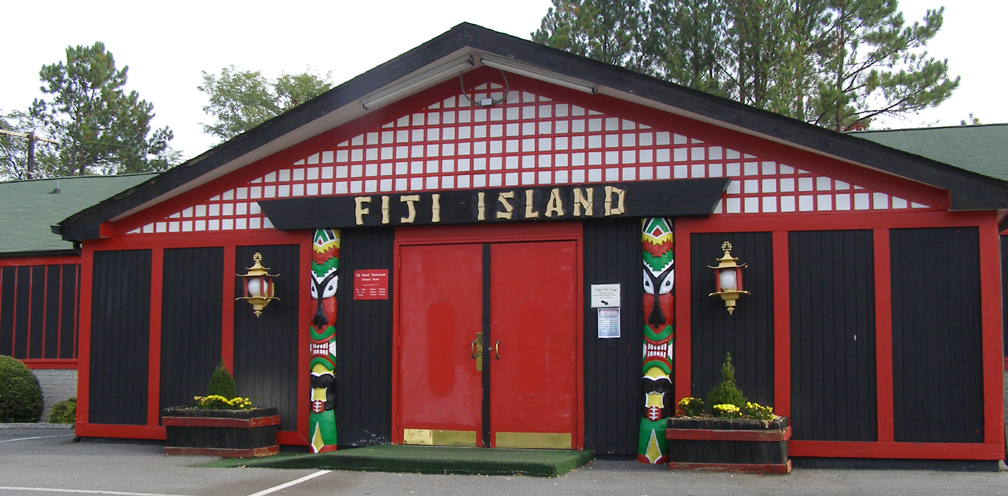 The business closed in 2019 and last year it began housing a gaming store. They painted the building the most depressing shade of gray that they could find and removed the sweet tiki elements – photo credit to Roanoke Times:

In 2019, the Ala Moana Apartments in Costa Mesa, CA were renovated for the Apex Apartment Homes. The lava rock, fountain, and mini bridge are gone but at least the A-Frame is still there. Here are a couple of my photos from before the renovation: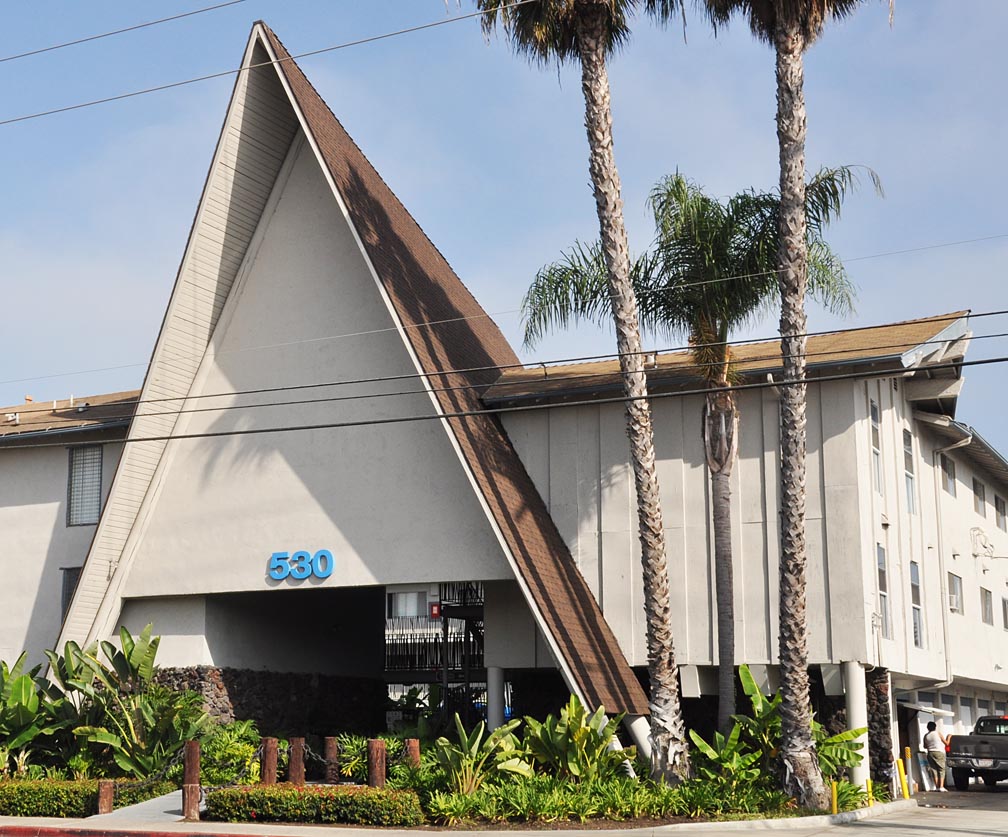 And here's what it looks like now at Google Street View:
I'm happy to say no major changes to the things in the Paul Bunyan Statues, Statue Collections, Egyptian Revival Buildings, or Teepee Building, Fairy Tale Parks, and Giant Food sections. From the Giant Containers section, this Pepsi bottle at a liquor store in Struthers, OH was repainted around 2017. Here's my 2010 photo when it still had a faded Pepsi Free label:
Pepsi Free was only produced from 1982-1987 so there was probably another Pepsi label (or other brand) before that. Here's what the bottle looks like now from Google SV. I'm so glad (and surprised) that they are taking care of it:
The Giant Milk Bottle on the roof of Dairyland Ice Cream in Irvington, NJ disappeared from the roof in 2019. I'd like to think it's being restored but… seems unlikely. I tried calling them to get the story but their phone number is not working. I'm thinking the place is closed now — my photo from 2009:
The Frostop mug on the roof of the long-closed location in Salem, OH has been missing since 2019. Here's what it looked like in 2009:
The World's Largest Teapot in Chester, WV now has a buddy. A creamer was built in the mid-1970s but had been in storage for many years. It was installed next to the teapot in 2015 when it was repainted and Google Maps shows it now. One of my photos from 2012:
and what it looks like now with the creamer:
Note that text was added above the walk-up windows with the new paint job. I don't think it's historically accurate but hey. Here's a postcard from when the teapot was at the pottery shop in town.
From the Bus Stations section, the former Greyhound station in Athens, GA has another new tenant. Here's my dreary photo from 2009:
It was a gift shop for a while after that. When that business closed in 2019, the building was rehabbed and began housing Chuck's Fish. There were a few changes to the building (that extra canopy on the left, the glass block at the former entrance added, the windows on the right replaced) but the waiting area canopy on the right was preserved. The bus sign had been missing since around 2015:
The Greyhound station in Eugene, OR closed in 2018. The sign was removed and the windows were boarded up. Here's a vintage photo postcard of the station:
A photo that I took in 2015:
And what it looks like in 2019:
From the Bottling Plants section, the Coca-Cola building in Fairmont, WV had its relief panels removed. My photo from 2012 when the building had already been bricked up and messed with: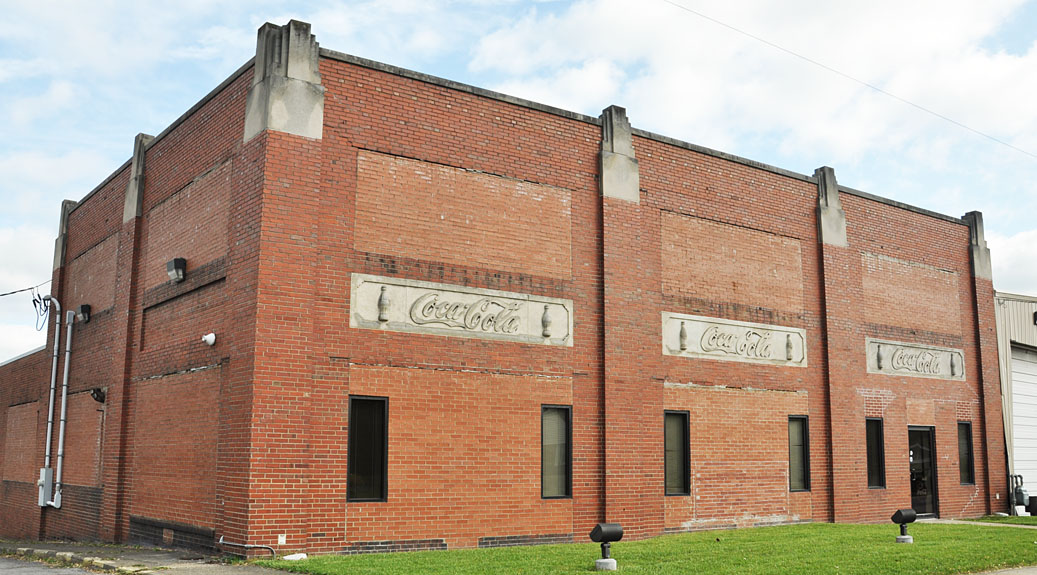 Clearly still vacant and the new Google Map from 2019 shows it without the panels. Did the idiot developers think that would make the property more desirable or did they sell off the panels to a collector/antiques dealer for a fast buck?:
To end with some good news, this former Coca-Cola building in Palatka, FL was in sad shape when I took photos in 2009:
In 2019, work began on the building and, in 2020, it opened as the Azalea City Brewing Co. I can't find any decent photos of what the building looks like now but it's basically the same, with the windows uncovered. Here's what the interior looks like (from Azalea's website) — looks great!:

I'm moving on to other sections now. I've only combed about 200 of about 2,700 pages so far, so this will take time. I'll be back soon with more good news/bad news.

Happy trails,

dj & the dogs