I really did get a lot of Texas stops in on this trip. Just as well since FL, GA & AL were pretty much a bust with rain and clouds just a few days later.
Let's start with Waco. A nice rusty, crusty furniture store sign. The building has been converted into lofts but the left the sign alone:
The Waco Printing sign was probably built in the 1950s. My photo below is from 2011: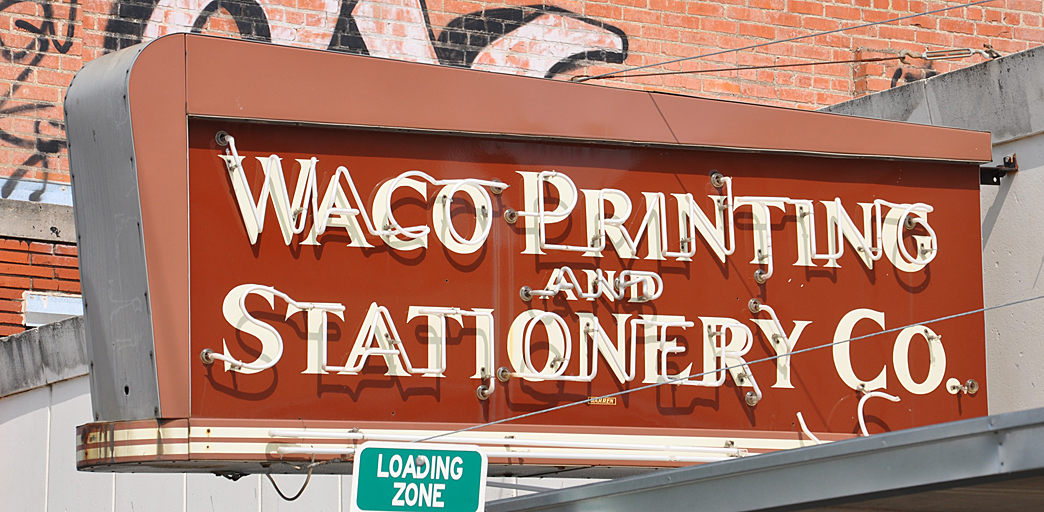 In 2018, the sign's neon was removed and the panel was covered up with a "for rent" sign. And then, this transformation took place earlier this year. I hope someone saved the porcelain panels and that they weren't just painted over. Maybe they are still safe underneath? Those chintzy bulbs strung around the outside are an embarrassment:

This sign in Waco at Kim's Drive-in is from 1963 — my photo from 2011: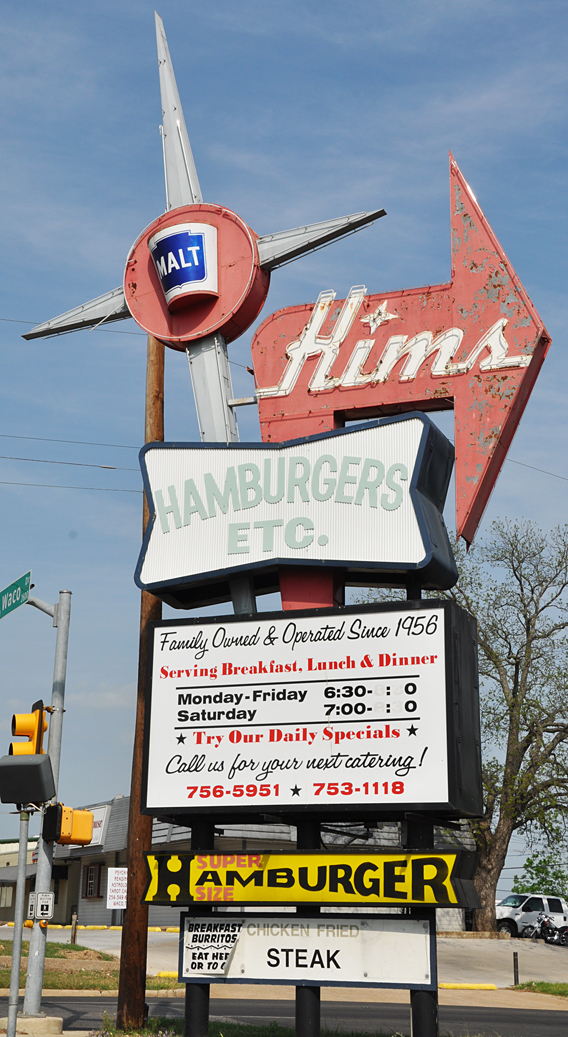 New owners restored the sign in 2014. I wish they'd kept the original corrugated plastic "Hamburgers" panel but at least the Malt cup is still there and the overall sign looks great:
Moving on to Houston. Up until last year, the lettering on the neon sign was "Adolpf Hoepfl". My photo from 2018 of the 1946-ish projecting sign: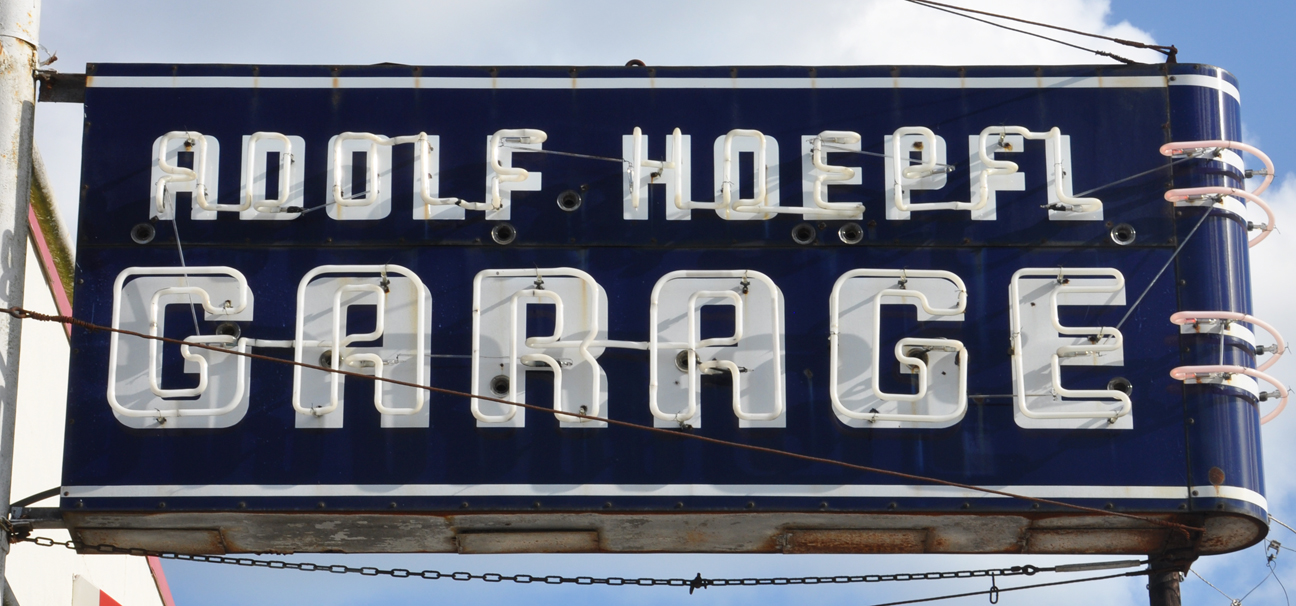 And from this summer's trip, a new slightly mismatched panel for "Liberty Hoepfl". The rebranding was based on the decision to turn their waiting room into a little "Texas Liberty" museum and patriotic space:
I'm glad they didn't mess with the pole sign which is probably from the 1960s:
Also in Houston, here's a Twistee Treat. There are very few of these in Texas and most are the modern variety like this. One clue that it's a modern one is the thin little stuck-on counters below the windows. The counters on the vintage buildings are part of the fiberglass body. More about these buildings at my website starting with this page: https://www.roadarch.com/food/twistee.html
Turning to Baytown, the Brunson Theatre closed in the mid-1980s and was gutted before being sold to the City. There were plans to convert the building into a performing arts center. My photo from 2011: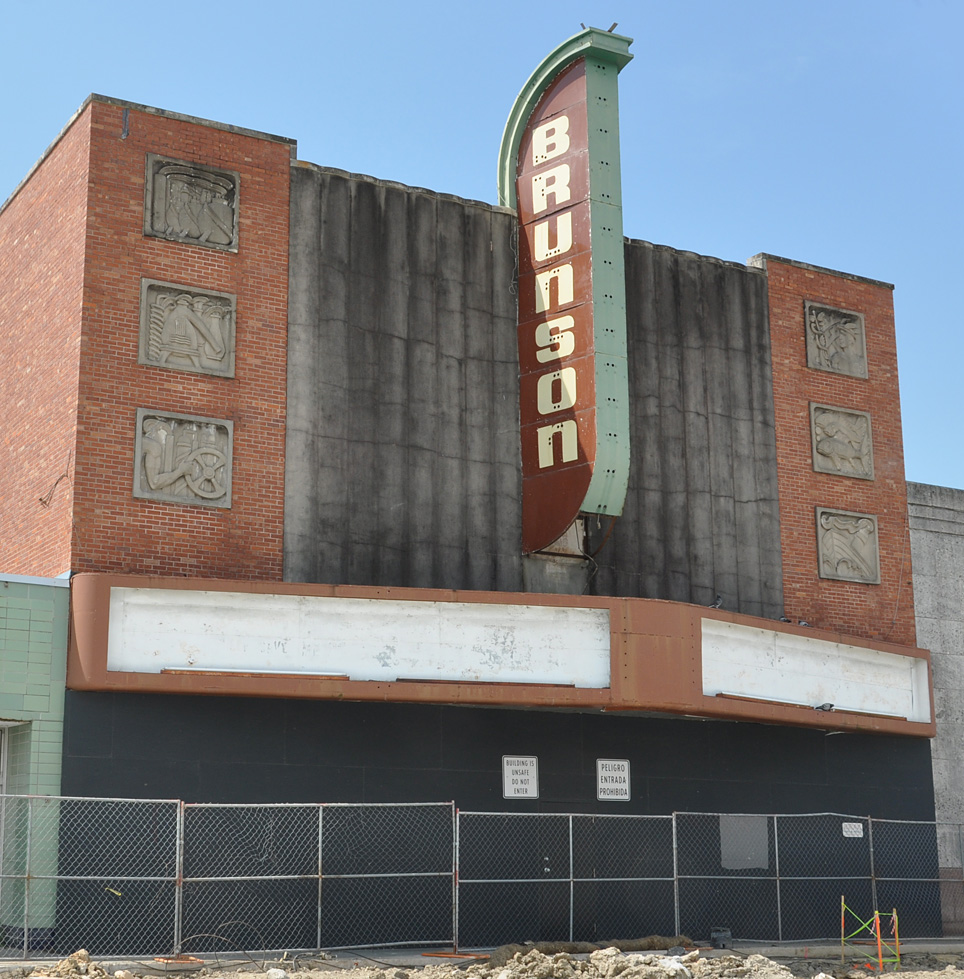 In 2019, the original neon blade sign with porcelain enamel panels shown above was replaced with this thing. Backlit plastic letters and dinky little bulbs. But at least the font style is the same. The readerboards replaced with digital display board. Very unfortunate and jarring next to the nice (thank god intact) Art Deco relief panels. The performing arts center didn't happen. The building is used as a visitors center and business space. Well, maybe but unlikely, 20-40 years from now a PAC will happen and a better sign can be built.
This vintage photo from cinematreasures.org shows that there WAS a sputnik-thing on top of the sign but it looks like the circles were more ribbon-y than round like they are now:
Last stop for this post is in Hearne. This still operating drug store has intact signs, apparently from the 1960s:
The earlier 1950s-ish sign hangs over the back entrance:
Moving on to Louisiana in the next post which will probably be next weekend.

Happy trails,
dj & the dogs