I'm tying together the last three days of this summer's trip into one mega post. Two of the days were light anyway since I was scurrying home in time for work. Before we move on to the photos, let's do the standard factual summary that I do for the final post from all these trips.
36 days
16,007 miles with $2,992 spent on gas (I don't keep track of the food/motel $$) – which means that Gator averaged 18.7mpg; [last year's summer trip was 14,798 miles]
additional expenses: a redlight ticket in Florida $161, a speeding ticket in Louisiana ($220 but a $40 online course keeps my driving record clean)
approximately 4,200 photos (which are all up at the website now!!)

Dairy Boy was an Oklahoma chain, established in 1957. There were more than 165 locations by the early 1960s but there are now only two left operating. This one is in Okemah, OK:
When the Lexington, OK location closed in 2013, it was repainted and moved to Okemah. This is the last of the "running boy" signs known to exist:
This sign in Jackson, TN. It was probably installed in 1973 when the business opened:
These signs in Fort Smith, AR are probably from the 1950s:
This former Phillips 66 in Fort Smith, AR had been a skanky car wash in recent years. In 2019, it was given this artistic treatment:
I believe there were only three of these Pizza Parlour locations built. This sign in Van Buren, AR was badly damaged recently (weather?). The clown panels revolved originally:
The one in Fort Smith is gone but, fortunately, the one in Alma is still in good shape – my photo from 2019: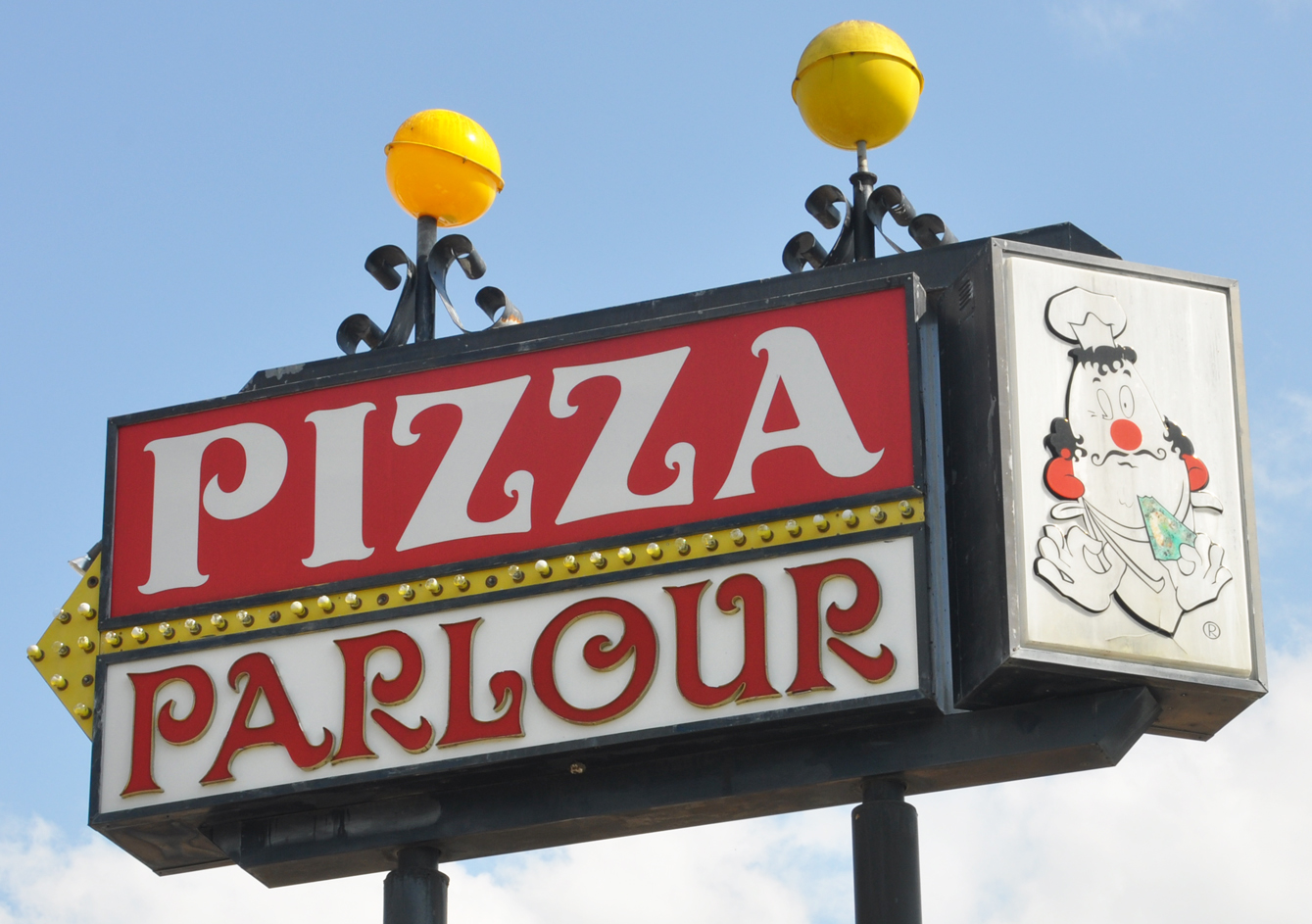 This sign in Little Rock, AR originally advertised for Tedford Drugs. You can see the "Drugs" showing thru in the bottom panel. The building has been vacant since at least 2007 so I don't know how much longer this sign will be around. Apparently, this sign revolved — that looks like a motor box below:

This sign is in Okahoma City. It's not clear if this place is still open. The only other signs on the building are for pagers from the 1980s. Still no name or info after much digging at Google. Maybe shorthand for "Knight Market"?

This sign in Oklahoma City is probably from the late 1960s. That's when this business relocated to their current location:
This sign in Oklahoma City went up in 2011. The pizza is animated:
This sign in Thomas, OK is adorable and wonderful in so many ways. The letters are/were all backlit plastic:
and so is the owl himself:
The flashing bulb arrow was one of probably thousands produced by Superior Outdoor Display in Long Beach, CA and sold all over the country:
This building in Oklahoma City was originally a gas station, built in the early 1930s. It was part of the Owl Courts motel and cafe complex. It was vacant for years. Last year, the building began housing a coffee shop. At the same time, the motel rooms behind the former station were either rebuilt or adapted for retail space:
The Pecos Theatre in Santa Rosa, NM had been vacant for many years. The County purchased the building in 2016. In 2019, these new signs were installed and the movie theatre reopened:

There were thousands of these Shell gas station signs around the country in the 1960s. There are just a few left on public display now. This one in Elk City, OK is pretty faded. Tletters and background were red originally. There's no sign of a gas station so it was probably just moved here by someone that saved it:

The porcelain enamel panels on this Rexall sign in Shamrock, TX has held up incredibly well. Many of these orange & navy Rexall signs had neon. But these guys were cheaper and less maintenance since they were lit by overhead tubes:

The Westland Theatre in Elk City, OK housed an office supply store for many years. The building appears to be vacant now. The building is still in good shape and there's a neon blade sign. The tubing holes on this marquee sign indicates how nice it must have been:

I'm crazy about phony castle buildings and have dozens of them at my website. Here's one in Albuquerque, NM that I believe was built as a storage place in 1985:

Nearly home! Here are a couple of signs from Needles, CA:
Want more?
I just put up another 40 photos today from these last three days of the trip over at Flickr (different photos from those above):
https://www.flickr.com/photos/agilitynut/
So, now what?
My next big project: initial planning next year's June trip which will focus on Montana, Wyoming, the Dakotas with some other states to/from. Some Canada might happen (depending on what happens with COVID travel restrictions).
After I get those lists and maps put together, I will move on to the gruesomely tedious annual task of checking every single map link and external links at my website to see what's changed since last winter (buildings/signs/statues — demolished/repainted/restored) and update descriptions accordingly. I'll also be simultaneously posting those typically depressing posts here with the "news". Usually, I just get this huge project done (or nearly done) in time for the next big summer trip. But there will also be some small California trips in the spring for welcome relief from the keyboard.

Best wishes to everyone for 2022!
Happy trails,
dj & the dogs

One of our fave local beaches (Bates Beach in Carpinteria):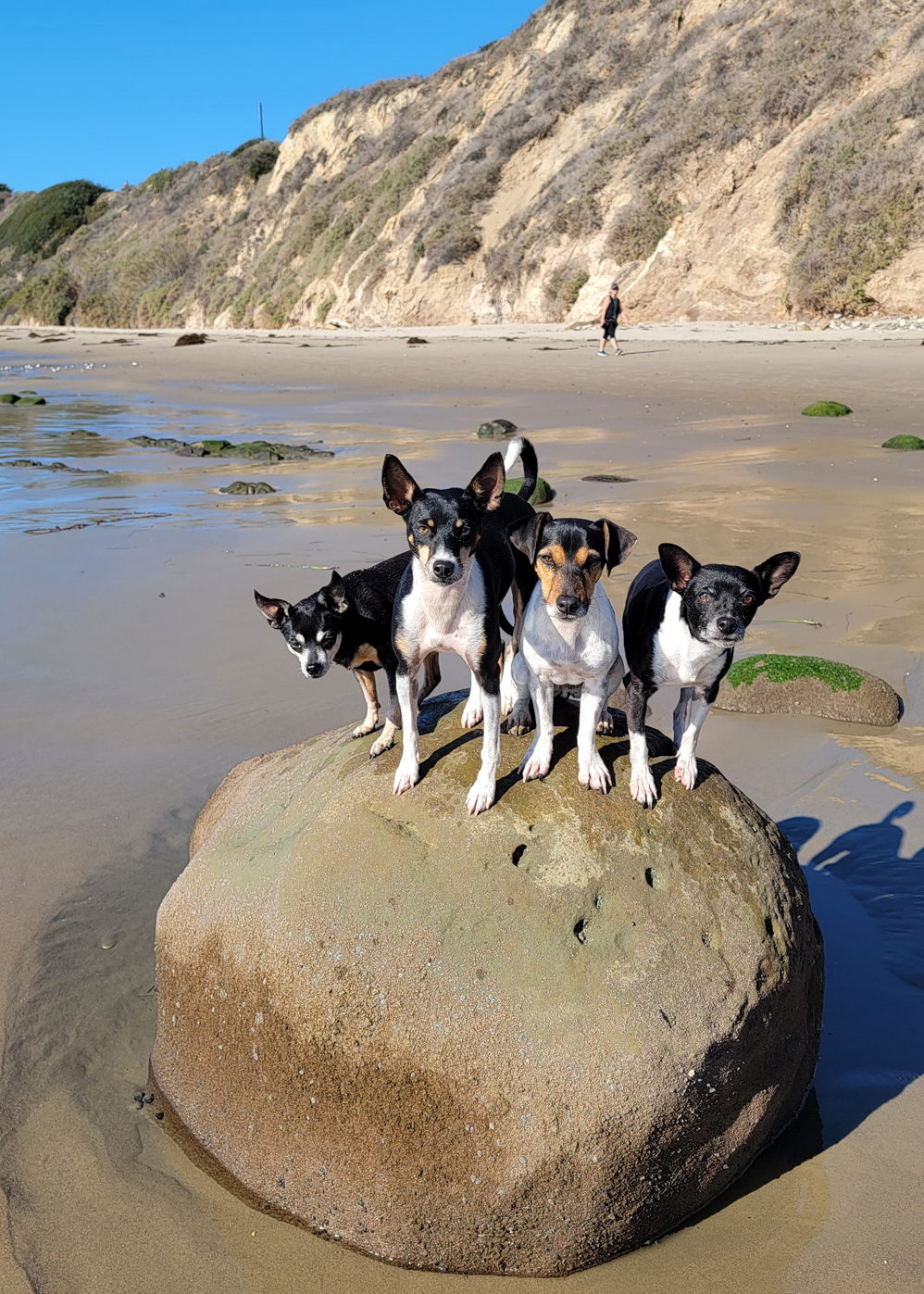 My dogs' fave hobby (chasing and abusing their racecar which does about 40mph on the grass):