Let's start with a couple of signs from Orlando. Wally's Liquors has been there since 1954. This sign is probably from later. I love it's mix of fonts:
The Sands Motel on S. Orange Blossom Trail was built in 1957. The sign is in rough shape these days. This crude snippet from a vintage postcard shows its former glory when it had bulbs around the "MOTEL" arrow and neon text below:
This postcard from the 1960s shows that the sign was already repainted and that the bottom neon panel had been replaced with a readerboard:
There were some rough grey patches this day so I couldn't do this sign in Maitland proper justice. They've been around since 1954:
In 2005, I took this photo at "Sports Dominator" in Orlando when there three statues: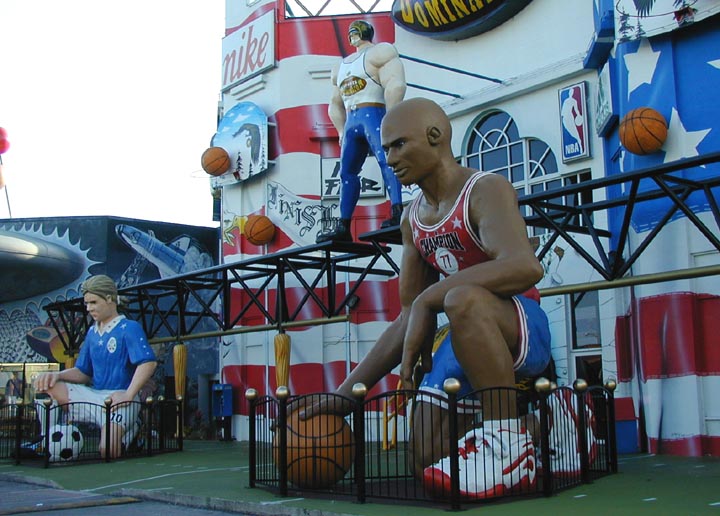 I don't know what happened to the muscleman but the basketball player was transformed earlier this year when the place became the Bronze Kingdom museum and gallery:

The soccer player was moved down the road to a strip mall with Brazilian stores and restaurants. He is now painted to look like Pele:
This building in Orlando originally housed Weather-Masters Engineering Co. Here's a Google Street View image from 2011:
In 2012, Redlight Redlight moved into the building. Their new sign in the style of the old ones was installed. The Weathermasters sign shown in the image above was moved inside the bar.
This giant cone at Chillin' Out Ice Cream in Kissimmee was built in 2002 as a rough approximation of the Twistee Treat design. I've got three pages of Twistee Treat buildings at my website here:
https://www.roadarch.com/food/twistee.html
The George's Tavern sign in Sanford could use a little paint. Here's a photo I took in 2009 when it had been repainted the year before:
and now. The neon looks like it's all there. GoFundMe, anybody?:
The giant gator mouth at Gatorland in Orlando was built in 1962 and is so nicely maintained. I'm glad this tourist attraction is still drawing crowds! Lots more giant gators at my website here:
https://www.roadarch.com/critters/gators.html
The Makinson Hardware sign in Kissimmee was built in 1952. The business goes back to 1884. It would be fantastic if the neon on this one was restored one day.
This giant nativity group has been moved around a few times (Orlando and Apoka) but is now in a residential area in Altamonte Springs. The Florida "Giant People" section at my website is here:
https://www.roadarch.com/giants/fl.html
This dinosaur is located at the long-closed Volcano Island mini golf in Orlando. There's another smaller dinosaur and a woolly mammoth still visible behind the chain link fencing:
This skateboard sign in Orlando was built for an electric skateboard shop around 2011. That store is gone but I'm sure glad that they kept the sign!
This place opened in St. Cloud in 1972. The sign appears to be from then:
This building in Orlando is supposedly a former gas station. I've done my damnedest to find out what station it was and what it originally looked like. It's housed many restaurants over the years — the latest is an Asian fusion taco place:
Last photo for this post from Orlando. The shopping center opened in 1955 with this sign. The paint is getting pretty faded and the clouds didn't help. Supposedly, the cowboy was animated originally but I've never seen a vintage photo to prove it:
Two more days and posts from Florida before we move on to Georgia.
By the way, I've also been simultaneously posting some different photos for each day's shooting over at Flickr here:
https://www.flickr.com/photos/agilitynut/
Happy trails,
dj & the dogs