Back to the Florida trip photos. Starting off with the Harbor Club in Fort Lauderdale. The apartment building was built in 1957 and is nothing special really except for the floating staircases and these cool mosaics:
The Premiere Hotel in Fort Lauderdale from 1964 still has the original neon letters:
The Schubert Efficiency Apartments in Fort Lauderdale were built in 1953: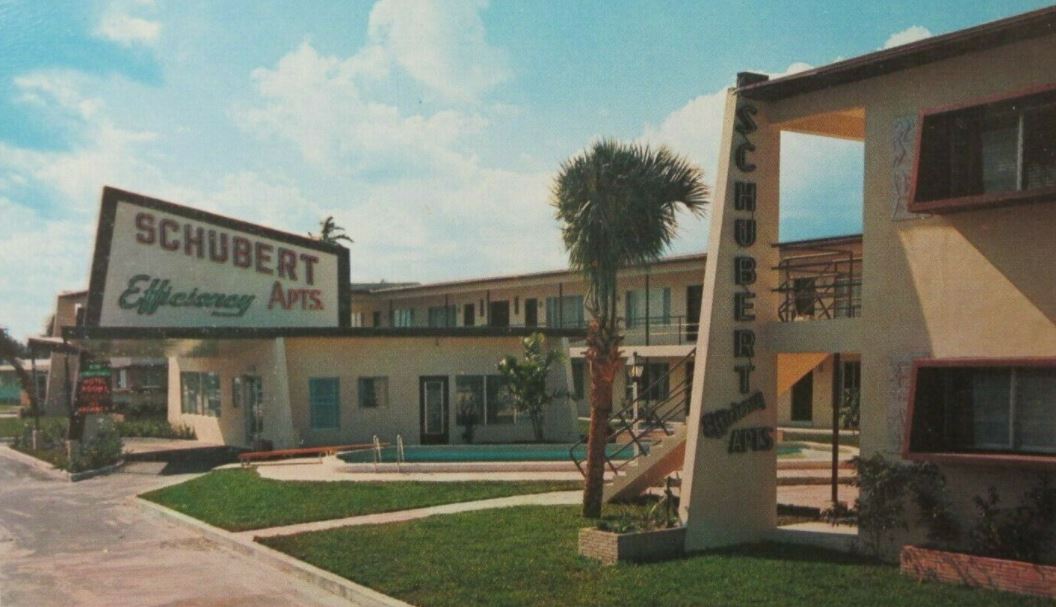 The building now houses the Victoria Park Hotel. The sign is gone…:
… but it still has the nice relief panels next to the projecting windows:
The Sanctuary in Fort Lauderdale was built in 1961 as the Second Presbyterian Church. It is simply amazing inside and out:
The former Coca-Cola bottling plant in Fort Lauderdale was built in 1938 and is a twin to the one in Ocala. Here's just one detail:
Let's look at some gas stations. Here's a well-preserved former Phillips 66 in Fort Lauderdale:
In Plantation, these hexagonal canopies are probably not all that old (1970s? 1980s?) but still wonderful:

In Oakland Park, I think this was built in the 1970s as a Gulf station. It now houses the Noor Bakery & Deli:
The Gateway Theatre in Fort Lauderdale. I fear this canopy with the readerboard will be gone soon. Horrible digital displays are really taking over:
These heads are installed at the Polynesian Gardens condo apartments in Plantation:
The Thunderbird Drive-in in Fort Lauderdale is now more popular for its Swap Shop. This sign surely had neon originally instead of those little LED strips. The nice curvy detail is sadly missing its bulbs:
This neon sign is inside the Swap Shop. I don't know how vintage it is but the letters are wonderful:
This Publix Supermarket in Lake Worth was built in 2011. They recreated a "wings" detail from their 1950s-era stores:
Last but not least, this Lester's Diner is in Fort Lauderdale. There are two other locations (Phoenix, AZ and Bryan, OH). The coffee cup originally poured a big bulb arrow:
That's a wrap for now. Five more posts from Florida coming soon.
Happy trails,
dj & the dogs