Another sunny & productive day. All that will change in a couple of days. Not many signs on the schedule so I'll include some other stuff.
This little guy is modern but still damned cute with booze and torches. In Fort Myers Beach:
Gator Park is technically in Miami but on the very edge of the Everglades:
This terrazzo apron is in Homestead. Royal Castle is long gone but I moved the rubber mat out of the way to take this picture. Everyone looked at me like I was crazy. Well, I am.
In Fort Myers – originally Franklin Hardware. The glass block, vitrolite tiles, and display windows miraculously still there:
One of the very rare Dairy Queens A-frame buildings which, I believe, were only built in Florida. This one in Port Charlotte is a little squattier than the others:
Another former Dairy Queen A-frame – this one in Bonita Springs:
This modern wrench sign is in Fort Myers.
This guy was installed in Fort Myers when the Bamboo Inn opened in 1961. He's about five feet tall. The business is now a nightclub ("Buddha LIVE") and, just a few weeks ago, the statue was painted red which has the locals freaked out. The owner will probably give in and paint him gold again soon.
This buzzard in Key Largo was in rough shape when I shot him in 2009. He was the mascot and directional head-turner on Highway 1 for Buzzard's Roost Grill & Pub: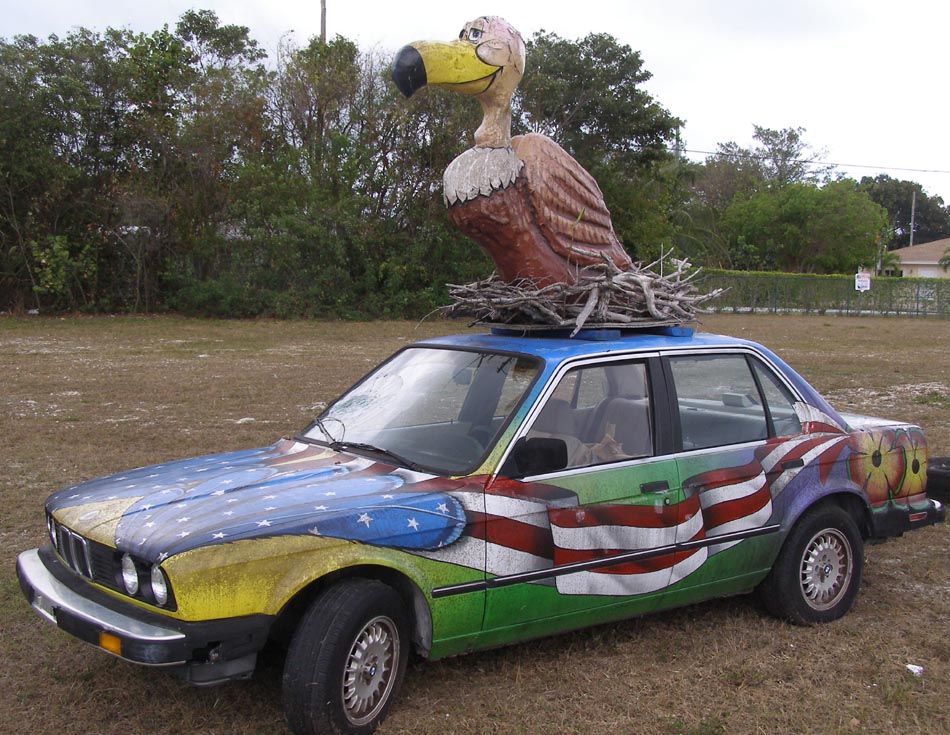 And then he disappeared. But I was relieved to find out he'd been saved, restored, and moved to the patio:
I'll be back with more goodies in a few days — next batch includes stuff from The Keys.
Happy Trails (and Happy 2021!),
dj & the dogs