These three days were rough — clouds and rain every day, just about all day long. I would check the weather on my phone to see if there was any better area to shoot but pretty much all of AL, GA & FL was the same situation. So, I would sit & wait, grow impatient & shoot some things that were less important, move on and, once in awhile, the sun would come out. I finally gave up on Alabama but I'd get some later in the trip. So, this post will focus on Florida.
Here we are in Marianna. These signs are safely around the back entrance since the pharmacy has a different name now:
This odd-building is in Tallahassee:
A modern sign in Tallahassee inspired by the Welcome to Las Vegas sign:
This Uncle Sam is located at the Tallahassee Automobile Museum. I confirmed this week that this is the very same statue that I shot in Clarksville, TN in 2007:
https://www.roadarch.com/giants/uncles.html
In Salem (of course) – note the rainbow which lasted a few minutes. Recently repainted – GoogleStreetView from 2018 shows the sign completely faded to white:
The Ship House (never a real ship) in Horseshoe Beach. Built in 1978 — right on the water:
A former Gulf gas station in Gainesville. It's housed a series of restaurants in recent years:
The Krispy Kreme in Gainesville from 1968:
Evidently, this beauty in Cross City which I shot in 2009: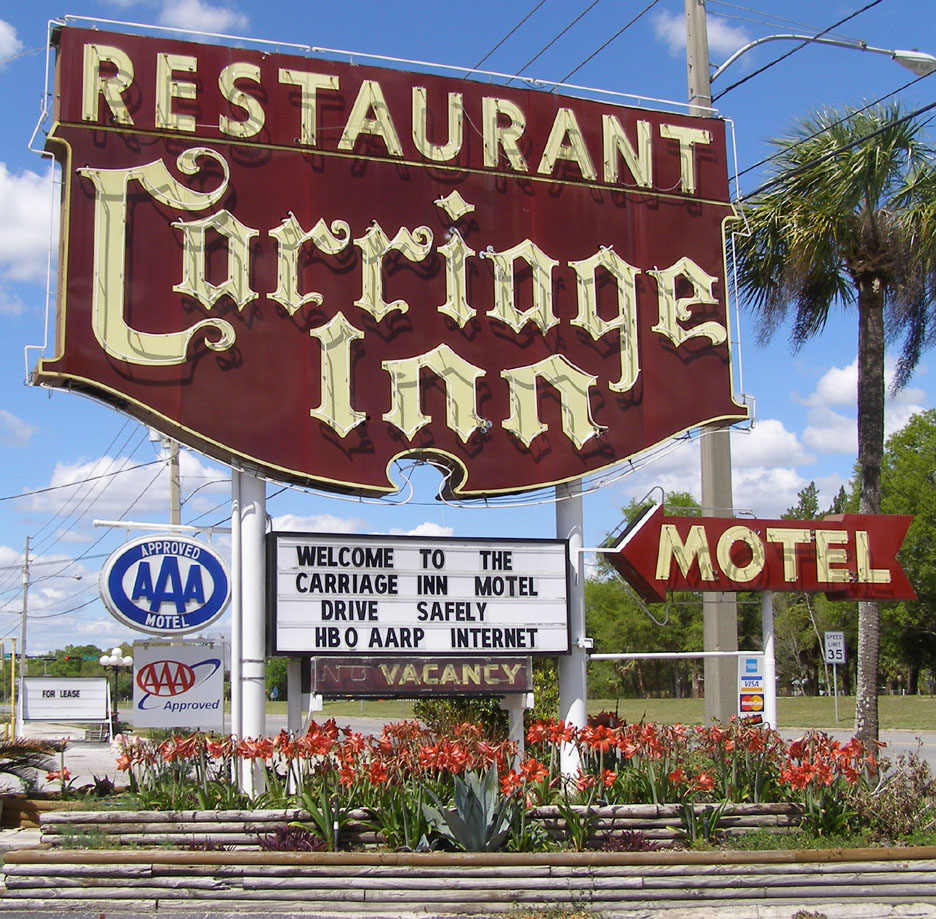 … was painted over last year (or, more likely, those are new plastic panels) and backlit plastic letters were added to both signs (three if you count the little vacancy sign). Heartbreaking. It's hard to be glass-half-full about the surviving shape. Yeah, coulda been a rectangular plastic box but…
I think this one was repainted earlier this year. And I guess they gave up on the neon and put some really cheap LED rope in the channel letters. It must look like a real wreck of a scribble at night (if it's still even lit!):
Let's end on a more positive note. This cutie Humpty-Dumpty statue is part of a hospital billboard ("We'll Put You Back Together Again") in Tallahassee.
Back next weekend with more.

Happy trails,
dj & the dogs