Most of the day was spent in the Dallas-Fort Worth area. I started the day in Cisco with just enough light to get this one. Ripple tin panels — no idea what the bottom panel is covering up but I'm glad they left alone the upper part:

This one in Fort Worth. The top doesn't look right — gaps and doesn't match the color of the panel below. It must have been adapted at some point, right? The cute bulb arrow must have been added later, for emphasis:

Also in Fort Worth, the building is a nice subtle Art Deco and, more importantly, the business is still open. It's debatable if this sign should be restored – patina-lovers would say definitely not!

Another one in Fort Worth — awesome but I wish I had a wee bit more sun. I waited, believe me….

This rooftop sign in McKinney was taken at the end of the day where I had to shoot directly into the sun and then Photoshop the heck out of the photo to make it decent-ish. This sign is brand new in a vintage style.
This shoe sign in Denton has had some unfortunate changes since my 2011 photo: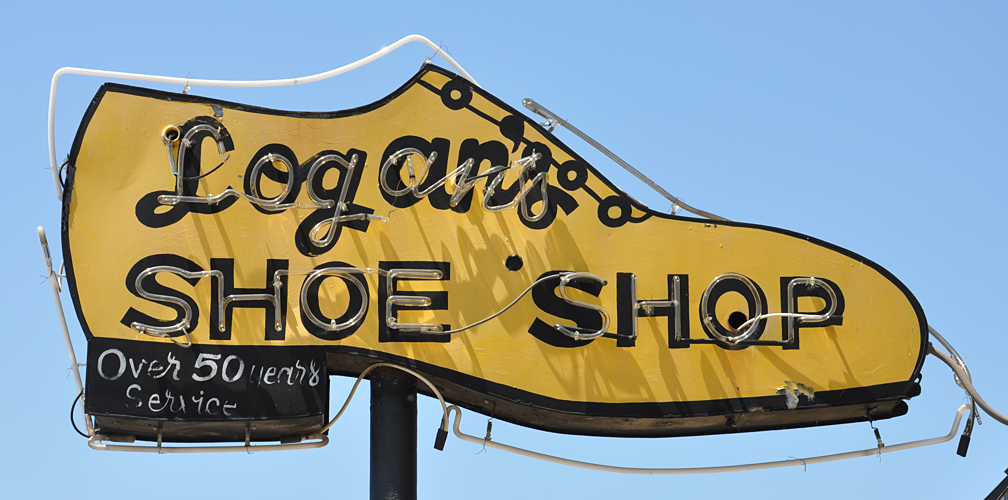 And from August — the neon outline is gone, replaced with little LED crap around the edge of the sign. The nice, human-painted script replaced with dull block letters. And the paint — well, either paint the whole damned shoe or leave it alone if you can't match the color!

I'm a huge fan of the All Storage giant boxes. The one below in Fort Worth is the one that started them all. It was built in 2014:
There are now at least three other locations with giant boxes: two in Fort Worth and one in Plano. This one is in FW:

That's a wrap — back with Day 4 probably this weekend.

Happy trails,
dj & the dogs